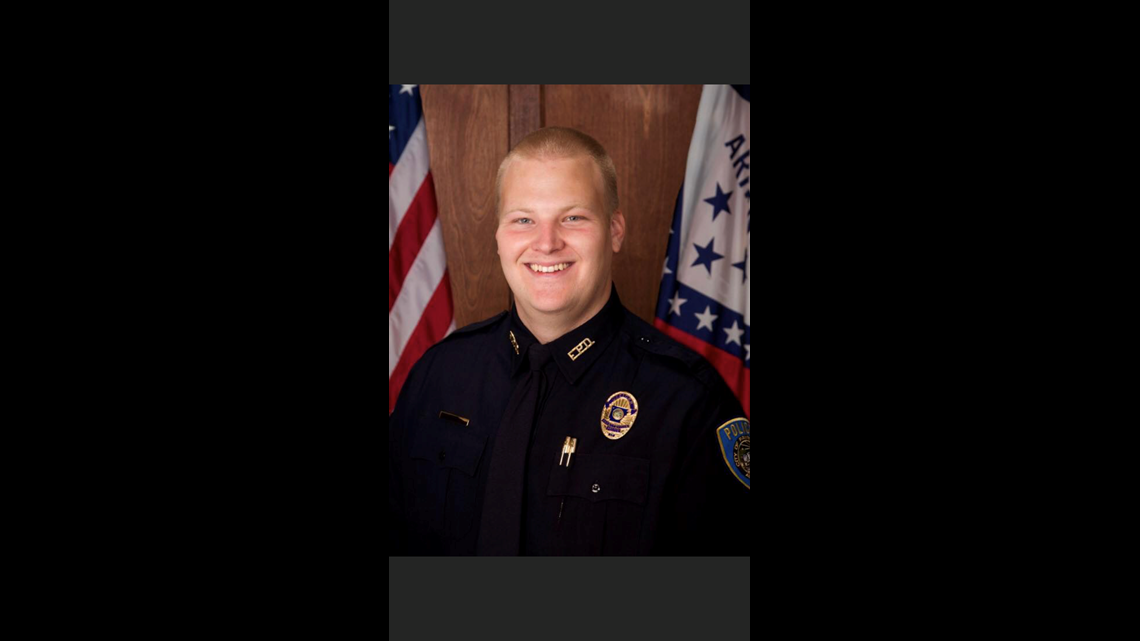 FAYETTEVILLE, Ark. (KFSM) -- The identity of the Fayetteville Police Officer who was shot and killed behind the Fayetteville Police Station has been released.
According to Fayetteville Police Chief Mike Reynolds, 27-year-old Officer Stephen Carr was by himself in the parking lot waiting for his partner when the suspect, 35-year-old London T. Phillips, approached and shot him.
Carr began his career with the police department in April of 2017. He was assigned to patrol the Entertainment District.
When reports of shots fired came in on Saturday (Dec. 7) around 9:40 p.m., several officers were inside the department at the time and came out to find Officer Carr down next to a police cruiser. According to Chief Reynolds, officers immediately engaged with Phillips and more shots were fired. The entire situation was over in under thirty seconds.
Both Officer Carr and Phillips were pronounced dead on scene. It was determined by investigators that Carr was shot once in the head, and Phillips was shot multiple times. Evidence shows Officer Carr was ambushed while sitting in his patrol vehicle.
Phillips used a 9mm Taurus pistol, and was equipped with two cases of ammo.
According to Chief Reynolds, Phillips had a brief history with police. In December 2018, he was reported for impersonating a police officer.
Crpl. Seay Floyd and Officer Natalie Eucce fired at Phillips during the incident. They are now placed on paid administrative leave in compliance with city and police department policy until the Chief is able to review findings of the investigation.
The Fayetteville Police Department has requested that the Washington County Sheriff's Office and the Federal Bureau of Investigation (FBI) conduct an independent investigation.
U.S. Congressman Steve Womack, who represents the 3rd District of Arkansas, released a statement Sunday (Dec. 8) about the shooting saying, in part, "Officer Stephen Carr proudly wore his shield while upholding his oath to keep Arkansans safe each day. He was on duty about to begin another shift when he was unjustly targeted and assassinated. He will be remembered for his dedication to community, the selfless service he exemplified, and the meaning of the uniform he wore. This tragedy serves as a reminder of the risks our brave men and women in uniform face each day. I join all Arkansans in mourning the loss of Officer Carr and offer my deepest condolences to his family, loved ones, and the Fayetteville Police Department."