ARKANSAS, USA — Are you dreaming of a white Christmas? Will it be white and snowy this year? The forecast is still a couple weeks from Dec 25th, but we can look at climate data to see what may happen this year.
A majority of the USA gets a white Christmas every year, but a few lucky cities can get some snow. Sometimes it's leftover snow that hasn't melted from a previous system. Other times it's a fresh snow. Hopefully the ground is cold enough that it doesn't melt so quickly. Fresh snows are harder to get because only one or two systems are likely across the USA at one time, plus some possible lake-effect snow.
WHITE CHRISTMAS -- ACROSS THE USA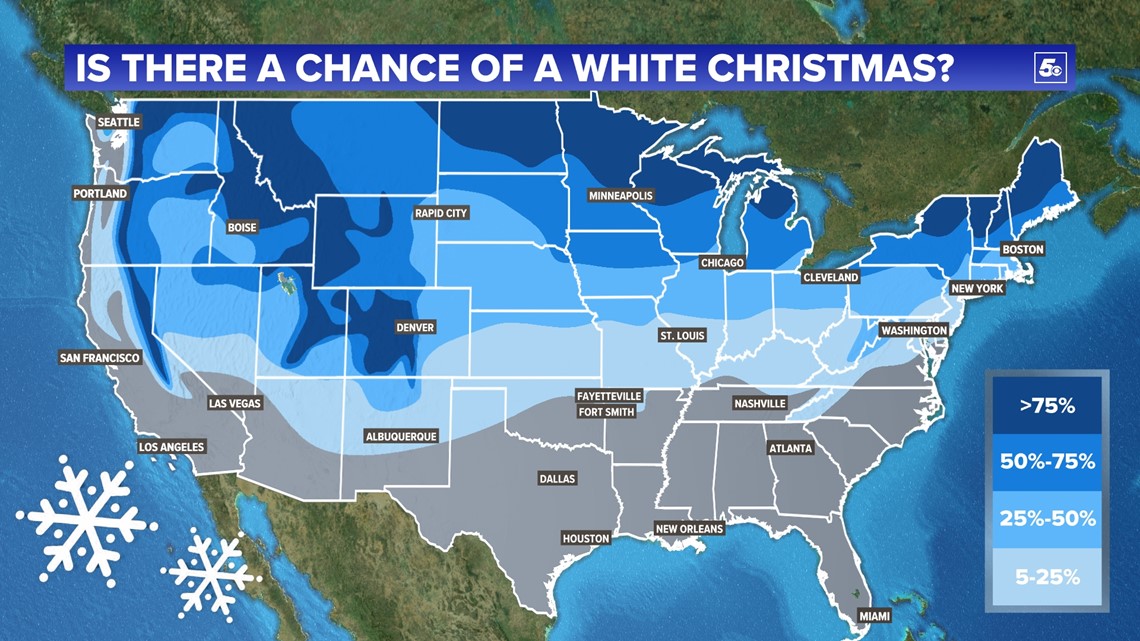 The highest chances for snow like in the north and in the higher elevations of the Rockies, Sierra Nevada, Green Mountains, and White Mountains (New England).
Let's go region by region to see what the chances are closer to home.
WHITE CHRISTMAS -- NORTHEAST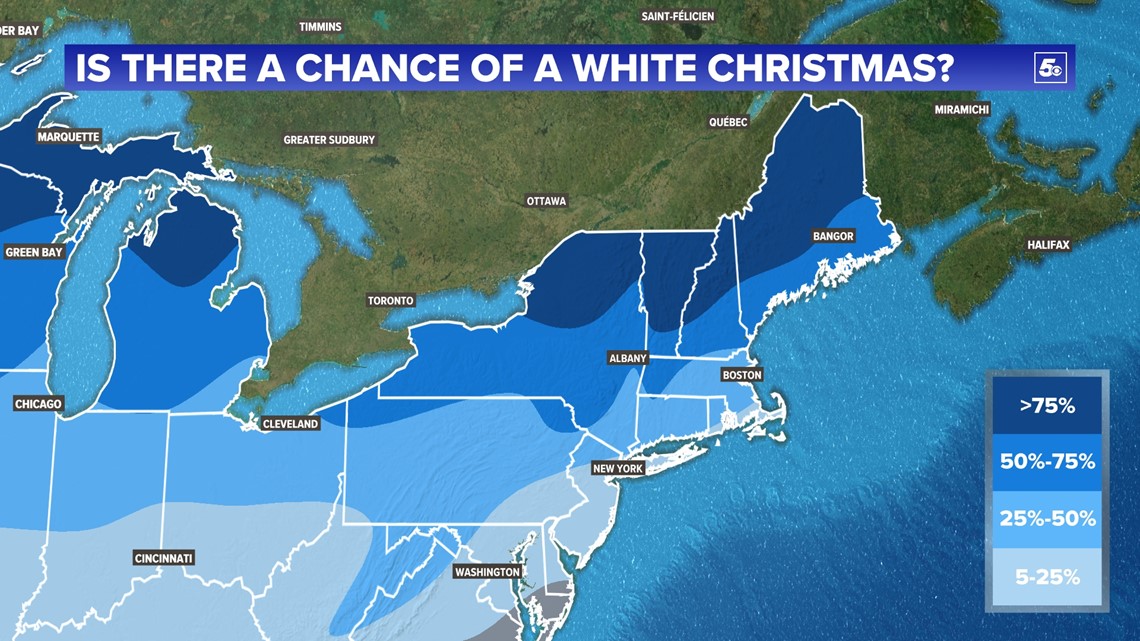 A 50% chance or better for a white Christmas north of I-80. The Adirondack Mountains, Green Mountains, and White Mountains have higher chances of snow, with dwindling chances closer to the coasts, especially south of Cape Cod. Nor'easters in December generally push snow more inland as ocean waters are still a bit warm.
More chances for snow lie to the east and south of the Great Lakes. Lake Ontario keeps upstate NY snowy and Lake Erie keeps NE Ohio, NW Pennsylvania, and western New York snowy.
WHITE CHRISTMAS -- SOUTHEAST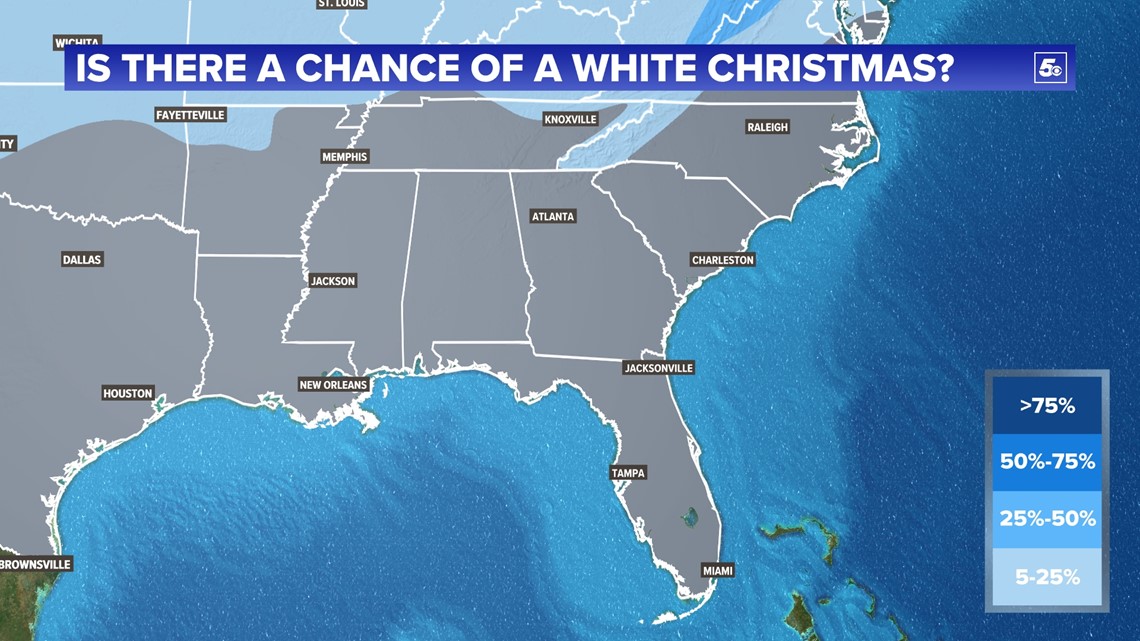 Chances are slim to none for the southeast with temperatures too warm for snow in December. Better chances for wintry weather take place in January or February, and take place only once or twice a year, if any at all...

WHITE CHRISMAS -- GREAT LAKES & MIDWEST & NORTHERN PLAINS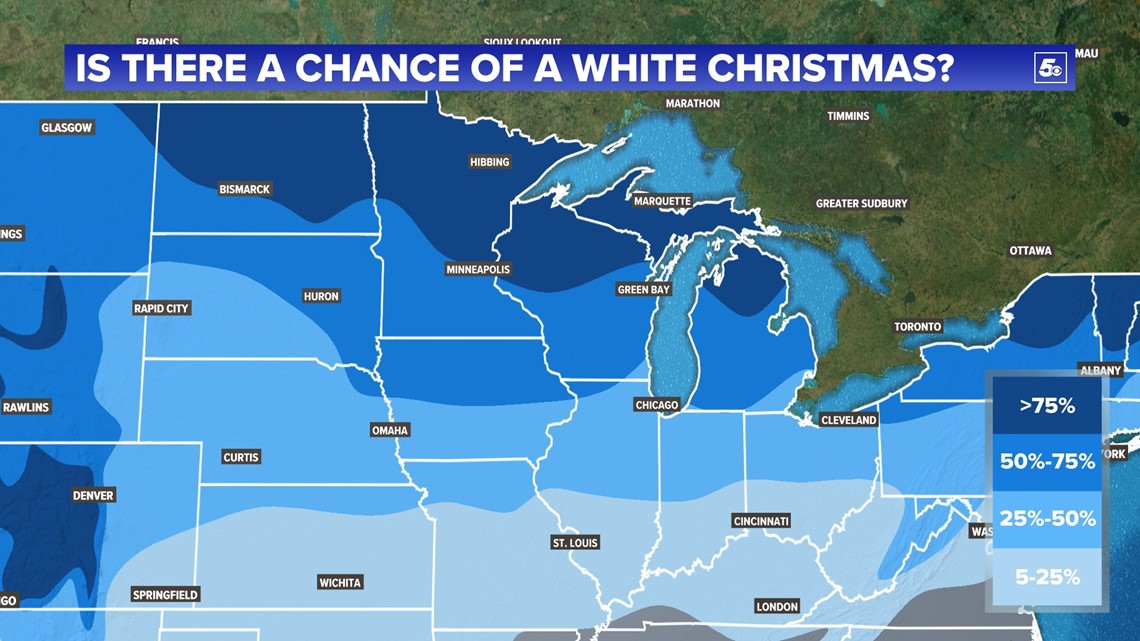 Better chances for snow exist in the far north. The closer to the Canadian border, the higher the chance for cold enough temperatures to help make snow.
North of I-70, chances are generally above 25%. North of I-80, chances are generally above 50%. The Great Lakes also enhance white Christmas chances with lake-effect snow on the southern and eastern sides of the lakeshores.


WHITE CHRISTMAS -- SOUTHERN PLAINS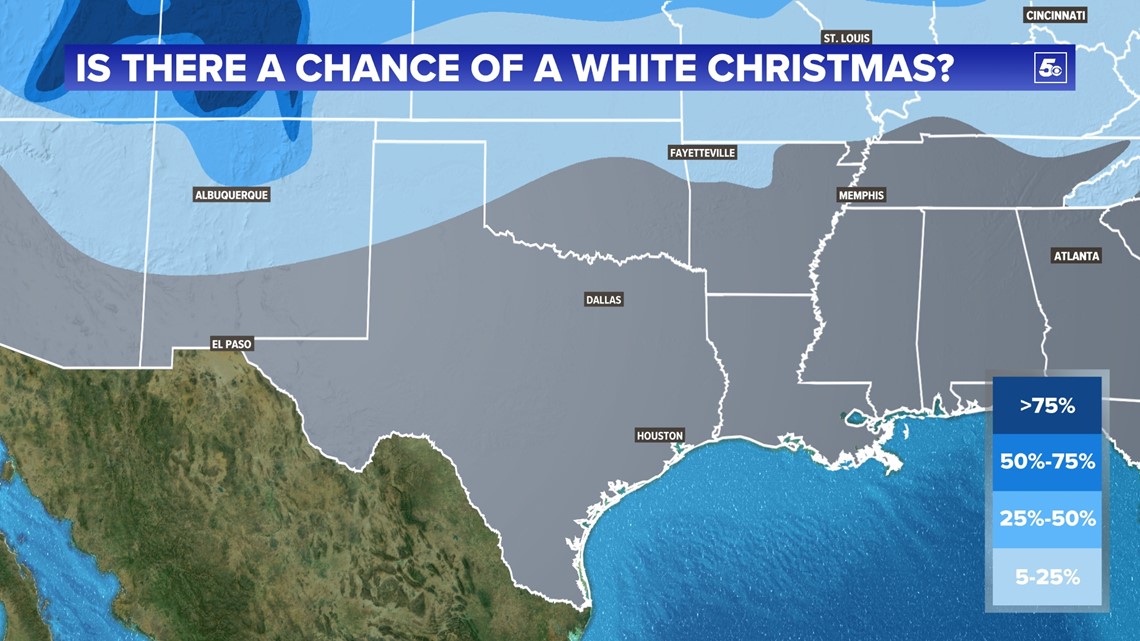 Chances are slim-to-none in the southern Plains. Every once in a while you can get a white Christmas in the Ozarks (at least 5% chance), but the closer to the Gulf of Mexico you are, the lower the chance for snow will be in late December.
WHITE CHRISTMAS -- PACIFIC NORTHWEST

Terrain makes all the difference when it comes to snowy Christmas Days. The jet stream dips farther south in December, which means storm systems are more plentiful in the winter, but many of the big cities along the coast just get rain. Higher elevations in the Cascades and Rockies typically get snow, or have existing snowfall.
WHITE CHRISTMAS -- SOUTHWEST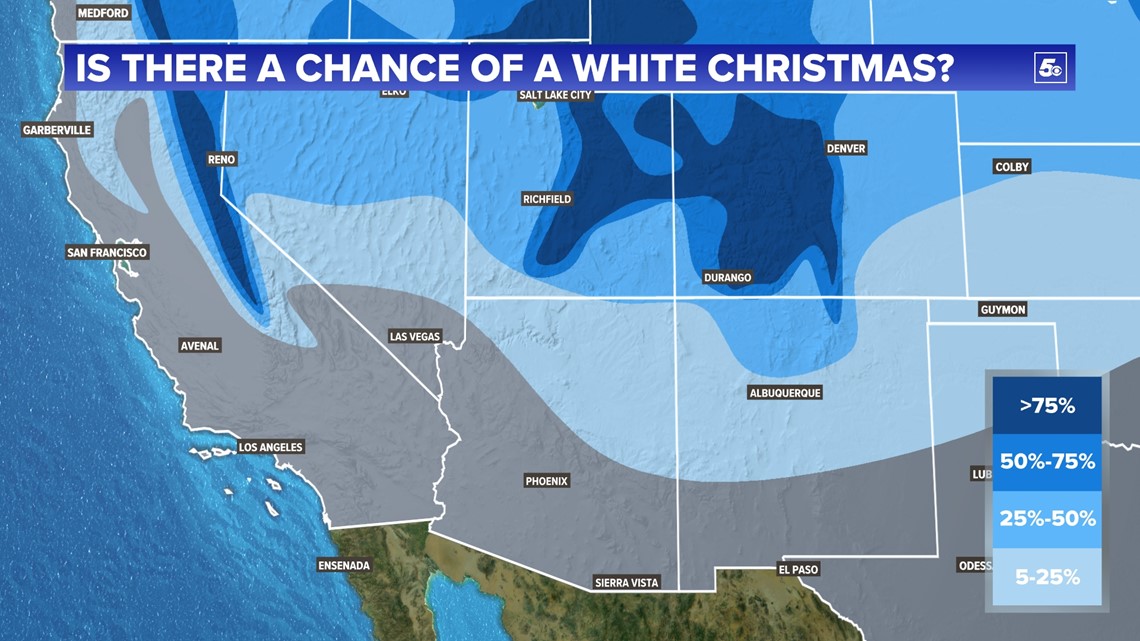 Much of the southwest gets a green or brown Christmas. Some of the mountains have existing snowfall, especially in the Sierra Nevada, San Juan Mountains, Grand Mesa, and the Front Range.
To see more specific chances where you live, tap HERE.
WHAT WILL WINTER BE LIKE THIS YEAR IN ARKANSAS?