ARKANSAS, USA — Hurricane season 2023 has begun in the Atlantic Basin. While tropical systems bring loss of life and catastrophic destruction, they also help bring rainfall to inland areas of the United States, including Arkansas and Oklahoma. There's a higher chance than normal that the Mid-South picks up some rain from a dying hurricane this year.
Tap HERE to track current storms in the Atlantic.
The placement and track of a hurricane determines who will get the rain. Areas along the coast get the brunt of the storm with the storm surge, flooding, and wind, but as storms move north and farther inland, they weaken rapidly. Rain bands become lighter over time but they still bring a lot of beneficial rainfall.
Will the hit Arkansas? They have to far enough west. They may do that this year...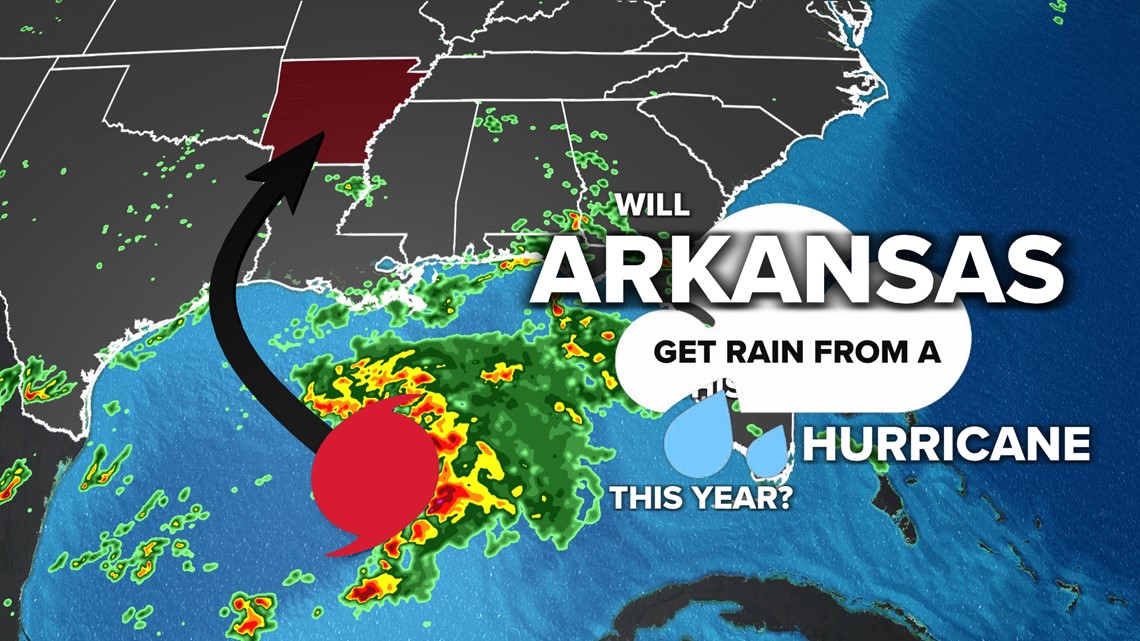 ENSO PHASE -- El Nino or La Nina or Neutral?
El Niño: warmer east-Pacific waters, fewer Atlantic hurricanes
La Niña: colder east-Pacific waters, more Atlantic hurricanes
Neutral: average east-Pacific waters, average number of Atlantic hurricanes
We've been in a La Nina phase for the past 3 years but we have returned to a neutral phase. We will most likely stay in a neutral phase for much of the summer with a El Niño phase returning by the fall. A very strong El Niño could occur by the winter. But how will that impact hurricanes?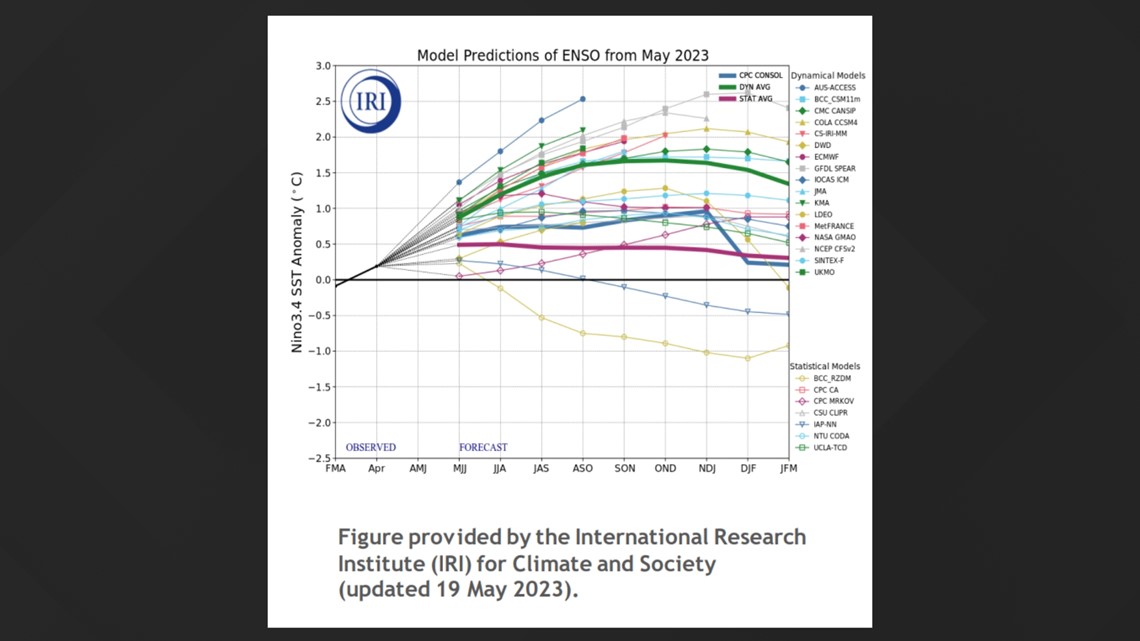 We are expecting an average number of hurricanes this year in the Atlantic basin, so between 5-9 hurricanes this warm season. However a higher-than-average chance for rain may occur in Arkansas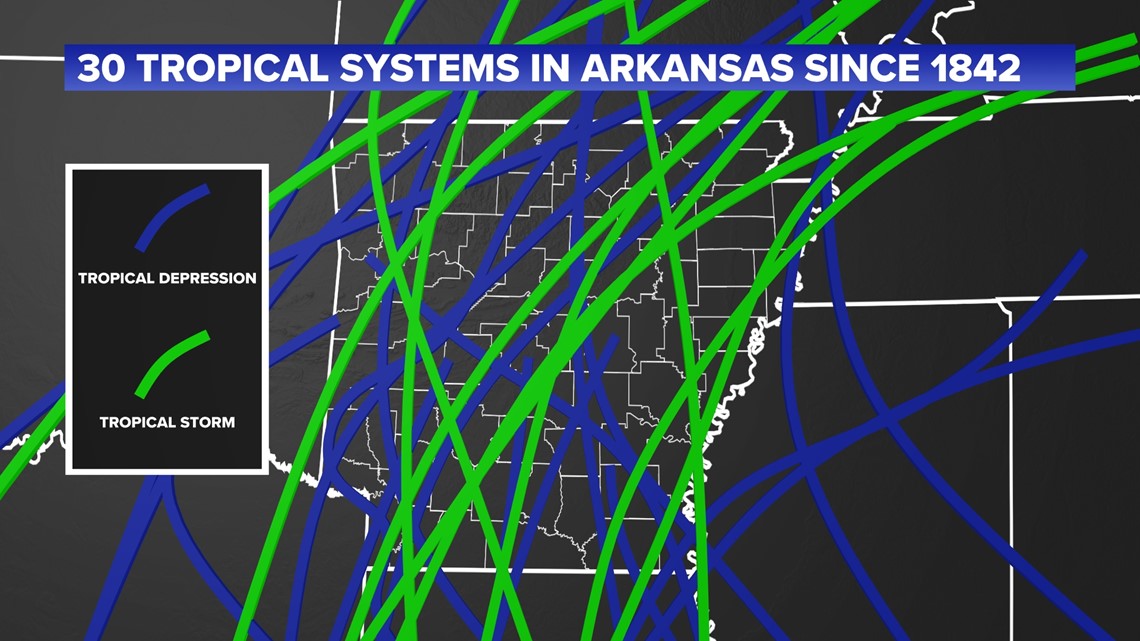 TROPICAL SYSTEMS IN ARKANSAS
(see map above) Since 1842, only 30 tropical systems have sat over Arkansas, that's not too many. We are only including the center of hurricanes (none), tropical storms, and tropical depressions sitting over Arkansas airspace. This does not account for systems in Mississippi or Tennessee that bring some rain to eastern Arkansas, neither does in include storm systems that are weaker than tropical depressions. Once a storm weakens below that, it is no longer tracked for record-keeping purposes.
Main takeaway: Most hurricanes do not bring a bunch of rain to Arkansas. They bring more rain to our east, toward the rest of the Deep South.
But there is some good news...
Out of the 30 tropical systems, more than 50% took place during NEUTRAL ENSO phases. That means there is a higher chance for Arkansas to get rain from a hurricane this summer because we are in a neutral phase right now.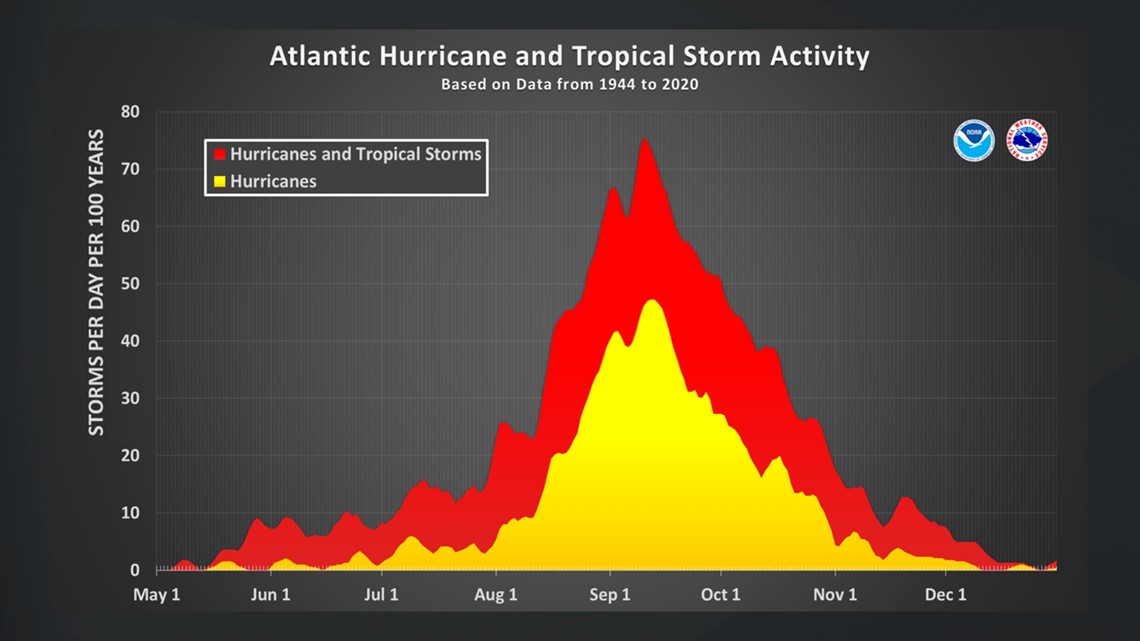 IF WE GET RAIN, WHEN WILL IT BE?
This graph above shows that peak hurricane season is in September and October. However for systems that bring rain to Arkansas, the peak tends to be in August and September. The majority of systems that hit so far to the west that they bring rain to the Natural State are earlier in the season.
MAIN IDEA: We have a higher chance for tropical rains this year in Arkansas, compared to normal.