FAYETTEVILLE, Ark. — A winter storm is coming, so grocery and hardware stores are packed with people preparing.

James Humphreys is one of many people gearing up for the winter storm.
He visited The Hardware Store on Monday, Jan. 23 to buy sleds.
"I was instructed by my kids this morning that the time has come they're tired of using grain shovels and other things as makeshift sleds. And so we did our research and we have found that this is the only place that really consistently has sleds," said James Humphreys.
Delane Allen is the owner of The Hardware Store, a business that's been in his family for more than 35 years. He says they have plenty of shovels, ice melt, and sleds selling more than a hundred sleds Monday morning alone.
"A month ago when it's the last weather we went through probably four or 500 sleds and about three pallets of 20-pound ice melt in two pallets of 50 pounds of ice melt," said Delane Allen.
Kate Tuttle says this sign brought her in to stock up.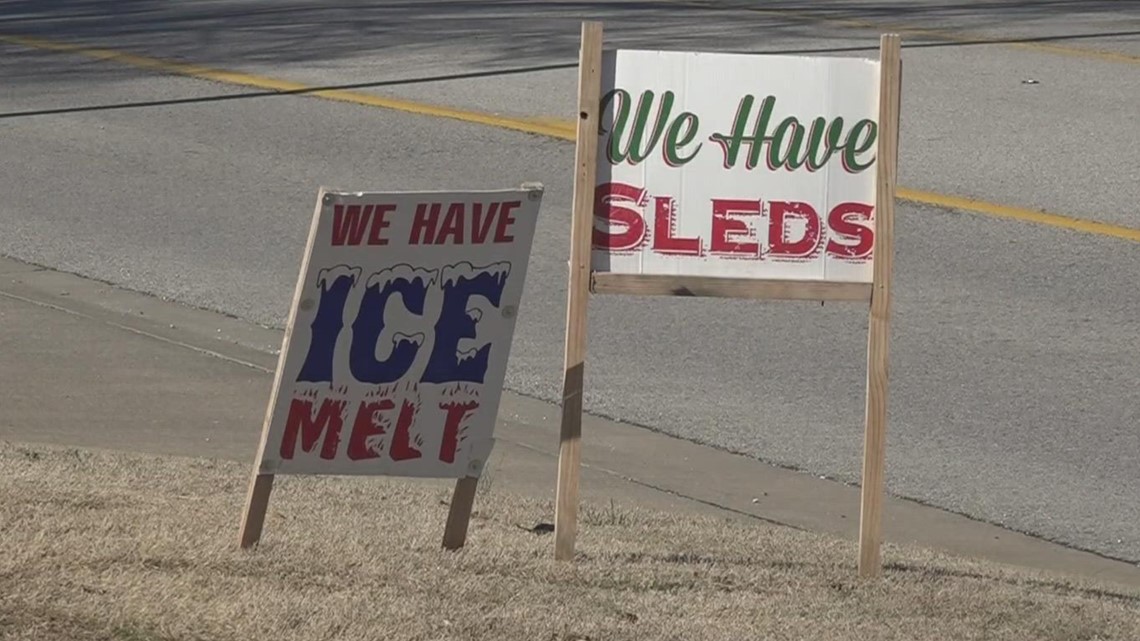 "We realized that our sleds from before had been lost over time and that we needed new ones because the last few times that we've tried to go sledding has ended with my kid on the lids of our recycling bins," said Kate Tuttle.
With the possibility of a snow day on the horizon, customers here are making sure their kids are ready.
"I think it's great for kids to have time to go and play outside and we don't get it as often here. I was thrilled that I came here and they still had some because I figured that there'd be a big run on sleds since we all know this storm is coming," she said.
If we get as much snow as predicted experts have a warning because shoveling snow can be hard work… The American Heart Association warns shoveling snow may increase your risk of a heart attack. While shoveling, they encourage people to give themselves a break, don't eat a big meal before or soon after shoveling, use a small shovel or snow thrower, listen to their bodies, and don't drink alcohol before or after shoveling.
The Hardware Store says they have plenty of sleds, de-icer, and shovels left but they encourage people to shop before the snow comes in to stay safe.
Download the 5NEWS app on your smartphone: