FAYETTEVILLE, Ark. — South winds crank up across 5COUNTRY Monday ahead of our next storm system. A cold front will slowly push into our region Monday night into Tuesday providing a focal point for scattered showers
A strong disturbance will push across Oklahoma and Arkansas late Tuesday into Wednesday leading to continued rain and thunderstorm chances. Anywhere from 1 to 3 inches of rainfall is expected from Monday night through Wednesday. No severe weather is anticipated
To track rain, ice, and snow, tap here for our interactive radar.
While we just finished with multiple rounds of wintry weather, we could see a quick hitting round on Friday. The best chance for a wintry mix will be for far NW Arkansas.
MONDAY
Highs in 60s
Breaks of sunshine
Southerly winds gusting 25 to 40 MPH
MONDAY NIGHT
Lows in 40s/50s
Scattered showers NWA: 50% | River Valley: 30%
South to northerly winds 5 to 15 MPH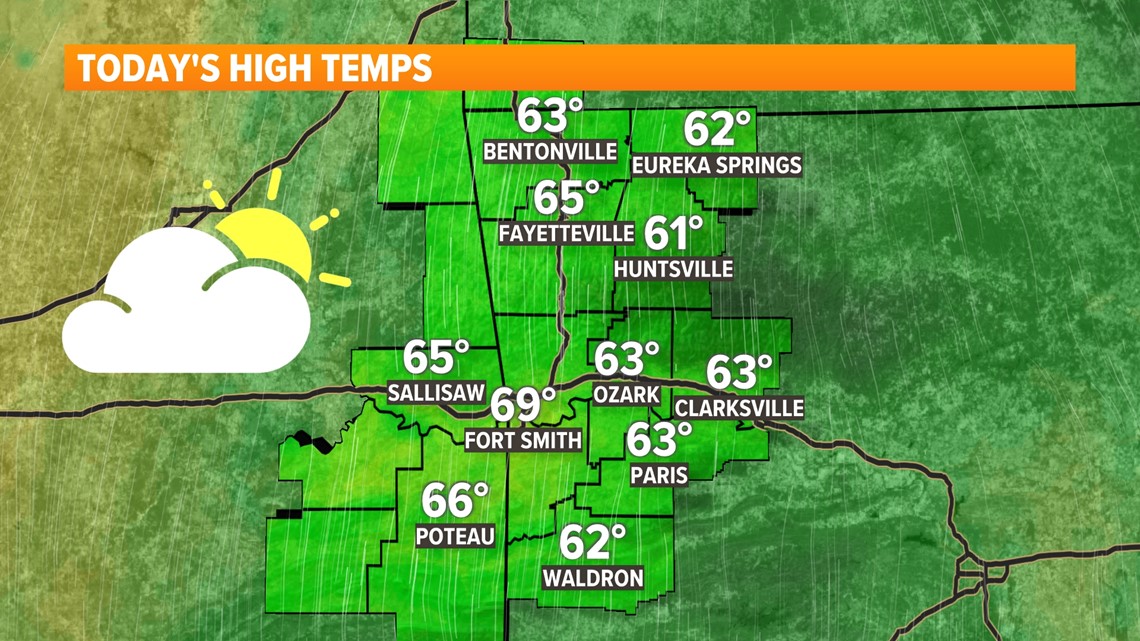 MULTIPLE RAIN CHANCES THIS WEEK
We could see a couple of days with rain this week, with the strongest arriving late Tuesday. Rain is looking likely as a low pressure system moves across Arkansas on Tuesday heading into Wednesday and we could have a quick round of wintry mix on Friday.
Rainfall is back into the forecast midweek and its going to bring us back to reality with daytime temperatures. Between Monday night and Wednesday night, Northwest Arkansas and the River Valley will likely see 1 to 3 inches of rainfall, with some locally higher amounts.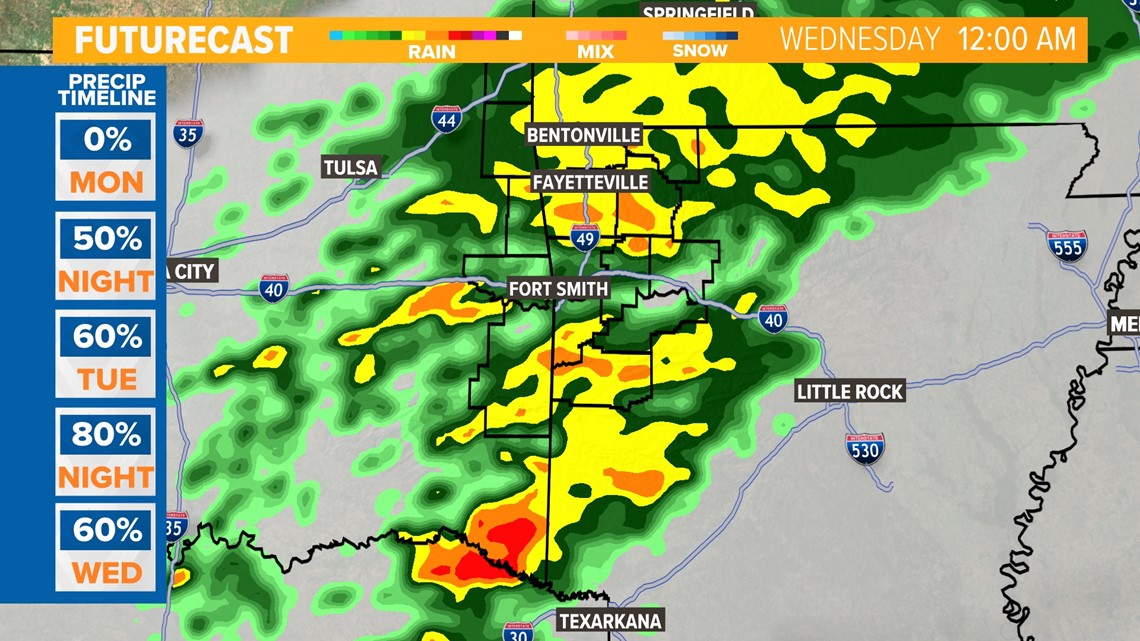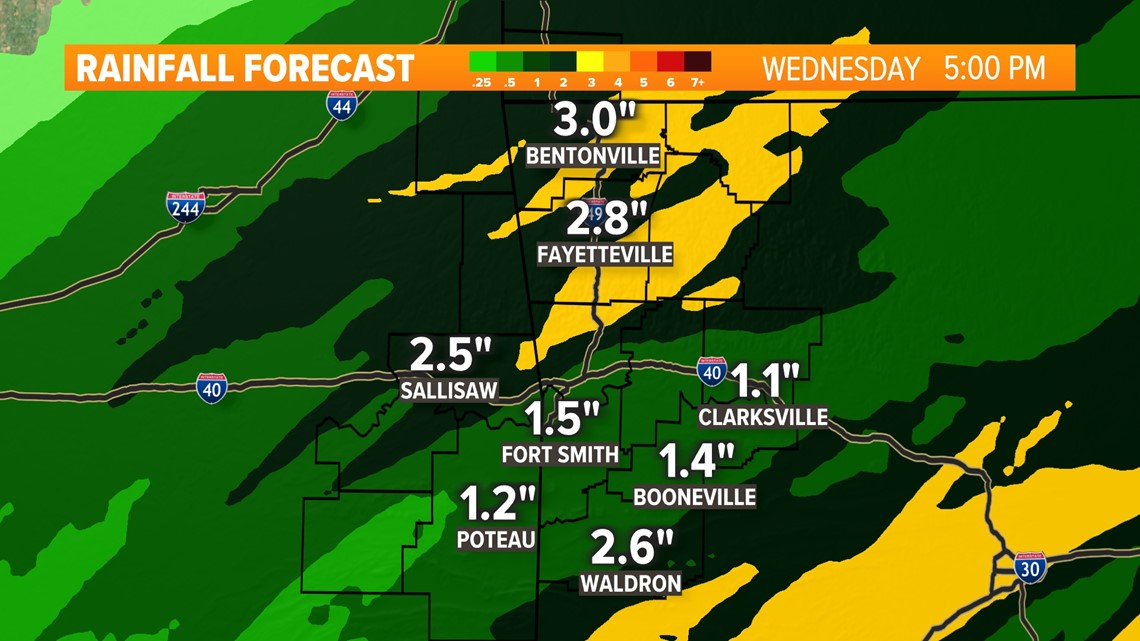 Temperatures quickly drop heading into Friday morning and with precipitation still in the area, we could see another shot of wintry mix across Northwest Arkansas. Models are trending drier as of recent, so this system might skip over us.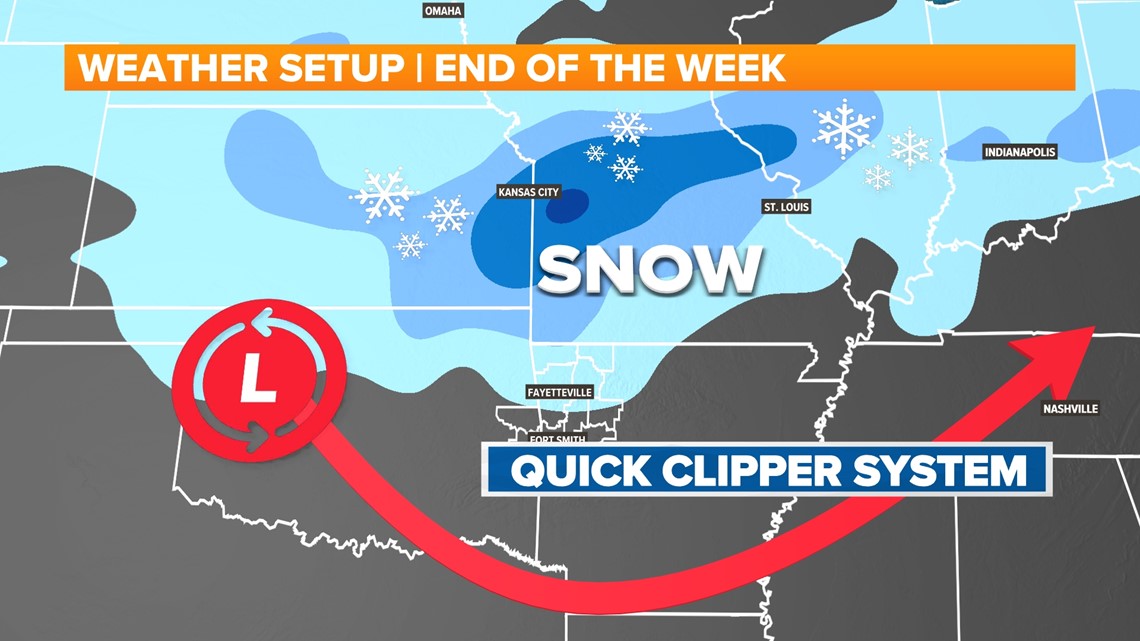 Where to find 5NEWS meteorologists on social media:
Download the 5NEWS app on your smartphone: