FAYETTEVILLE, Ark. — It's a yellow weather alert day due to the possibility for strong to severe storms across our area Friday midmorning into the early afternoon. Following the storms, dry and windy conditions will persist throughout the day before the cold front sinks in overnight.
To track the rain and storms, tap here for our interactive radar.
Timing wise, the window for storms in Northwest Arkansas and the River Valley will be between 8AM and 2PM. Not everyone will see thunderstorms.
An elevated fire danger will develop as the sun comes out Friday afternoon and southwest winds gusts 40+ MPH, especially across eastern Oklahoma.
We'll be cooler Saturday in the 60s with north winds gusting near 30 MPH. A big warm up is likely Sunday through next Tuesday.
TODAY
Scattered storms from 8AM to 2PM (70%)
Highs in the 70s/80s
Southwest winds gusting around 40 to 50 MPH
Increasing sunshine this afternoon
TONIGHT
Mostly clear
Dropping into the 30s/40s
West to northwest winds gusting around 30 MPH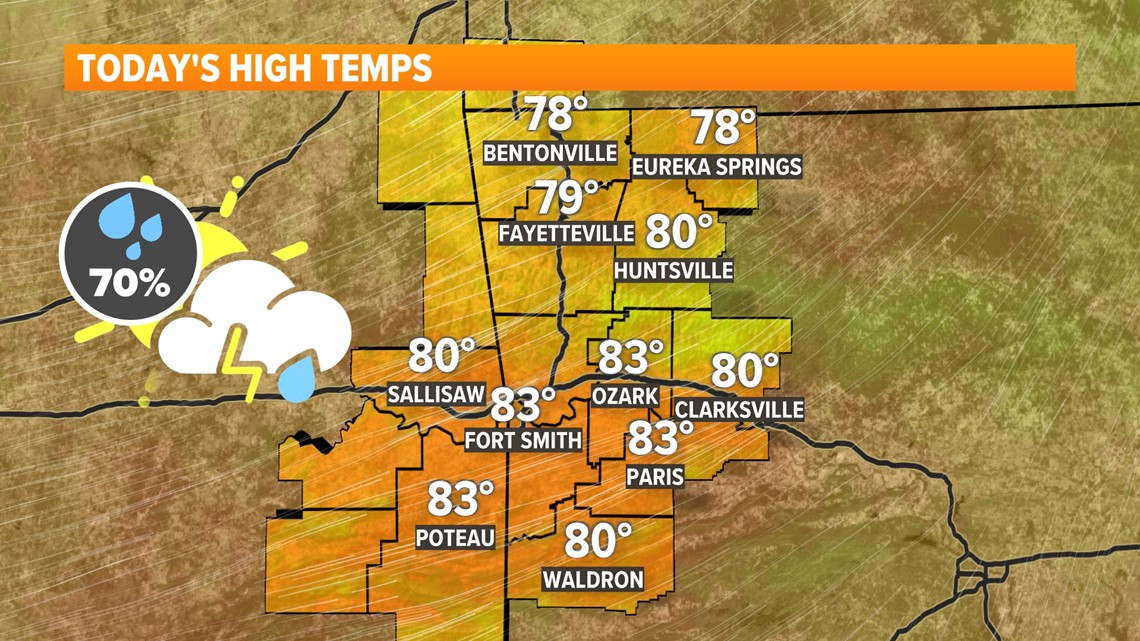 Our next chance for strong to severe storms will arrives this morning and will linger into the early afternoon hours. Currently, it looks like the strongest of storms will be off towards the east near northeastern Arkansas into the Ohio River Valley.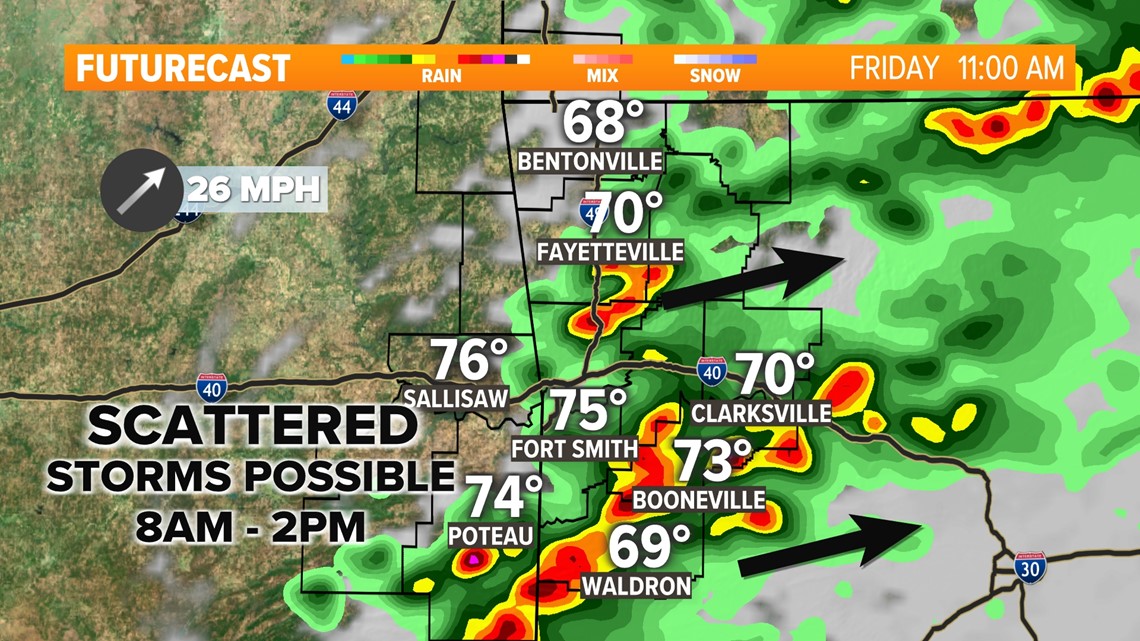 WHEN WILL THE STORMS HIT?
Expect scattered storms to develop in eastern Oklahoma midmorning Friday. They will cross the state line into Arkansas mid to late morning. They will exit the eastern River Valley around 2 PM. Storms will likely get stronger as they move east into central and eastern Arkansas.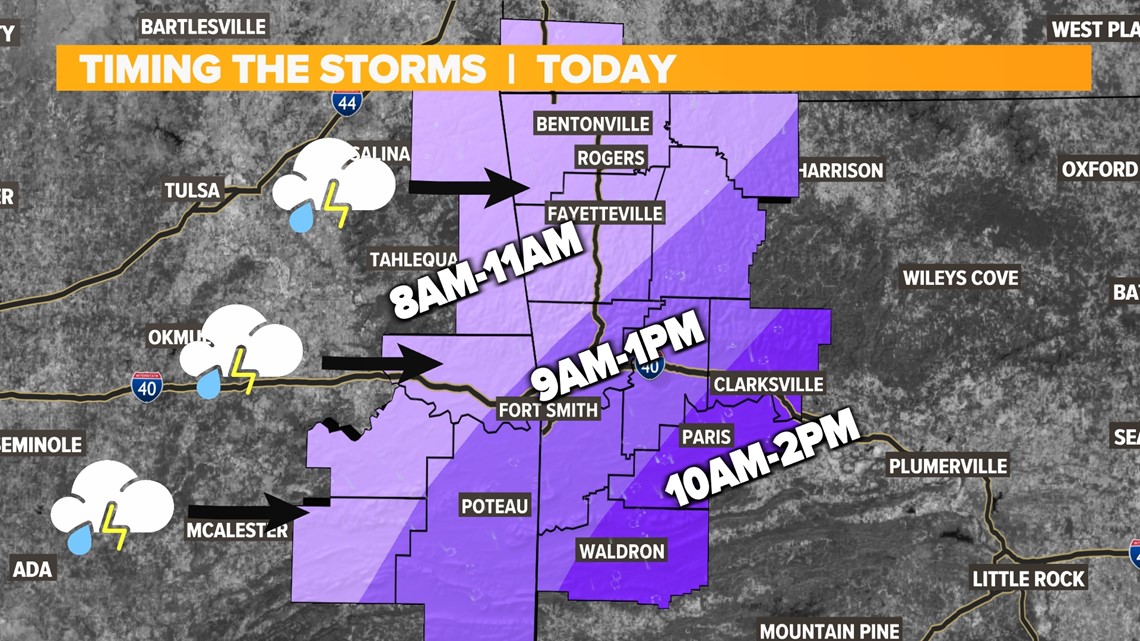 Damaging hail will be our primary threat, followed by some damaging winds and the chance for a tornado or two. Storms should increase in intensity on their march eastward.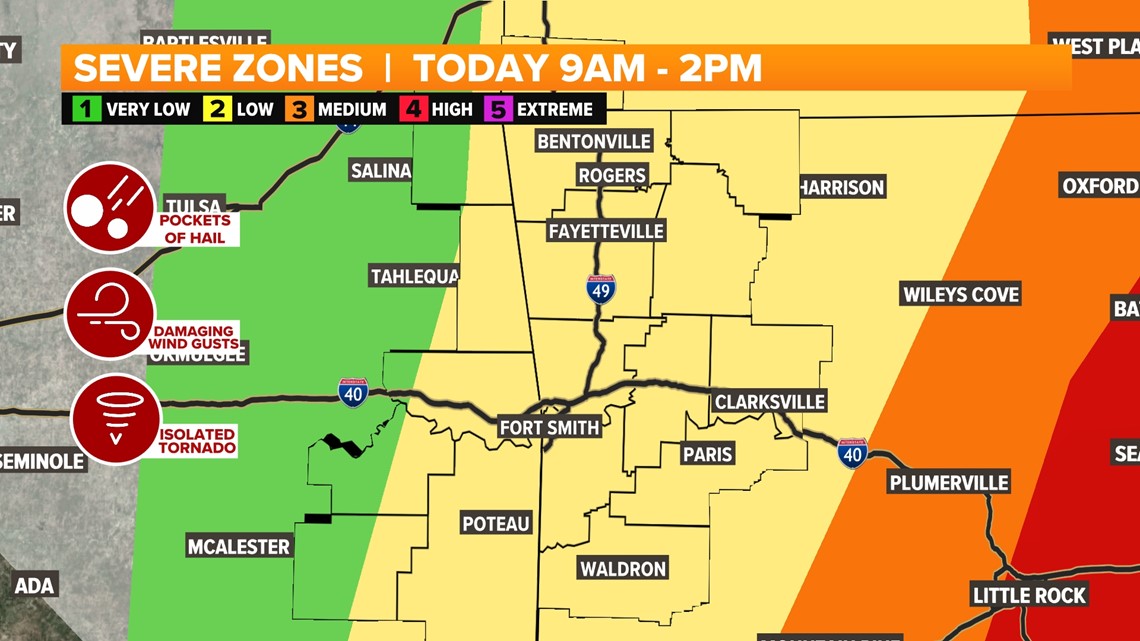 Outside the west coast, Arkansas has been the wettest state in the nation for the month of March.
Pine Bluff: 9.05"
Little Rock: 8.31"
Fort Smith: 7.74"
Fayetteville: 7.46"
Tulsa, OK: 3.71"
Where to find 5NEWS meteorologists on social media:
Download the 5NEWS app on your smartphone: