PORT ARTHUR, Texas — Communities in Southeast Texas are gearing up and offering sandbags to residents as Hurricane Nicholas nears the Gulf Coast. Here's where you can find sandbags as you prepare. 12News will continue adding to this list as we receive information about other areas providing sandbags.
Jefferson County
Residents can get up to 10 free sandbags starting at 10 a.m. on Monday, Sept. 16. The sand will be available at the 'rear of Doornbos Park.' The address is 2301 Avenue H. City officials said residents must bring a shovel and be prepared to fill the sandbags. Proof of residency will be confirmed by either a driver's license or utility bill. Contact the City Manager's Office at (409) 723-150 with questions.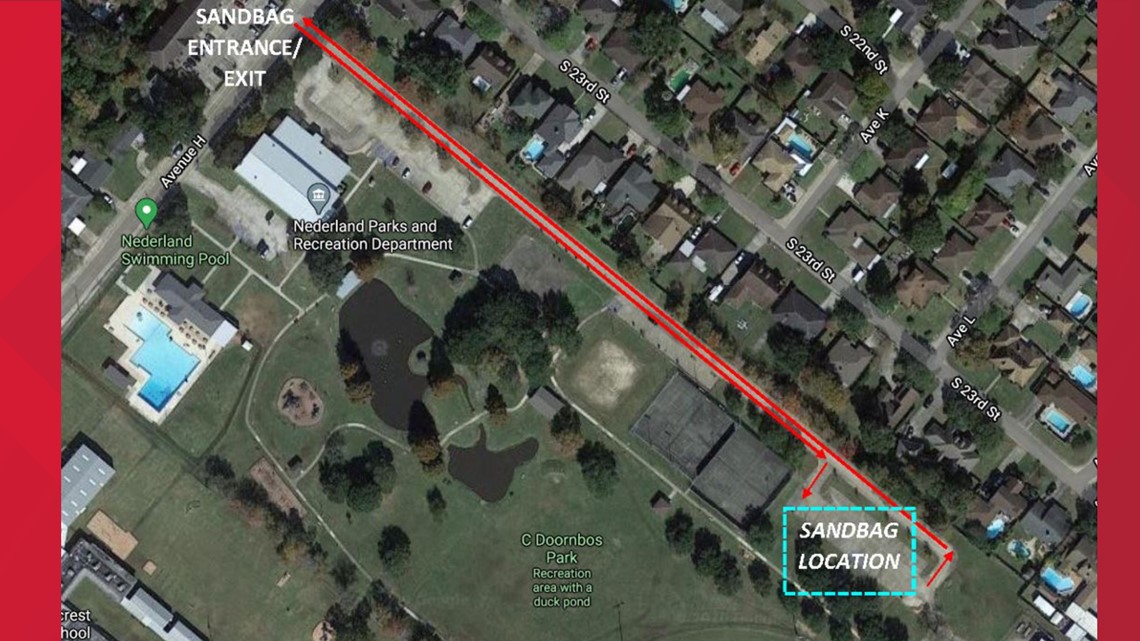 Sandbags are available for residents at two locations. The Bob Bowers Civic Center will have sandbags until supplies runs out at 3501 Cultural Center Drive. Officials also have sand available at the Port Arthur Downtown Pavilion at 500 Procter Street. There is a six-bag limit per address and you will need to bring a Port Arthur ID to prove residency. You will need to bring your own shovel.
The City of Port Neches is making sandbags available to city residents at the City Service Center, located at 2001 Merriman starting at 10 a.m. on Monday, Sept. 13. Please bring identification.
Orange County
Residents can get sandbags at each of four precinct locations ahead of the storm.
-A location for precinct one to get sandbags is at the maintenance barn on North Hwy. 87 at North Teal.
-Precinct two will have a location at 11897 State Hwy. 62 in Mauriceville.
-Precinct three will have a location at the county maintenance barn at 2502 West Roundbunch Road.
-Precinct four's location will be at the county maintenance barn at 375 Claiborne Street.


Also on 12Newsnow.com ...