ARKANSAS, USA — UPDATED winter storm information HERE.
--Forecast outdated. Please tap above link for the newest information.
Winter weather may strike Arkansas next week (Jan 24-25, 2023) as a low pressure swings across the southern Plains, bringing accumulating snow chances with it.
Tap HERE for the latest forecast for western Arkansas and eastern Oklahoma.
A mix of rain, thunderstorms, and potentially heavy snow will hit the southern U.S. next week as a low pressure forms in north Texas by Monday night. Its path northeast will dictate who gets the snow and who gets the rain. The end of January is typically the snowiest time of the year for much of Arkansas. Averages don't always happen, but it may hold true this season.
Tap HERE for our interactive radar to track the incoming snow.
How much snow? We're not sure yet, but we have our best guess down below. We still do not know the exact timing or track of the low pressure, which will make huge differences in how much snowfall we see.
(blue: snow, pink: mix, green: rain)
Much of western and northern Arkansas is under the threat for snow next week. There is a decent chance rain moves in first, but eventually colder air will change it over to snow. As of now, ice does not look to be a major threat. Sleet is possible at times during the transition from rain to snow.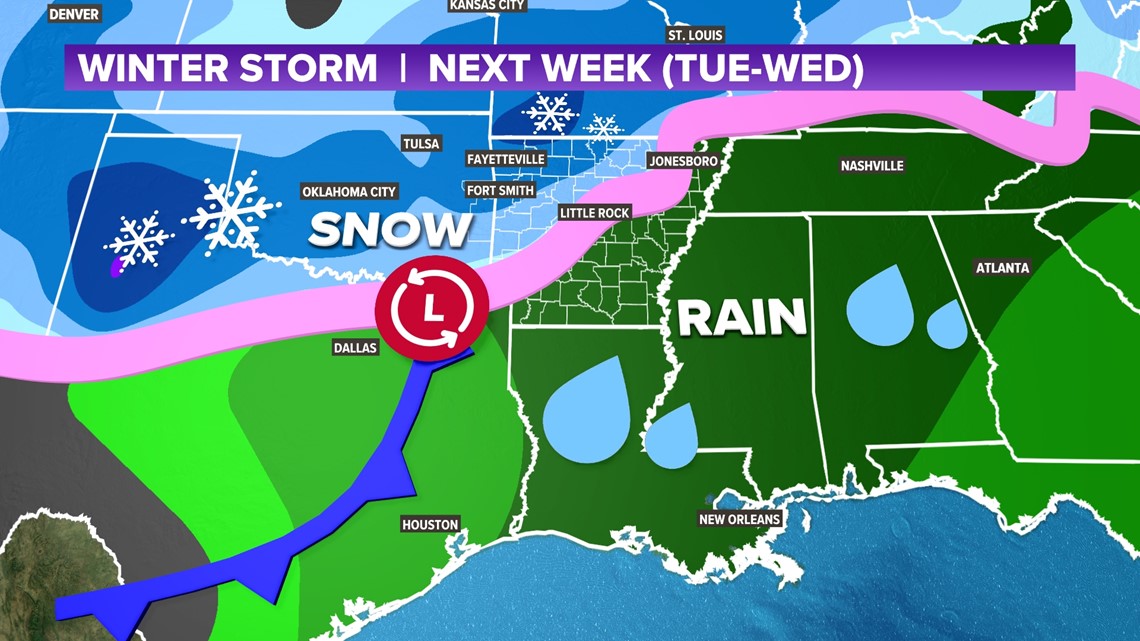 We are still a few days out so exact timing will change. However watch out generally from noon on Tuesday, through noon on Wednesday for this storm to hit across Arkansas. The more this arrives during the day, the more heat that will be available from the sun to create more rain than snow. If it hits later into the overnight hours, Tuesday night into Wednesday morning, more snow may be possible.
Even small fluctuations in temperature and timing can create vast differences in snowfall because temperatures will be flirting with the freezing mark for the entire storm. If you want snow, there will not be a lot of room to budge on temperature -- we are barely cold enough.
The track of the storm determines how far south the cold air can go. It can be crucial in timing how many hours of rain you get, versus how many hours you get of snow. A northern track keeps the colder air farther north. This would likely reduce snowfall totals across much of the Natural State. In this scenario, only NW Arkansas will get a chance for decent accumulating snow.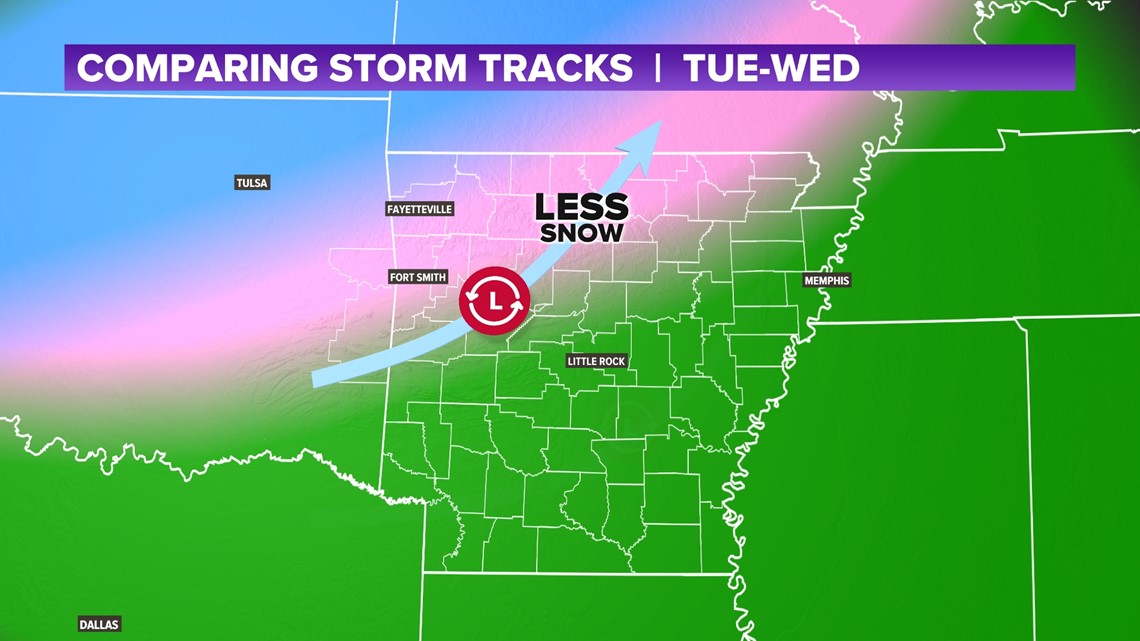 A more central path will allow more cold air to seep into Arkansas. This would mean there would be more hours for snowfall across NWA and the River Valley, while central and eastern Arkansas may get more of a wintry mix, thus lower snowfall totals.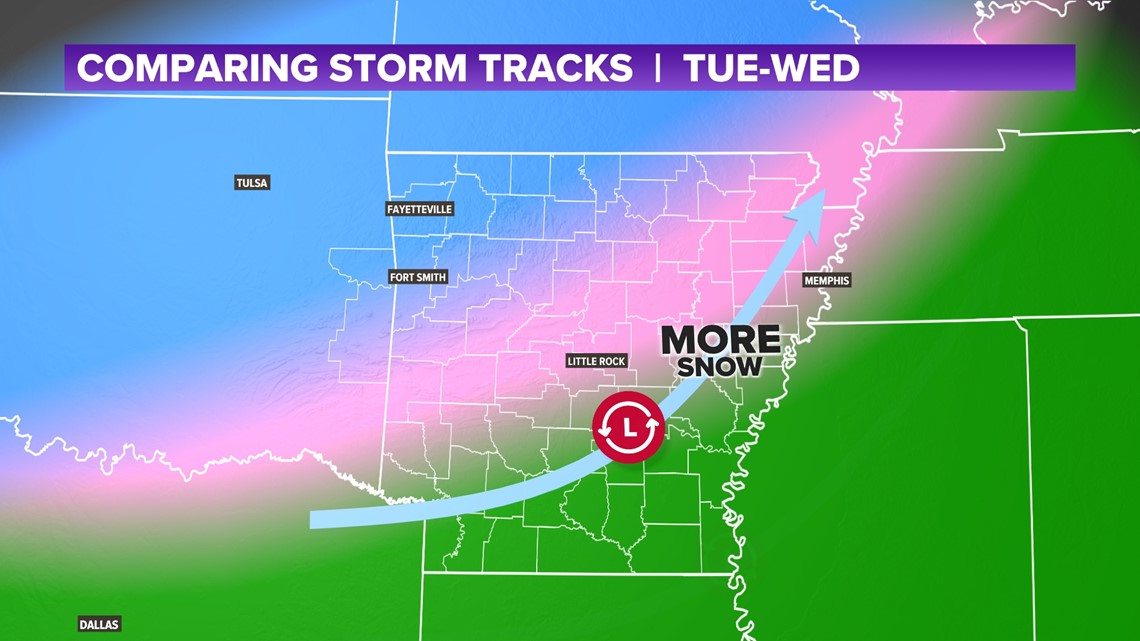 If you want a lot of snow, you need the track to move farther south. The EURO model currently depicts this option. In this case, much of Arkansas will get snow from Little Rock to the north. In fact, several inches could be possible in parts of NW Arkansas and the mountains. Rain bands will be forced farther south and generally much of the state may get more hours of snow than hours of rain.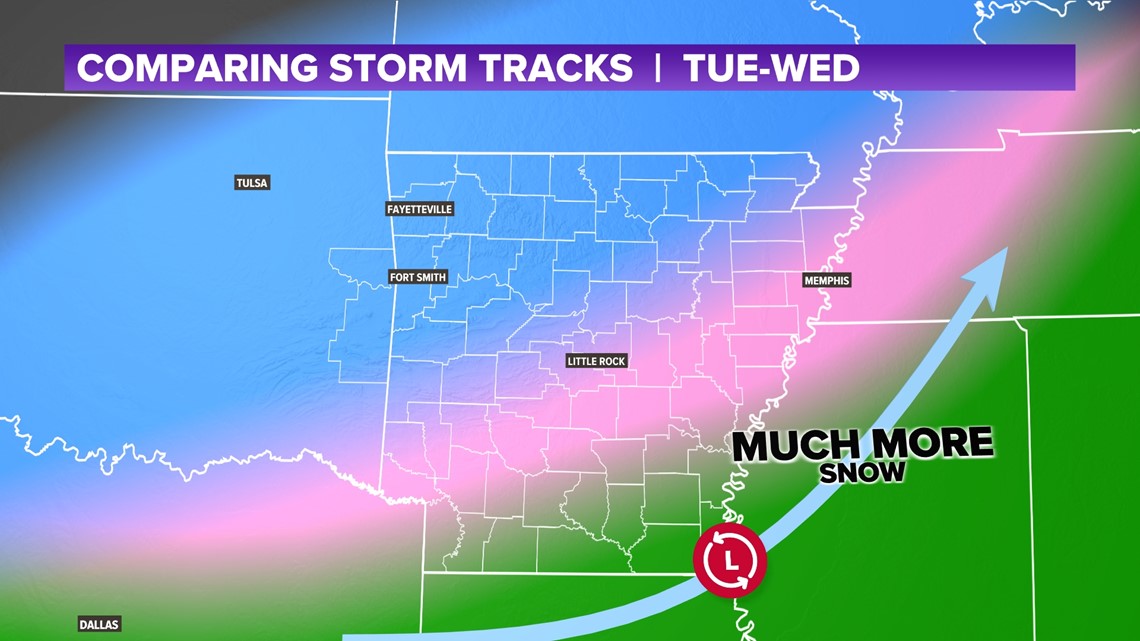 It is too early to nail down specifics, and snowfall can greatly range town to town. However, we can look at the tracks and figure out roughly how much each scenario may bring.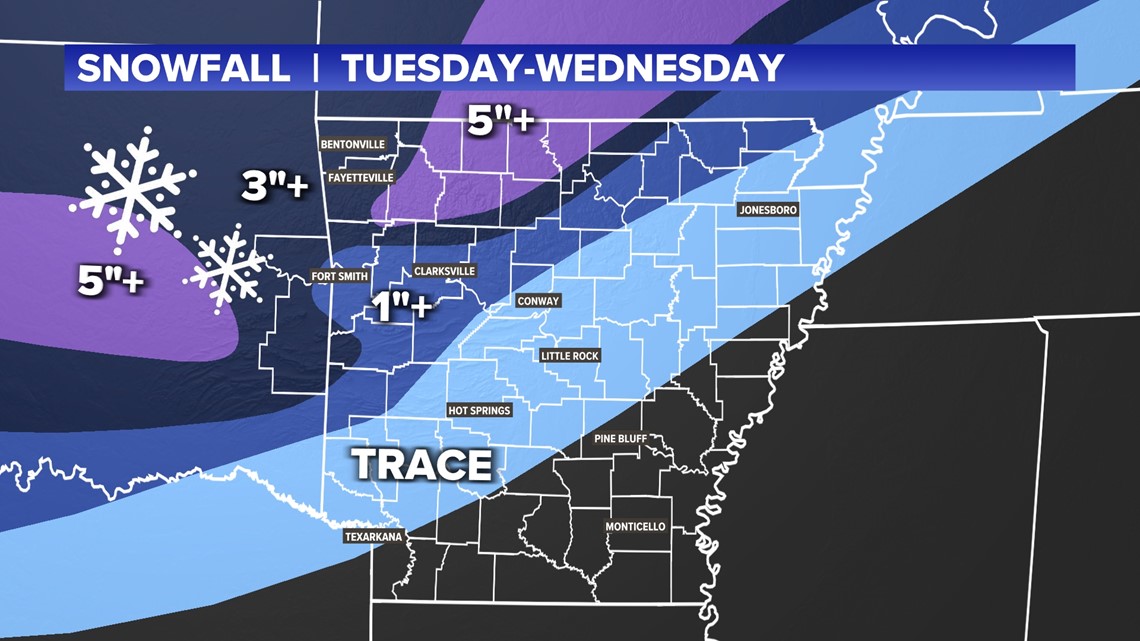 The northern and central tracks suggest an inch to a few inches is possible across much of western Arkansas. The southern track could suggest a handful of inches area-wide (except right along the Arkansas River where totals would be slightly less.)
Stay tuned! Should be a decent does of winter next week.