Oh, what a mess. The challenge in an extremely active pattern like this is to provide a forecast that can help you make decisions and prepare/plan. There will be several chances to see rain all weekend but the weekend will not be a nonstop rain. There will be breaks in the rain and you may be able to attend the kid's games, hold the garage sale, or mow the yard at some point.
In this post, I'll try to narrow down on some of the specifics, timing, rainfall totals & severe risk to help you plan around the weather.
The day will start off with a few diminishing showers from the storms that developed overnight in Oklahoma.
Coverage of rain Saturday morning is low, most of you will be dry.
The afternoon will feature mostly cloudy skies south winds and highs around 80º
Rain chances during the daylight hours on Saturday are around 30%.
Severe Weather is not anticipated Saturday
Best chance for rain all weekend will be from 11pm Saturday to 6am Sunday. 
The most likely time for storms is right around 1am Sunday.
Some of the storms will be severe. The highest tornado risk is out west and the storms should be trending down in intensity when they arrive; but, I do expect a few severe storms Saturday night.
Rainfall totals will be excessive and flash flooding is likely. I'm thinking 1-2″ of rain is a good bet. Locally higher possible.
Chances of rain overnight are in the 90-100% range.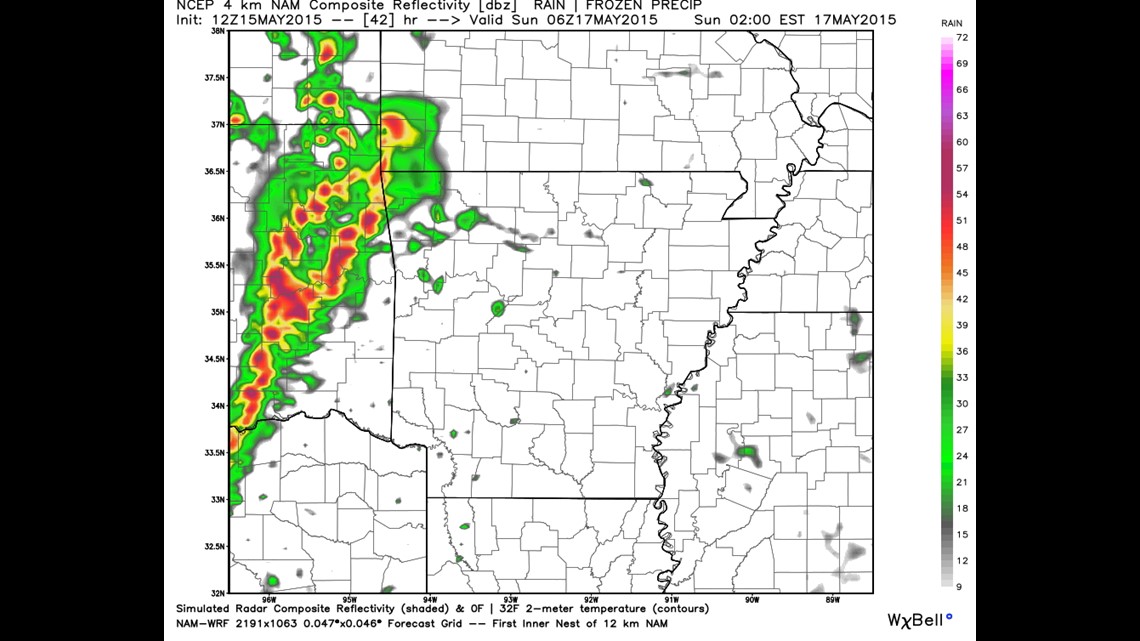 This image shows the model's (NAM4k) radar simulation shortly after midnight. There is high confidence that the line holds together and makes it into our area. In fact, that's about the only thing in the forecast that looks certain at this point.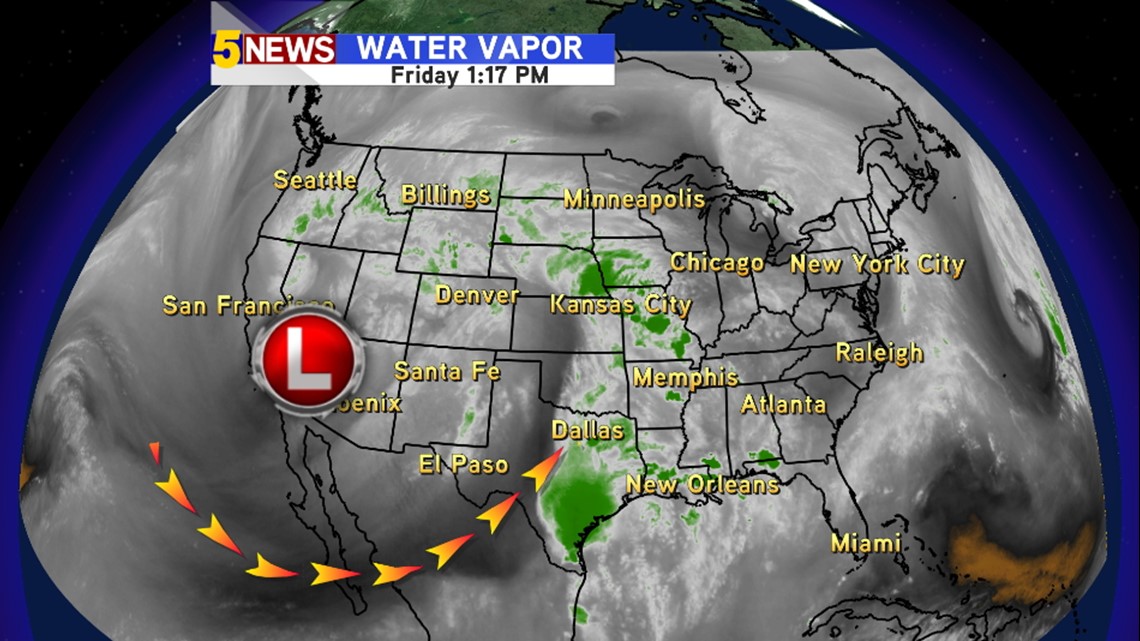 The reason the weather pattern is staying active is because of a large upper low on the west coast smashed up against a high on the east coast. Waves of energy will rotate around that low and give us rain chances. There are small ones almost all weekend long. But the biggest one is our around Phoenix now and gets here Saturday night – Sunday morning.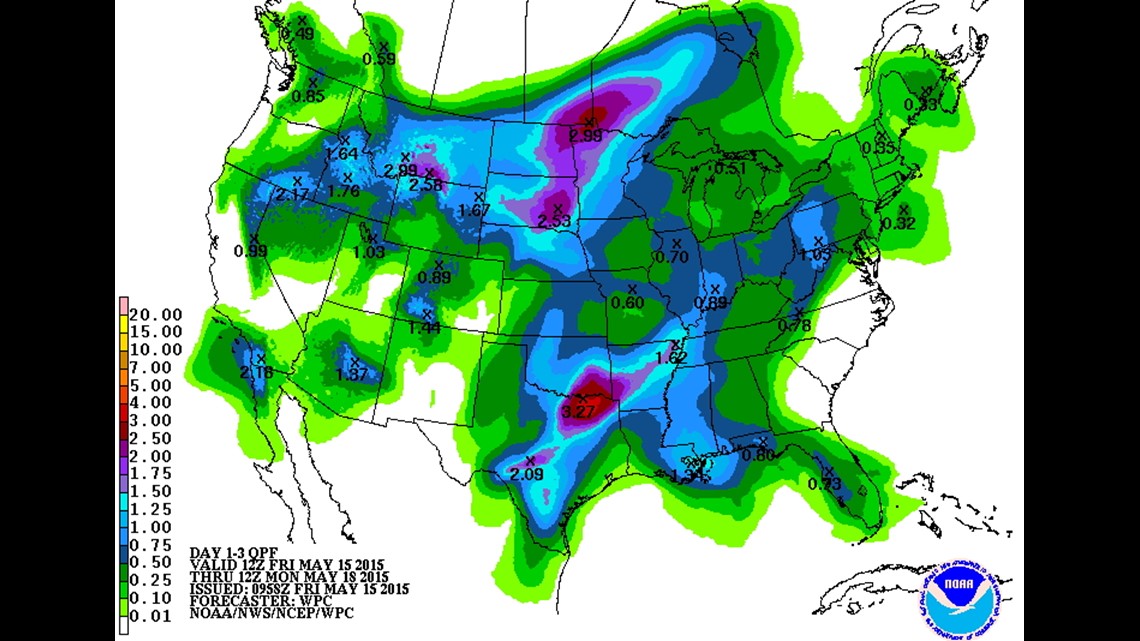 Rain estimates are lower than last weekend but still in the 1-2″ range locally with 3″+ totals possible in SE Oklahoma and SW Arkansas.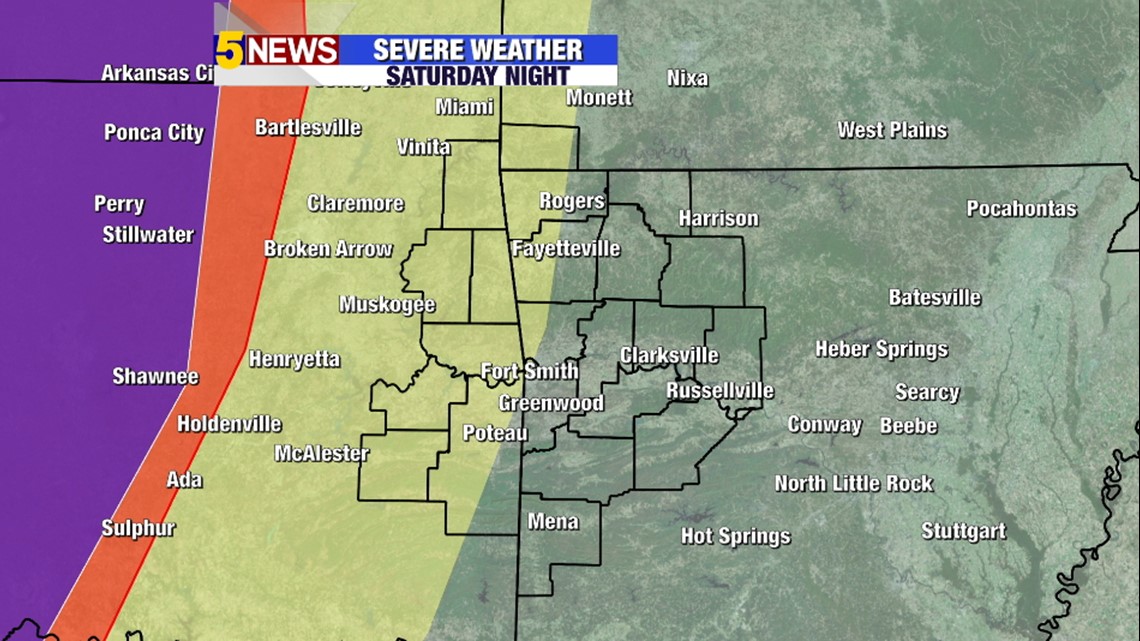 This is the severe weather risk on Saturday night. The highest risk of severe storms will be in Central Oklahoma. The storms are expected to weaken as they move east. I do anticipate that several of them will still be severe when they arrive. Hopefully, they get here with less of a tornado risk.
High forecast uncertainty for storms on Sunday. That's the meteorological way of saying "we're just not sure".
The line that moves in will essentially rain itself out into Sunday morning.
Sunday morning is the best chance of rain, not severe. Chances that rain continues into Sunday morning around 50% it would be a light to moderate rain without storms by the time sunrise rolls around.
Severe storms could develop in the evening. Probably after 5pm and will be heavily influenced by the extent of morning round of rain. It looks like the best chance for severe weather on Sunday evening will be the River Valley and large hail could be the primary risk with colder temperatures aloft.
Chance of storms Sunday night is around 40% due to high uncertainty.