AUSTIN, Texas — An Ozone Action Day is in effect for Williamson, Travis, Hays, Bastrop and Caldwell counties on Tuesday due to the possibility of elevated ozone air pollution. Those with chronic lung conditions should limit exposure outdoors.
Tuesday morning dropped down to the 50s and low 60s across most of the KVUE area, with some of the coolest spots in the Hill Country as low as the mid 40s! Comfortable mornings with warm afternoons will continue all week long.
Due to the low humidity, fire danger is also elevated this week so please be smart through the rest of this week. We are also tracking reduced air quality due to high levels of ground-level ozone.
Afternoon highs between now and the weekend will stay in the upper 80s to low 90s. Morning will also stay in the 50s and low 60s with the coolest low-lying valleys in the 40s. The one down side to this forecast, we have no rain chances for the next 7 days.
Temperatures trend a bit warmer by the beginning of next week with highs back in the low to mid 90s.
In the tropics, Hurricane Ian is bringing a significant wind, rain, and storm surge threat to the Florida peninsula. The latest on Ian can be found below:
TUESDAY NIGHT:
Clear and cool. East-northeast wind at 5-10 mph.
LOW: 61
WEDNESDAY:
Sunny and warm. East wind at 5-10 mph.
HIGH: 92
WEDNESDAY NIGHT:
Clear and comfortable. East-northeast wind at 5 mph.
LOW: 62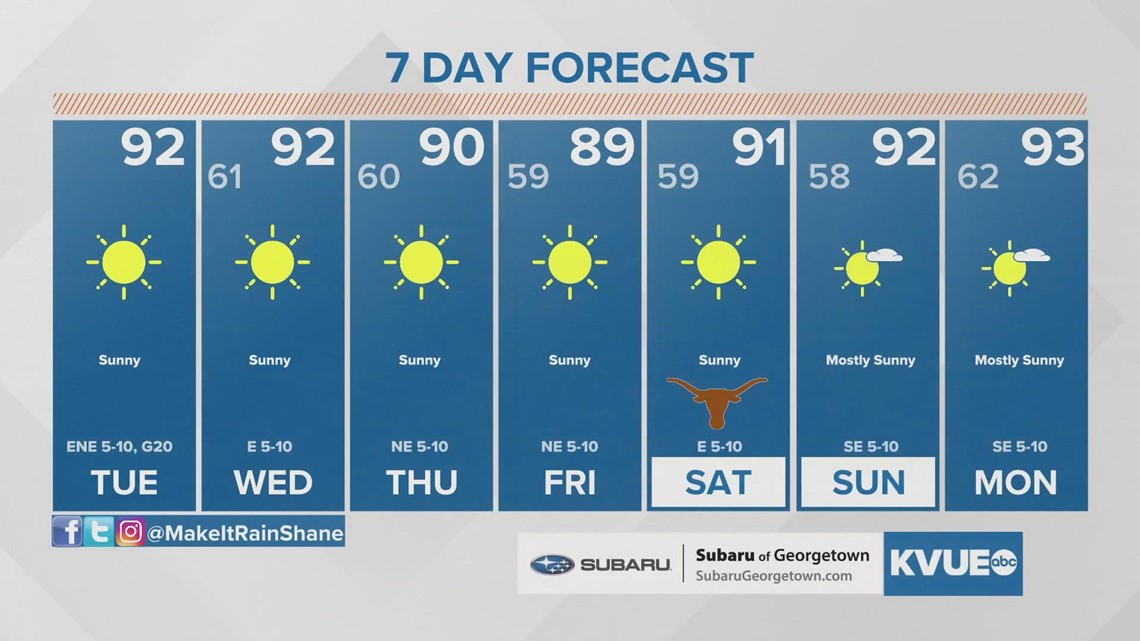 Check out the live radar for what you can expect the rest of the day and into the workweek.