OKLAHOMA, USA — The National Weather Service has confirmed EF-1 tornado damage in Monroe, Oklahoma from Monday afternoon's storms. (scroll down for map)
**CHECK BACK FOR MORE UPDATES AS THEY ARE RELEASED**
The debris was picked up on radar from 5:19 PM until about 5:30 PM in eastern Le Flore County, crossing the Old Monroe Highway, or Route 83, heading northeast. It dissipated near the southwestern slopes of the Sugar Loaf Mountains right on the Arkansas - Oklahoma state line.
Over 400 power outages were reported from Howe to Monroe late Monday afternoon after storm damage.
FROM THE NATIONAL WEATHER SERVICE
Peak Wind: 105 to 110 mph
Path Length /statute/: 5.6 miles
Path Width /maximum/: 1400 yards
Start Location: 3.6 ENE Howe / Le Flore County / OK Start Lat/Lon: 34.961 / -94.576
End Location: 1.9 NNE Monroe / Le Flore County / OK End Lat/Lon: 35.019 / -94.506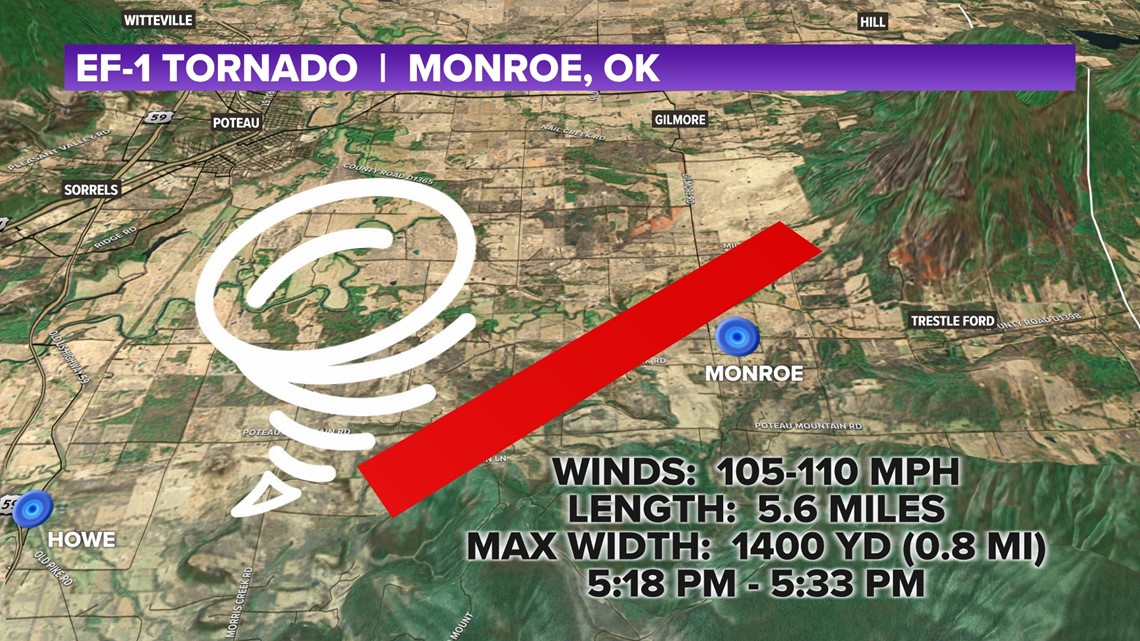 The tornado touched down over Poteau Mountain Road by Horsepen Creek and traveled north eventually crossing Route 83, just west of PJ's Country Store in downtown Monroe and then picked up over Midway Road at the base of the Sugarloaf Mountains.
This supercell storm dropped hail into Arkansas near Apex, West Hartford, Hartford, and Mansfield.