ARKANSAS, USA — Winter is en route to the United States once again. What will this cold season bring, specifically across Arkansas and Oklahoma. With another moderate La Niña expected, the jet stream will likely be more active and less stable, bringing several swings in temperature across the southern Plains.
(scroll down for our 2021-2022 winter forecast summary)
Let's start big and then scale down to Arkansas. Cooler-than-normal sea surface temperatures are expected in the eastern Pacific Ocean. These ocean waters can influence how the jet stream behaves over North America. NOAA expects a "moderate" La Niña this season. The intensity of the cooler ENSO phase leads to specific impacts.
Generally, the jet stream becomes more active, more variable during La Niña. The Pineapple Express, flow of moisture and storm systems will likely be farther north along the Pacific Coast, bringing several systems from Washington to Northern California. From here the jet stream will likely dip south into the Plains and Great Lakes. Cold air should easily funnel into the Northern Plains but the Southern Plains will have a more difficult time getting the cold air, at least consistently. In addition, storm systems will mainly track along and north of the jet stream, as seen below.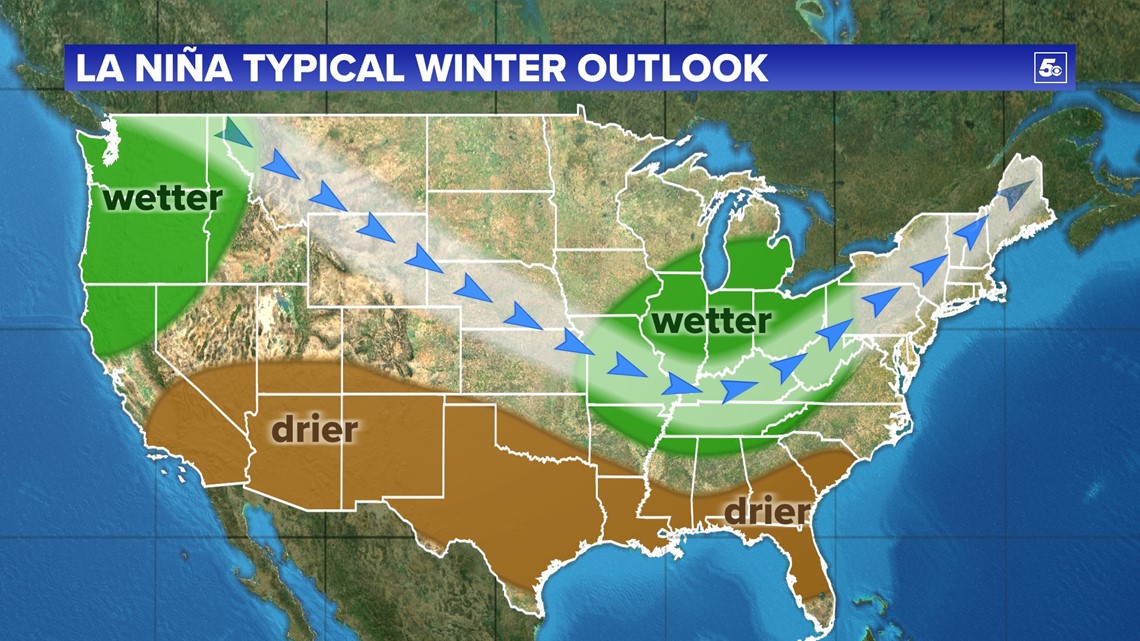 UNITED STATES PRECIPITATION FORECAST
More rainfall/snowfall is likely in the Pacific Northwest and in the Ohio River Valley. Toward the south, the jet stream will only dip towards the Gulf Coast a couple times, reducing changes for precipitation. Drier-than-normal conditions are likely in the Deep South and desert Southwest.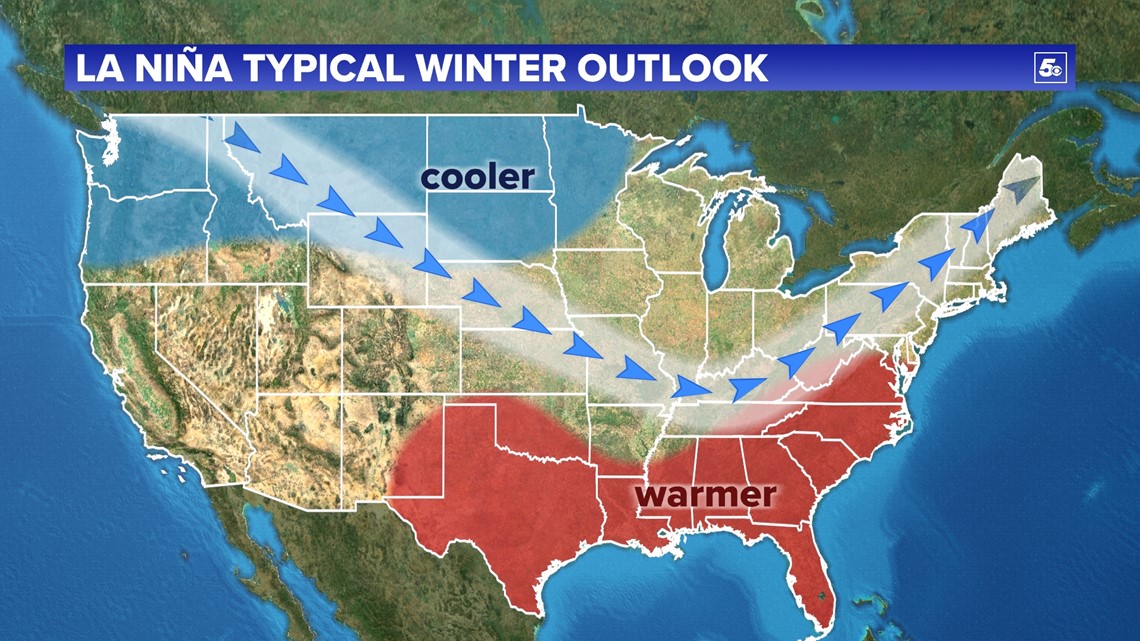 UNITED STATES TEMPERATURE FORECAST
With such a variable jet stream, most of the time colder air should be trapped in the north with only occasional cold blasts arriving in the south. This will lead to a cooler-than-normal north and a warmer-than-normal south. With such a strong temperature gradient across the USA. We are expected strong winter storms in the central USA, bringing healthy precipitation chances to the Ohio River Valley.
We also know that La Niña tends to strengthen blocking high pressures in the North Atlantic. That's why you see the jet stream turn back north in the Northeast. That means the best place for cold air to funnel when it build's up enough will be the Plains and Ozarks. That's why you see a dip in the red color across Arkansas. Too much variability for a clear forecast.
NORTHWEST ARKANSAS AND THE RIVER VALLEY TEMPERATURES?
The maps above show data over the past 70 years and what we have typically seen during La Niña winters. You may have noticed that the signals are not as clear in Arkansas, especially western Arkansas. We crunched numbers to see what we could find, specifically for a moderate La Niña.
Northwest Arkansas: Average high temps in the upper 40s/50s
River Valley: Average high temps in the low-to-mid 50s
-42% of La Niña's were WARMER than normal
-37% of La Niña's were about AVERAGE
-21% of La Niña's were WARMER than normal
We think there is a decent chance that we will be roughly average, or slightly warmer than normal. Expect average afternoon highs to be in the mid 50s.
In addition, through October and early November, arctic sea ice has been running about 20% below normal. This may cause the polar low to become more unstable, causing random outbreaks of cold over the northern hemisphere. A few times it will dip south into the central US, bringing cold air to Arkansas.
Even less sea ice was reported back in February 2021. The polar low was very unstable. After a mild winter, enough cold air trapped up north finally spilled south, this time hitting the Plains and dropping temperatures to record lows. The polar low will be unstable again this year, but not as chaotic as last year. Don't expect to get as cold as we did in February...
Our Forecast: SLIGHTLY WARMER THAN NORMAL. Most days will be warm. We will likely get a few outbreaks of cold air. Some of these spells may get frigid with temperatures well below freezing. These are not expected to last long.
With a warmer winter and limited cold outbreaks, will snow chances be lower?
Northwest Arkansas: 7 inches on average
River Valley: 4.9 inches on average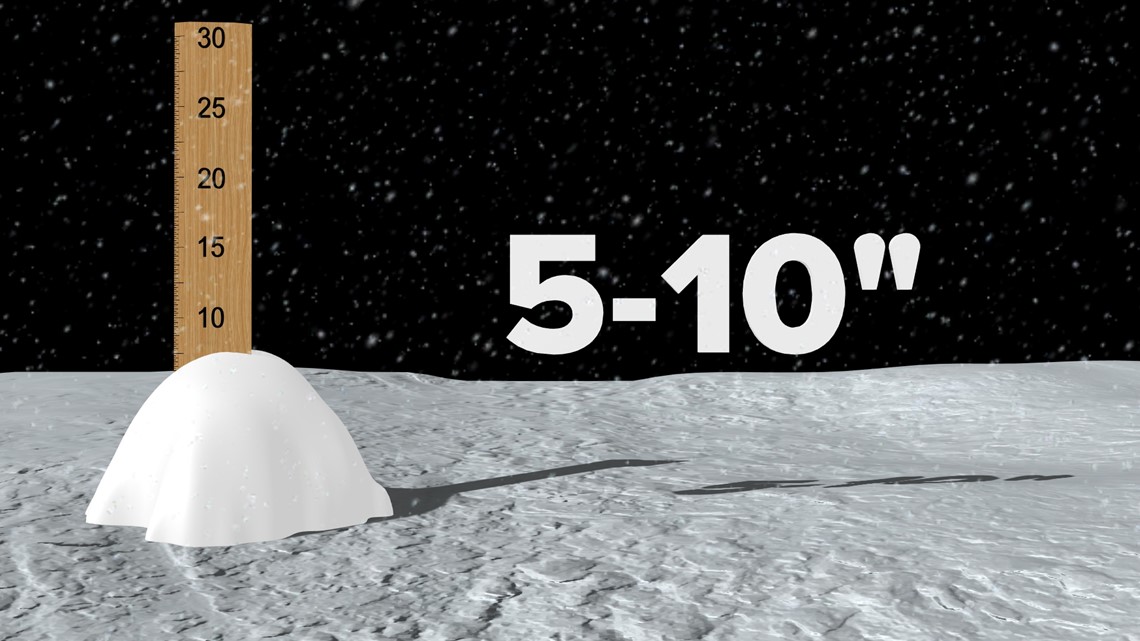 64% of La Niña winters brought above average snowfall to NWA
55% of La Niña winters brought above average snowfall to the River Valley
The amount of snowfalls may be less with less consistency in the jet stream. But we may squeeze out more snow during the few cold outbreaks we get. With warmer temperatures, there should be adequate moisture, but we just need the temperature to drop enough.
Snowfall is a more difficult forecast because you have to time out the cold and the moisture just right.
Our Forecast: 5-10 INCHES (SLIGHTLY MORE THAN AVERAGE)
On average the highest chance for freezing rain lies in the Great Lakes and Northeast (winter season is longer, thus more chances). However cold air likes to spill south into the Ozarks and near the Appalachians. Western Arkansas usually gets 2-4 days of freezing rain every winter.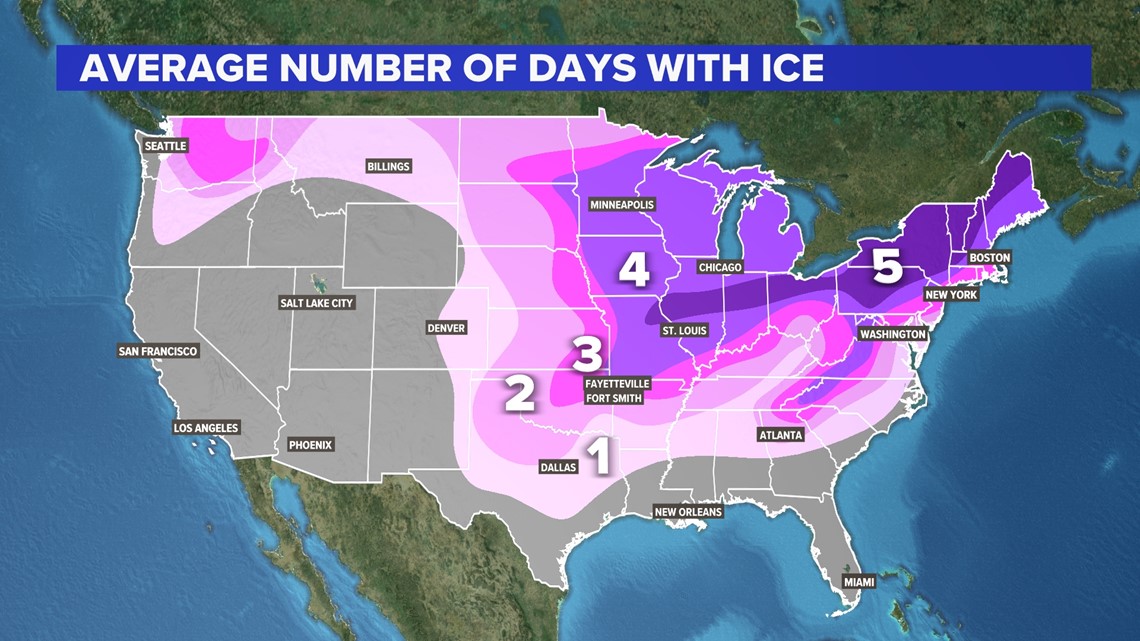 Our biggest ice storms in Arkansas' history have taken place during La Niña years, including the ice storm of 2009.
Our Forecast: HIGHER CHANCE FOR BAD ICE
With more warm and a more chaotic jet stream, severe weather chances will likely go up. Every storm system has its unique characteristics but warmer weather provides more fuel for storm development. Winter has increasingly become more tornadic as warm, humid air has been able to stream farther north than normal.
Our Forecast: MORE SEVERE WEATHER
5NEWS WINTER WEATHER OUTLOOK
- Warmer the normal (fewer, but potent cold outbreaks)
- Slightly more snow (fewer snowfalls, but more snow per event)
- Higher chance for ice storms

WHAT WILL AN ARKANSAS WINTER LOOK LIKE IN 50 YEARS?
A changing climate will continue to alter what we see year after year. While impacts will be less drastic in Arkansas over the next 50 years, we will likely see less snowfall and less frigid days in the winter season.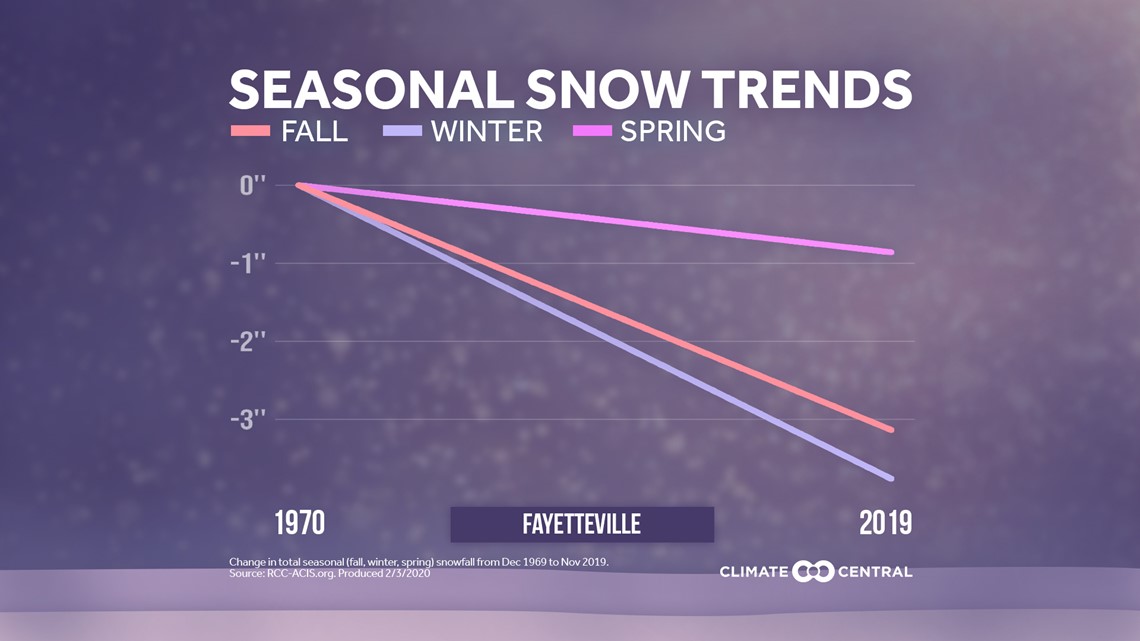 According to climatecentral.org, Fayetteville has on average seen a decline of 3 inches of snow the past 50 years. That slow decline in consistent snowfall is likely to continue. Instead of seeing an average of ~7 inches per winter, we may more see totals around 3-5 inches per winter. Winters in Northwest Arkansas will be more similar to Northeast Texas.
While it is not certain what the next few decades will bring, we have noticed more chaotic swings in temperature and snowfall. While warmer temperatures and less snowfall is expected on average, our winters will tend to look like this:
-No snow or barely any snow for a few years, then a huge snowstorm every once in a while. Consistent snowfalls will be less common.
-Overall warmer winters are likely, but cold outbreaks may become more severe with unstable polar lows due to lower arctic sea ice concentrations.
More from Arctic Arkansas