FAYETTEVILLE, Ark. — Hats widely seen at recent sporting events have garnered a lot of attention as fans, athletes, and hog icons wear Pigs Brand.
The business makes fan gear for Arkansas sports with the trademark Pigs. Their website has been active since February 22, 2022, when the brand officially started.
Lance and Lindsey Fairchild are the owners of Pigs Brand from Maumelle. Passed from their parents and now passing it on to their twin boys, they've been Hog fans all their lives while living in Central Arkansas.
"Everybody has kind of the same standard Razorback gear, and we wanted stuff like that we would like to wear like, and it'd be a little different," said Lindsey.
Since 2008, Lance's golf apparel and accessory company, Grindin Golf Co, has outfitted the Razorback golf team. Lance explained that he wanted to make a hat to show off his work but also represent the Hogs. In 2018, he created the PIGS hat and officially began selling it through his company in 2019.
"I wanted that hat. I just didn't know that everybody else did too," said Lance
Lance started giving hats to friends, including a friend who was an avid baseball fan that attended regionals.
"It was like, all over TV, and from there, it was straight up. So it's been crazy," said Lance.
Lance explained the moment that really changed it for the couple was when he attended one of his first football games in 2021.
In the SEC Nation's gameday fashion, analysts picked helmets for their predicted winners. Only this time, analyst Jordan Rodgers borrowed a fan's PIGS hat from the crowd.
"We're literally in route to the game. My phone's blowing up, I had 500 hats. Before we made it to the game, the hats were gone. And so at that point, I was like, okay, maybe this is going to be something," said Lance.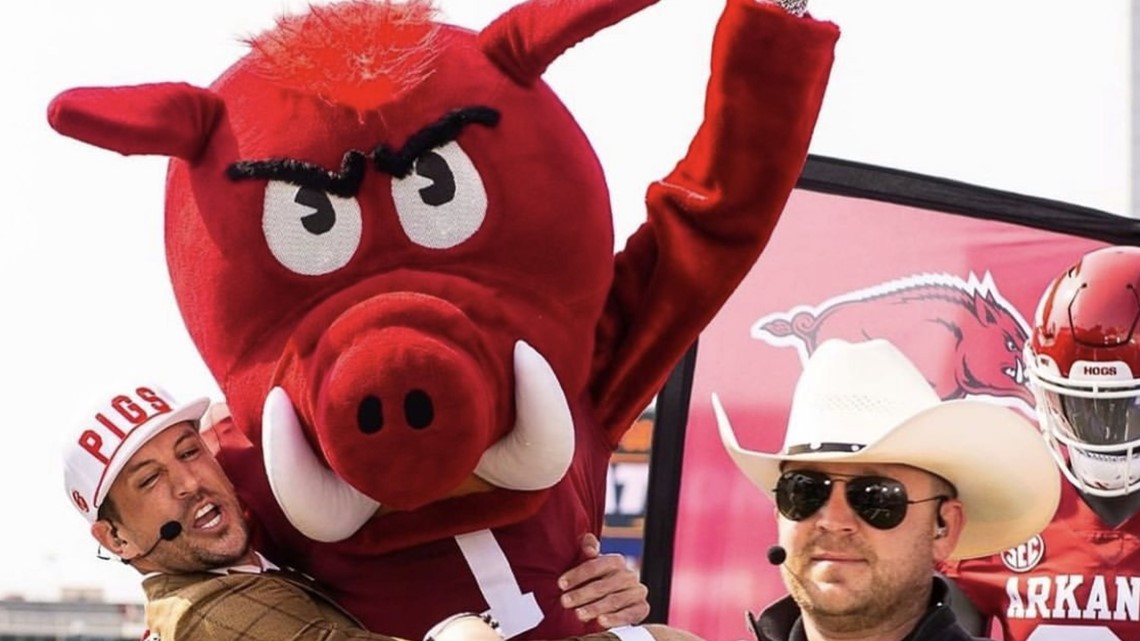 After that, fans, athletes, and even hog icons began repping the brand all over social media and even on TV.
"The demand was insane, you know, so we had to figure out how to do it the best way to to make enough product but also secure the brand like we had to trademark Pigs," said Lance.
"It really caught my eye though. And I started asking around, people already knew about it. And they were asking me the same thing. Where do you get it?" said Roman Villasana.
Villasana is the founder and CEO of Swoon Juice Bar. Right off MLK in the heart of Fayetteville, Roman has Razorback gear including the hats on display. Pigs Brand and Roman often collaborate to giveaway hats at Swoon events.
"Every time I go online to show a customer, it's out of stock," said Villasana.
While everyone scrambles to grab one of these hats, the Fairchilds have not only made friends but also helped others along the way.
"Just like Fayetteville, just like the Razorbacks, that it's all like one big family. Everybody knows everybody. We're all trying to help out each other. We're trying to be very successful, sports-wise, brand-wise, of course, and the restaurant smoothie-wise. So it's just one big team," said Villasana.
"It's more valuable than the dollar that we earn, you know, like, the networking and just the friendships alone," said Lance. "I always say, like, the more good you do, the more good you can do."
With their product now becoming an Arkansas fan staple, they just have one thing left to say
"Gosh, thank everybody for their support and like rep and stuff. I mean, I think that that's one thing, like, I'm, we're proud to be from Arkansas, we're proud of our fan base because I think it's the best fan base," said Lindsey.
Lance says they work very closely with the University of Arkansas and are looking to be licensed finally. That means a lot of new Razorback gear could be on the way.
The Couple is also considering a move to Northwest Arkansas where they could have a more permanent location, or perhaps a mobile storefront that could attend Arkansas athletic events.
Download the 5NEWS app on your smartphone: