ROGERS (KFSM) - Most sophomores in the 7A-West don't see a lot of playing time.
Most don't even imagine starting.
That wasn't the case for Rogers High, who saw multiple starters in the lineup throughout the season and in the first round of playoffs
"We have 16 kids that, if I'm not mistaken, had starting experience last year - a couple games to 11 games," head coach Mike Loyd remembered.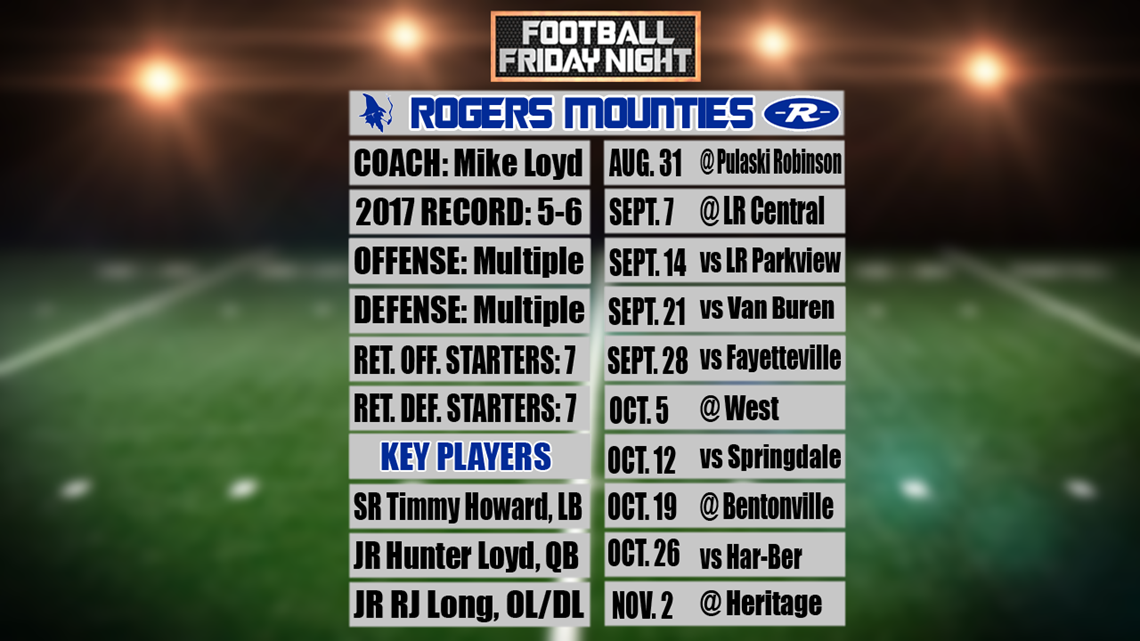 He continued, "I'm expecting some big things. These kids have worked hard. Every coach says that, but their attitudes has been great. They're fun to be around. They're coachable. I think we've got some linemen, I think we've got some skill kids we haven't had in the past. That's not to get on any of my kids I've had the past two years, but we've got some talent here on our football team. Up front on the line, we've got some size, we've got some kids who can run."
One sophomore starter included all-league quarterback Hunter Loyd, who passed more than 2,200 yards last season with 14 touchdowns and eight interceptions. On top of that, he also ran for 152 yards and seven TDs.
"I've never really started a sophomore quarterback. Especially at the biggest classification. He's improved size-wise, strength-wise, obviously knowledge-wise," Coach Loyd said of his son. "He had a lot of help and we've got a lot of good guys coming back."
After starting 4-1 in the 2017 season, Rogers fell apart when it came to conference play - ending their season with a 5-6 record.
"What happened last year was it just felt like we hit a wall, and we never really recovered from that. Hopefully this year we never really hit that wall, but what seemed to happen was we just kind of fell off as soon as we hit conference play, which is not what you want to be doing at all," said senior safety Timmy Howard. "We want to be going up when we hit conference. We never got back on the track we needed to be on."
"Last year, I don't want to say we didn't have leadership - but they wasn't as vocal as we got this year. We're very vocal this year," added transfer from Jackson, Mississippi and junior receiver Coby Bailey "Everybody likes everybody. We love to be around everybody. Everybody listens to everybody, so we'll be pretty good this year."
It also doesn't hurt to be adding a new defensive coordinator in Kenny Evans, who joins the Mountaineers with quite a resume. He's coached for 36 years and collegiately at eight different universities - most recently Missouri Southern. Evans has known Coach Loyd for more than 30 years, and is a key hire in the Rogers staff.
"It's going to do wonders. I can already see a big difference. Not to slight any of the coaches who have been here before or the guys I had, but he's been a mentor to the young ones and I've got some bright, young coaches," Coach Loyd boasted of his new DC.
He even make some hefty comparisons, saying, "To have a veteran guy - it's not any different than having The Chief there at Arkansas. He's got about as much experience. He's been great with the young ones, he's been great with the players, but extremely knowledgeable. He knows how to make adjustments during the course of a game. These guys are learning. I said be a sponge and try to pick up as much as you can from him."
Coach Evans joins a program with a good foundation and an abundance of talent, and he says he's already noticed the teamwork among the squad.
"I think one thing I've noticed is that these guys really love to compete," he mentioned. "The effort's been great. There is some talent here that's gonna lend itself to having a good season."
The players have also noticed a positive change with the adjustments in the coaching staff.
"They push us every day in practice, in the weight room, we go full speed no matter what," Bailey said. "With cameras here, with scouts here, no matter who here - we're going full speed every day, all day."
"Practice is about as hard as the games are going to be, usually, because these guys have faced some incredible athletes," Howard added. "They're gonna push you to be your best, even in the weight room - even off the field. They want you to be your best you can be like in the classroom and everything. It's great to have those guys around."
With a learning year behind them and a season full of possibilities ahead, the Mounties feel like they've overcome their adversities and this could be the year they've been hoping for.
"Those kids, they took their lumps, and they're looking forward to this season and we're going to be a lot better," Coach Loyd said. "We're going to be a lot more athletic and bigger and stronger and faster. Every coach says that, but we look like a different football team."
In his 32 years of coaching, Coach Loyd has always used the slogan Team Matters Most. He says that particularly resonates with this year's squad.
"They get that. They have that chemistry. Some teams have it, some teams don't. To me, that's probably the most important thing," he explained. "They play for each other. They're not afraid to go play in a different position. Everyone can't be a running back or a quarterback or a receiver. These kids just want to win. They want to compete and they do play for each other."
In the tough 7A-West district, it's easy to count teams out. But Rogers is out to prove their name is one that shouldn't be left out of the conversation.
"I think they're going to be in for a surprise - the people that don't think that we have a chance, because there is a lot of talent here, and I think we've built throughout the summer," Coach Evans explained. "We've had a lot of success throughout the summer in 7-on-7. The players have been very positive on everything. We're excited to get it going."
A rough year isn't stopping the Mounties from setting their sights high.
"Our goal right now, we want a state championship. We want to win a district championship. We want to have a winning season," Coach Loyd said.
With a high level of talent, new coaches, and a passion that can't be taught - Rogers has all the ingredients to the formula of a winning season.
Now, it's up to them to execute it.
"There's no reason they can't do it. It's like I told them the other day, there's no more excuses," Coach Loyd concluded. "They've got the players to do that, now the mindset - let's go out and get it done."