FINAL: San Jose State 31, Arkansas 24. You can read a full recap here. 
1:13, 4th Quarter – The energy in Razorback Stadium died down quickly when San Jose State marched right down the field capped off by a 19 yard run for the go-ahead touchdown. SJSU missed the PAT, but time is winding down for Arkansas to save hope. San Jose State 31, Arkansas 24
2:56, 4th Quarter – It was a crucial drive for Arkansas and the team was able to drive down the field with ease. Following a 40-yard pass to Mike Woods to get in Spartan territory, Trey Knox caught an 8-yard pass in the endzone to tie the game up with less than three minutes to play. Arkansas 24, San Jose State 24
5:50, 4th Quarter – Arkansas gets another stop on their half of the field and the Hogs' offense will get at least one more shot at tying the game. Razorbacks take over at their own 20 trailing 24-17.
9:19, 4th Quarter – Starkel's third down pass goes right through the hands of Mike Woods, who would have had the first down, and Arkansas is forced to punt. SJSU takes over at their own 44 after a short kick.
10:31, 4th Quarter – The Razorbacks' defense is keeping them in the game as they get another stop in the second half. Hogs take over at their own 20 with a chance to tie.
13:10, 4th Quarter – Things aren't over just yet as Tyson Morris hauls in a Starkel pass, spins out of a tackler and then races 30 yards for the score. San Jose State 24, Arkansas 17
14:53, 4th Quarter – Not the first time I've been wrong but Hogs go for it on 4th down and convert on a nice call on the pitch to Whaley. Starkel to Knox for nine yards and Arkansas is across midfield.
0:00, 3rd Quarter – Arkansas managed nothing on the drive and is faced with a 4th-and-1 at their own 29. Hard to see the Hogs go for it to start the fourth quarter despite trailing by 14. A turnover on downs essentially gives up free points, which would likely put the contest away.
1:19, 3rd Quarter – Arkansas' defense continues to get the stops they need in the third quarter as a Jamario Bell sack kills a SJSU drive. Hogs take over at their own 20 trailing 24-10.
5:01, 3rd Quarter – If there's a bright side to the Arkansas offensive struggles (and turnovers), San Jose State hasn't taken advantage. Connor Limpert's 48-yard field goal gets Arkansas back within two scores. Spartans 24, Hogs 10
8:26, 3rd Quarter – Fans want forget the 2018 North Texas game as quickly as they possibly game but that immediately comes to mind as Nick Starkel was picked off for the fourth time tonight. This one comes at the goal line and kills another scoring chance.
12:43, 3rd Quarter – Arkansas needed to do something to start the third quarter but that something wasn't throw an interception. Starkel's third turnover of the game kills a drive that was inside the SJSU 35.
0:00, 2nd Quarter – I don't think you could envision a worse first half for Chad Morris and his Arkansas football program. The Razorbacks allowed 303 yards of offense to San Jose State. The Razorbacks are struggling to run the football. The Razorbacks are losing by 17 points. The boo birds came out as the team jogged to the locker room and, quite honestly, they were warranted.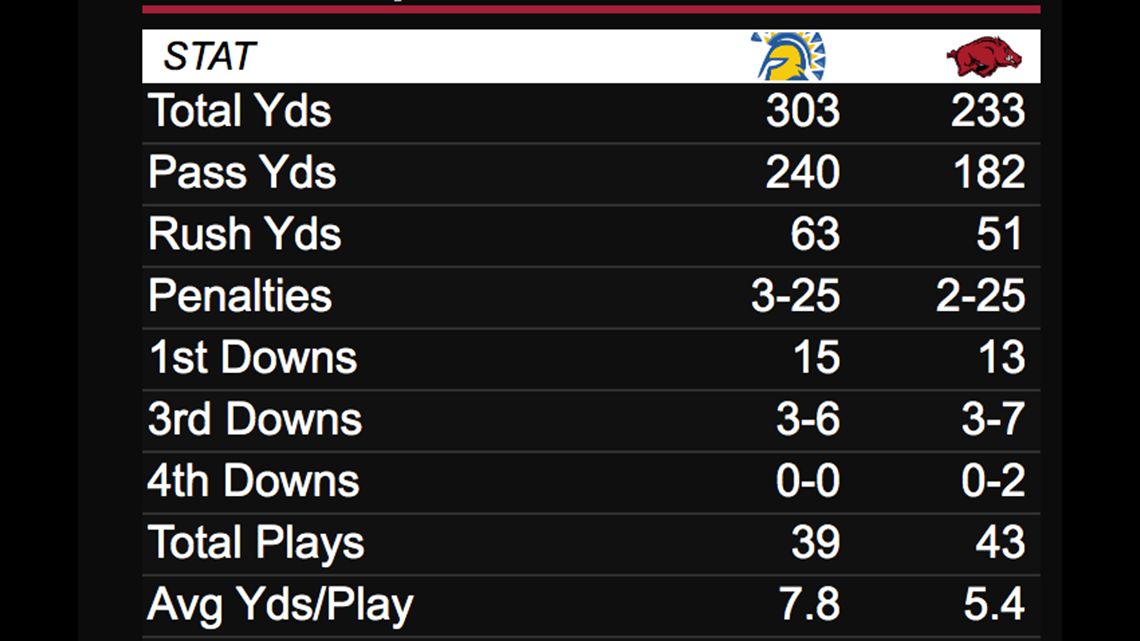 0:09, 2nd Quarter – It has gotten really ugly in Fayetteville as Starkel is picked off for the second time in the first half. Spartans have it at midfield.
1:06, 2nd Quarter – A team in the SEC has given up 299 yards of offense in the first half and trails San Jose State 24-7. That team is Arkansas. The Spartans hit a wide open running back in the flat as Isaiah Holiness goes 26 yards for a score. Spartans 24, Hogs 7
4:54, 2nd Quarter – The struggles continue for the Arkansas offense as they go three-and-out. There's not much buzz inside DWRRS and there are a lot of fans migrating to the concourse (or the exits?)
6:09, 2nd Quarter – Arkansas was favored by 20.5 points heading into the game tonight but with just more than six minutes left in the first half, they are trailing by double digits. SJSU has 220 yards of total offense. Spartans 17, Razorbacks 7.
8:21, 2nd Quarter – Arkansas was looking to answer the Spartans scoring drive and they moved inside the SJSU 25-yard line but a fourth down quarterback sneak was stopped short and the Hogs turn it over on downs. There are concerns with the offensive line for the Razorbacks but that's nothing new.
14:18, 2nd Quarter – It took San Jose State exactly two plays to take advantage of the interception as a reverse then a quarterback draw gives the Spartans the lead back. Nick Nash covered the final 15 yards for the score. SJSU 14, Arkansas 7.
14:45, 2nd Quarter – Starkel tries to force one to O'Grady, who was triple covered, and it was picked off. SJSU in business at Hogs' 28.
0:32, 1st Quarter – The first big mistake of the game goes against SJSU as a poor throw is hauled in by Kamren Curl for an interception. Hogs take over at their own 34.
1:07, 1st Quarter – It was the big plays that helped Arkansas last week and it put them on the scoreboard tonight. Nick Starkel hit a wide open Mike Woods, in stride, for a 62-yard touchdown connection. Hogs 7, Spartans 7
2:25, 1st Quarter – SJSU started at their own six but a pair of quick hitters put them inside Arkansas territory. A pair of penalties killed the drive and then the Spartans missed a 46-yard field goal attempt. Hogs take over at their own 28 trailing 7-0.
5:13, 1st Quarter – The Spartans haven't been intimidated (and why would they be?) by the Arkansas defense as they already have 128 yards of total offense, including 115 in the air.
6:30, 1st  Quarter – Arkansas shut down on 4th and 2 from the SJSU 4 as Hogs try to run up the gut but lose a yard. No imagination there but whipped up front.
6:56, 1st Quarter – Arkansas has put together a drive on their second possession and now the Hogs are facing a 4th and 2 from the SJSU four. Spartans called a timeout as it looks like Chad Morris and Arkansas is going to go for it.
11:28, 1st Quarter – Unlike last week, Arkansas could not answer an opening possession score with one of their own. Hogs go three-and-out. SJSU takes over at their own 15 after the punt.
12:44, 1st Quarter – Last week it was the second play of the game and tonight it was the first that the Arkansas defense wants back. SJSU hit a playaction pass for 50 yards right down the middle to set up a short field and the Spartans scored a few plays later. SJSU 7, Arkansas 0
15:00, 1st Quarter – Arkansas won the toss and deferred to the second half. Spartans will receive the opening kickoff.
As kickoff is now an hour away, Arkansas looks to build off their big fourth quarter against Colorado State and move two games over .500 for the first time since the 2016 season.
Arkansas should be able to put up yards and points in bunches against a porous San Jose State defense that has allowed 30 points or more 29 times in their past 39 games.
Be sure to follow along all evening as @5NEWSBobby will have updates and analysis as the game rolls on.
Arkansas vs San Jose State is set for 6:30 pm on the SEC Network.