POCOLA (KFSM) – To most, it might seem crazy to hear a team saying they're going to state coming off of a 2-7 season.
But don't tell that to the Pocola High football team.
With a new head coach and a whole new passion for the game, the Indians are on a quest to make their names known.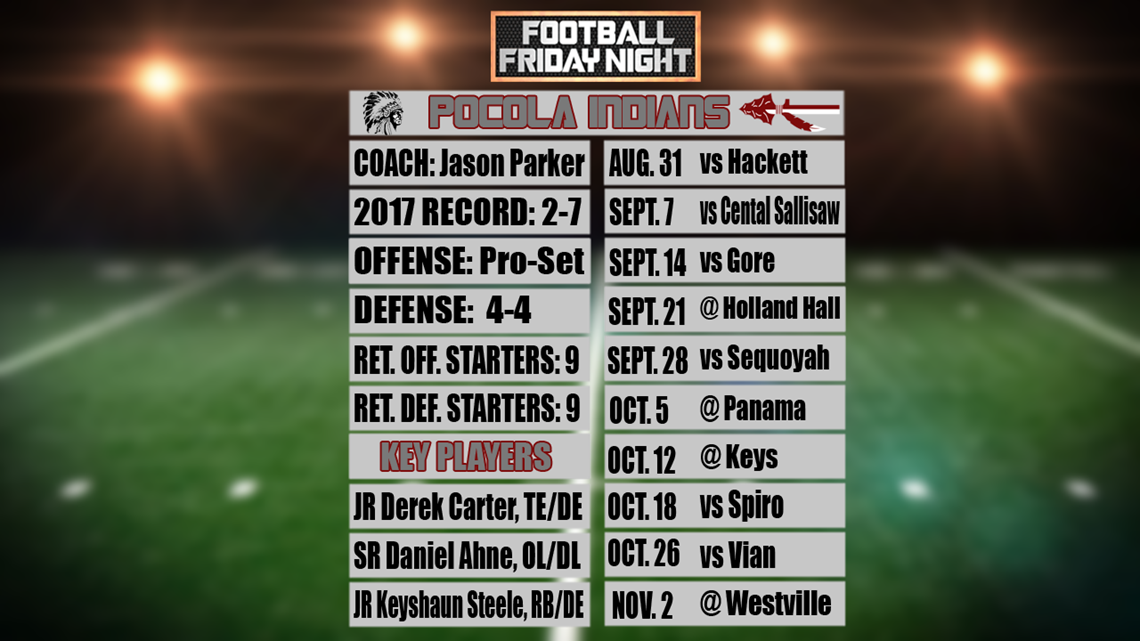 "We're trying to go to the championship. We're trying to beat everyone in playoffs," said senior quarterback Greg Mendez. "We're trying to make something happen that hasn't happened in Pocola before, so hopefully this is the year."
"That's why you start playing to begin with," said new head coach Jason Parker when asked about coming off of a rough season. "Everybody's playing to win state. We intend to be competitive. We intend to win in every game we play this year. It starts with being good at the first scrimmage, first game, to the last game."
Growing pains aren't easy for anyone to handle, but Pocola has embraced the changes that came along with Coach Parker and used it to better themselves as a whole.
"I love it," Mendez said on Coach Parker. "He's an active guy. He's always with us, he's practicing with us, and he's always motivating us and keeping us up."
Coach Parker entered the program with one question:
"We started out this summer, and I challenged the kids. I said, do you want to win? And they said yes," he remembered.
After an affirmative answer comes a solid plan.
"I said alright, if you want to win, we're going to have to put the work in," he continued. "We came up here this summer, and we put a lot of work in. We came two times a day, three days a week. We stayed up here, we worked, we went hard. We got better as a football team physically big time."
Changes physically lead to changes mentally.
"These kids, they know they're better. They can feel like, hey. I can do this," Coach Parker explained. "That attitude has changed."
It also doesn't hurt that Pocola returns nine starters on each side of the ball.
"It helps a lot. It helps a lot because they bought in," Coach Parker said.  "We can have all those returners, but if they wouldn't have come up this summer and worked their butt off, it wouldn't mean anything. But they did do that. Especially the ones that we needed to come here. And they came here and did that, so they are the ones that are on the field, that are stepping up, making those plays, and just realizing."
Realizing that perhaps the plausibility of a winning season isn't so far-fetched, and a playoff run is more tangible than just a miracle waiting to happen.
"There's a lot of excitement going on right now because they saw, driving by here, where we're at right now, there's kids out here sweating in 100 degree heat and working," Coach Parker said. "Going up to the little town store here, they know what's going on."
The team has quickly learned their strengths through a summer of hard work, and they're looking to utilize it come Friday nights.
"We have a very good line. Our backs, they're good. We're working on our corners," Mendez said. "We've just young guys, but I think they've got it."
"We are very strong on the defensive line. We've got a lot of speed, but we've got a lot of size too. We've got a good combination of that. I think that's going to help us a lot," Coach Parker added. "We've got a number of players that we can run at different positions so we can give some kids a break out there."
But the Indians also have something that doesn't come as easily from simple conditioning and drills: a desire to win.
"We have a fire lit under us that we haven't had in a long time, and we're ready to shut people up and show what we can do," said senior tackle Parker Killion.
"I'm the type of dude to just get fired up. And I know the kids feed off of that, and they have the same type of mentality to get that way," Coach Parker added. "That fire, anytime things start to get down, whether it's me or one of these other coaches or one of these other players, it just gets lit back up. I can promise you when season gets here, people will understand what I'm talking about."
So what happens if things don't go the way as planned?
"You have to keep your composure. If things go bad, get over it," Coach Parker answered. "Let's go on to the next play and make things happen."
But Pocola doesn't plan on that being the case. The team knows what's happening on the inside.
While others in Oklahoma may write the Indians off, they're ready to face whatever comes their way.
"There's going to be doubters. That's great. Go ahead and doubt us," Coach Parker concluded. "We're going to prove you wrong, and that's going to be made known quick."