Former President Donald Trump said he expects to be arrested on charges brought against him in New York, stemming from allegations he made hush money payments to Stormy Daniels. Daniels, an adult film star, has claimed she had an affair with Trump and he paid her to keep quiet.
"Donald Trump has been arrested downtown Washington DC," one tweet with three million views said.
VERIFY was tagged on Twitter by a viewer asking us if the photos are real or not.
THE QUESTION
Do these viral photos show Trump being arrested?
THE SOURCES
THE ANSWER
No, these viral photos don't show Trump being arrested. They were created with artificial intelligence technology.
WHAT WE FOUND
As of Tuesday, March 21, former president Donald Trump hasn't been arrested, therefore viral photos like the ones recently posted to social media can't be real. The claim he was arrested in Washington D.C. also isn't true. Trump has said he's waiting for an indictment from his home in Mar-a-Lago, Florida, not in Washington D.C. The indictment would come from the Manhattan district attorney's office in New York, which also hasn't happened yet.
These photos were actually created using an artificial intelligence tool by Eliot Higgins, the founder of intelligence and research agency Bellingcat. Higgins first posted the photos to Twitter on March 20.
"Making pictures of Trump getting arrested while waiting for Trump's arrest," Higgins wrote. He posted several different variations of Trump being arrested in a thread. He also posted other AI photos, like Donald Trump Jr. shouting in a crowd and Melania Trump yelling at police.

Those photos are also not real.
VERIFY tested out Midjourney after seeing what Higgins created. To use Midjourney, you have to be signed up on the company's Discord server. Discord is a communications application that allows users to chat with each other, or can be used by developers to test different types of products.
In order to create an image with Midjourney, a user writes a command into one of the Midjourney server's chat rooms.
When we were testing out the tool, we tried to create our own AI image of Trump being arrested. To do this, we typed "Trump realistic being arrested on the street high definition" into the command prompt. What came back was a cartoonish rendition.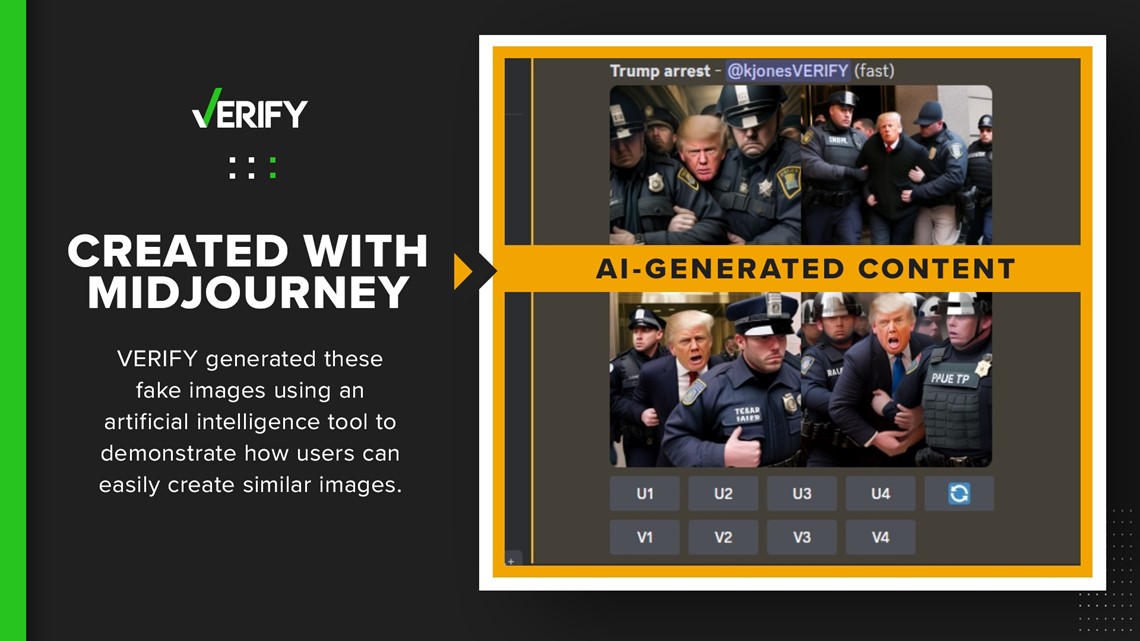 VERIFY found more than 20 other instances the Midjourney application was used to create different images of Trump in connection with a possible arrest. For instance, users have asked Midjourney to create Trump's mugshot. Those are also not real photographs.
Midjourney doesn't have any guidelines in the company's terms of service dictating how the content created on the platform can be used or shared. There are no policies relating to content being used to spread false claims, like the claims the images created by Higgins show Trump's true arrest.
VERIFY reached out to Higgins and Midjourney for comment and did not hear back at the time of publication.
Story update March 23, 2023: Bellingcat founder Eliot Higgins said he's been banned from Midjourney after posting the viral AI images of a fake Trump arrest he made using the program. Midjourney has since banned the word "arrest" from being used in any image creation prompt.