VIAN, Okla. (KFSM)-- UPDATE: A Vian school bus driver accused of giving a hitchhiker and a dog a ride on a school bus while students were on board said she received a letter from the superintended recommending that she be fired from her position.
Katie Chapman said the letter said she does have the right to a hearing, and she has ten days to officially request a hearing with the board of education.
Chapman has not been terminated as of yet, and is still on suspension without pay.
The letter Chapman received is attached below: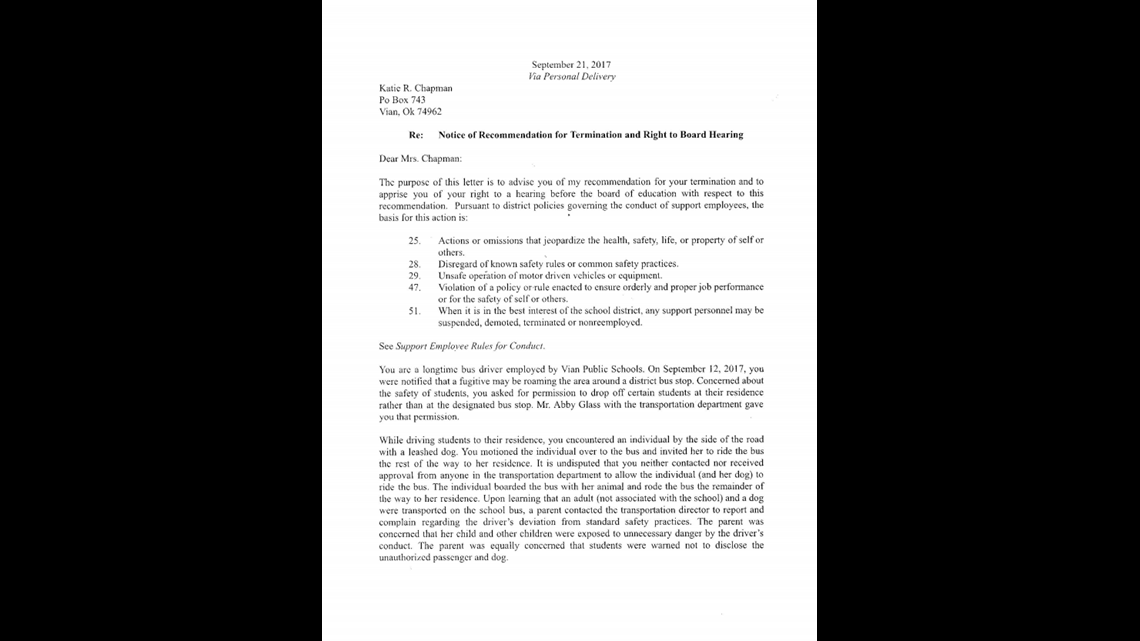 ---
A school bus driver for Vian Public Schools is currently under investigation, according to Superintendent Victor Salcedo.
Salcedo said the bus driver is accused of giving a hitchhiker and a dog a ride on their bus while students were on board on September 12.
There were approximately 24 students on board the bus at the time, grades K-12, according to Salcedo. The hitchhiker was taken home and dropped off.
The school will not take action against the bus driver until the investigation is complete, which could take 5 to 10 days, said Salcedo.
"We are doing our due diligence and we are doing our investigation," Salcedo said. "In the next few days, I will get all the information necessary from both sides and make an objective decision."
He also confirmed the school does not believe the hitchhiker came into contact with students other than being on the bus with them. When asked if picking up an unauthorized person during a school route is against school policy Salcedo replied, "yes."
The bus driver has been employed at the district for 7 years, said Salcedo.
Naticia Drew said she is one of the parents who called the school after the incident when her three children got off the bus and came inside her home.
"The kids got off of the bus about 3:30 p.m. They came on as usual, did homework and then my sister comes in a little bit after 4 p.m. and her son had told his mom that [the bus driver] did something. Then, he grabbed his mouth really fast and said, 'oops. I wasn't supposed to tell nobody,'" Drew said. "He goes on to tell us after we had asked him several times that she had picked up an unknown stranger, a hitchhiker I guess you could call her and a dog and allowed her to get on the bus with our kids. Not only did I feel like they were in danger, but anything could have happened to these kids. To make it even worse, for her to tell the kids not to say anything or they would have consequences or be in trouble for it."
Drew said school officials apologized to her and told her they can see why should be upset, but she said this isn't the first time she's been concerned for her kids safety while on the bus. She said she has called the school in the past.
"Not only in this situation, but it has happened in several situations," Drew said. "The kids have been late for 45 minutes because they told me she felt like she needed to call on some horses or some dog that were sick and wait on animal control to get there."
Chapman agrees she broke school policy but said the person being called a "hitchhiker" is a parent to several students she had on her bus.
"I think there's always an exception somewhere. I mean in my book. I didn't hesitate to give that women a ride home because I felt she was in danger.
Chapman said the woman, who identified herself as Terra Smith, was waiting at her kids bus stop about a half mile from their home. Chapman said she received word that police were searching for a dangerous man in the area near the bus stop. She said Smith was sitting in a bush, scared and waiting for her kids to be dropped off at the stop.
I stopped. I saw her here. I stopped and explained to here that I was going to take the kids on down to the house. She knew why because the cops had been all over her place. At that time she is terrified. I said, ' do you want a ride?', she said, 'oh please'," Chapman said. I want somebody to understand that it was my choice of safety. It was a humanitarian act. It may be against the rules but  as somebody said on Facebook that  I showed integrity by doing it because the rules  just didn't count here. Is there a black and white rule for everything?"
Chapman said Smith sat in the stair well with the dog and did not come in to contact with any children.
"No danger. The dog was well contained, well behaved. Everything was fine," Chapman said.
Chapman said she explained to children on the what was going on. She also spoke about the conversation she had with children as to what was going on.
"I told the kids before I ever left her home, I said, 'this is a one time only thing. It will  never happen again. It is strictly for the safety of other human beings,'" Chapman said.
Chapman said she plans to appeal the Superintendent's decision by requesting a hearing before the school board.