FORT SMITH (KFSM) -- You may remember the city of Fort Smith admitting to not recycling material for nearly a year or more; but instead, it collected both trash and recyclables and put them in the same pile at the landfill.
Last week, the Fort Smith board of directors discussed the idea of stockpiling recyclables until a permanent resolution is found.
During that meeting, attorney Joey McCutchen spoke referring to a memorandum he said at least five members of the board knew about.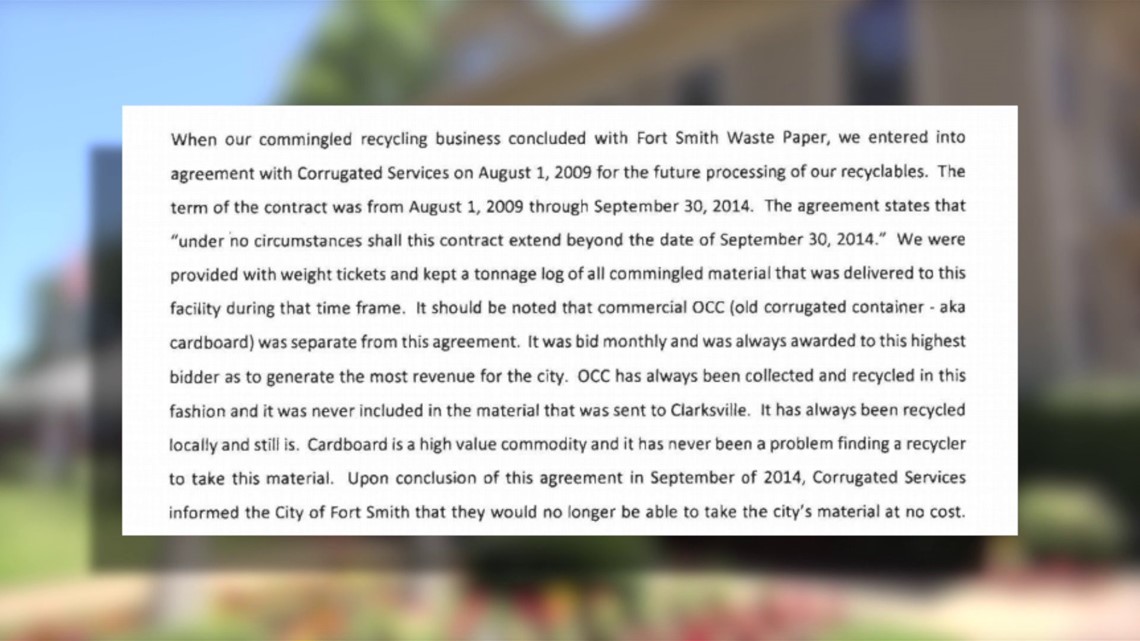 That memorandum details the timeline and information regarding the recycling issue in Fort Smith. It confirms Fort Smith's recycling contract ended on September 30th, 2014. In the meeting, city administrator Carl Geffken told McCutchen he never received that memorandum.
"When in fact, here is an email from (Mark) Schlievert to Dingman saying, 'please find attach a document produced by the identified managers.' Which is obviously the inter-office memo," McCutchen said.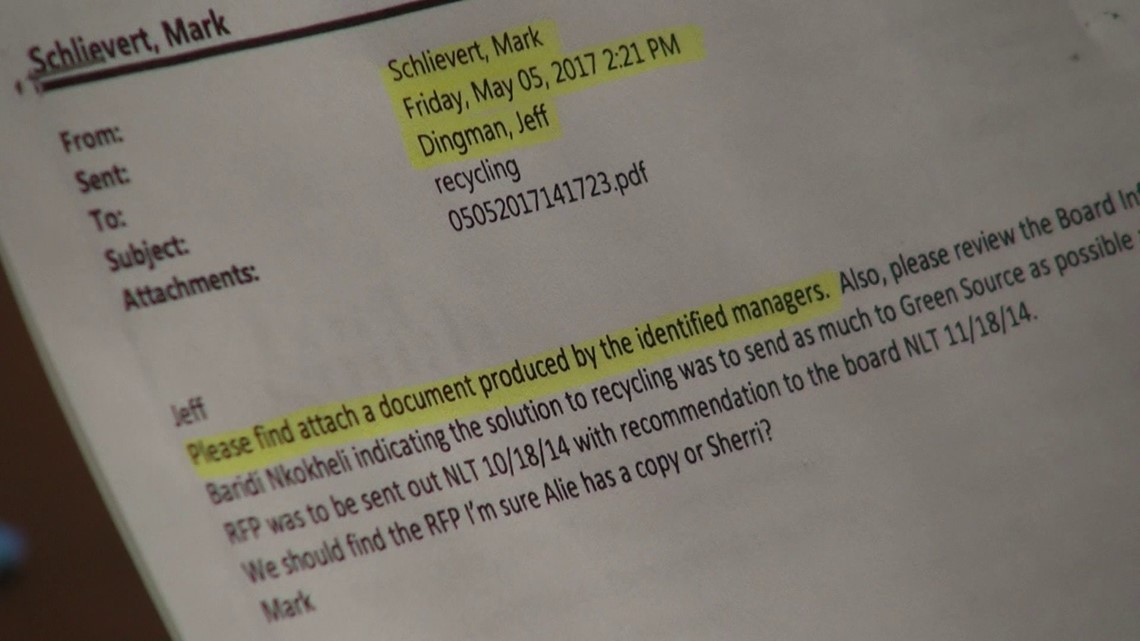 We did reach out to Geffken for a response. He told us in a text message to air our story without the city's comment.
"The issue ultimately comes down to -- did the deputy city administrator not inform the city administrator? And if that's the case, he needs to be fired. And if he did inform Geffken, is Geffken just hiding information from his board and the public?" McCutchen speculated.
That's not the only issue McCutchen says lingers. Schlievert, the former sanitation director fired by Geffken, is McCutchen's client.
"The other issue is we have Mark Schlievert has given him notice telling him you should tell the citizens way back in November of 2016. And then following up April 5th, 'It makes it bad this has been going on for so long unbeknownst to the board and citizens.'"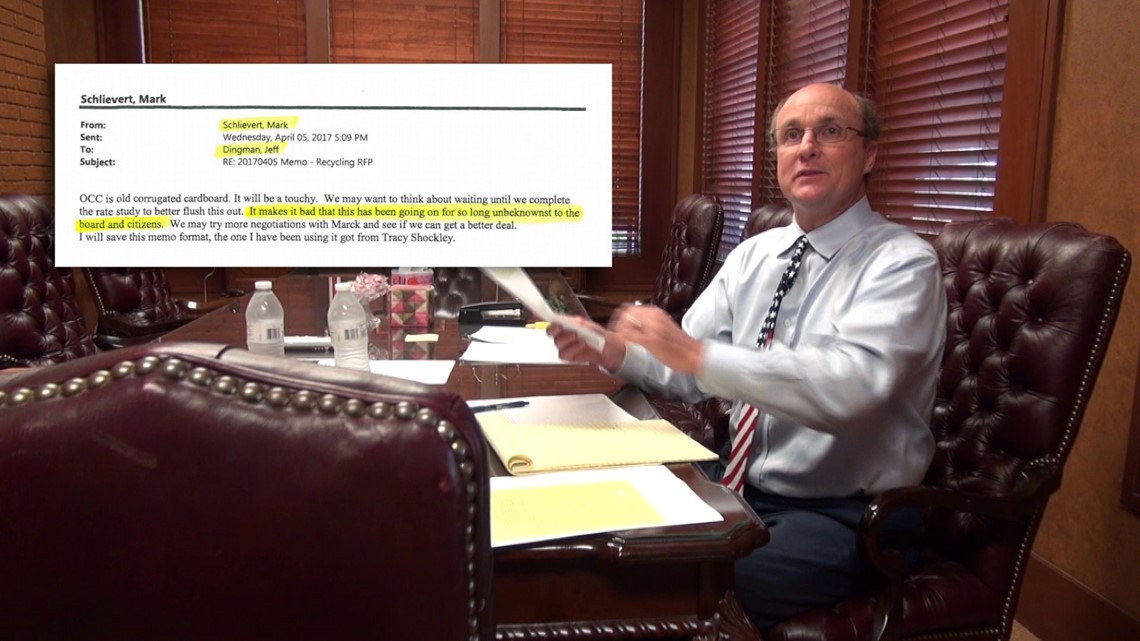 Many of those citizens will be present Tuesday night (May 23), when the board will present a proposal regarding the recycling program. But McCutchen says Schlievert already worked out a proposal long ago.
"He'd sent the proposal bid and reworked the proposals and negotiated with MARCKS and has an agreement about 99 percent complete before he got fired. So, what they're doing is firing a scapegoat for their own incompetence and lack of transparency."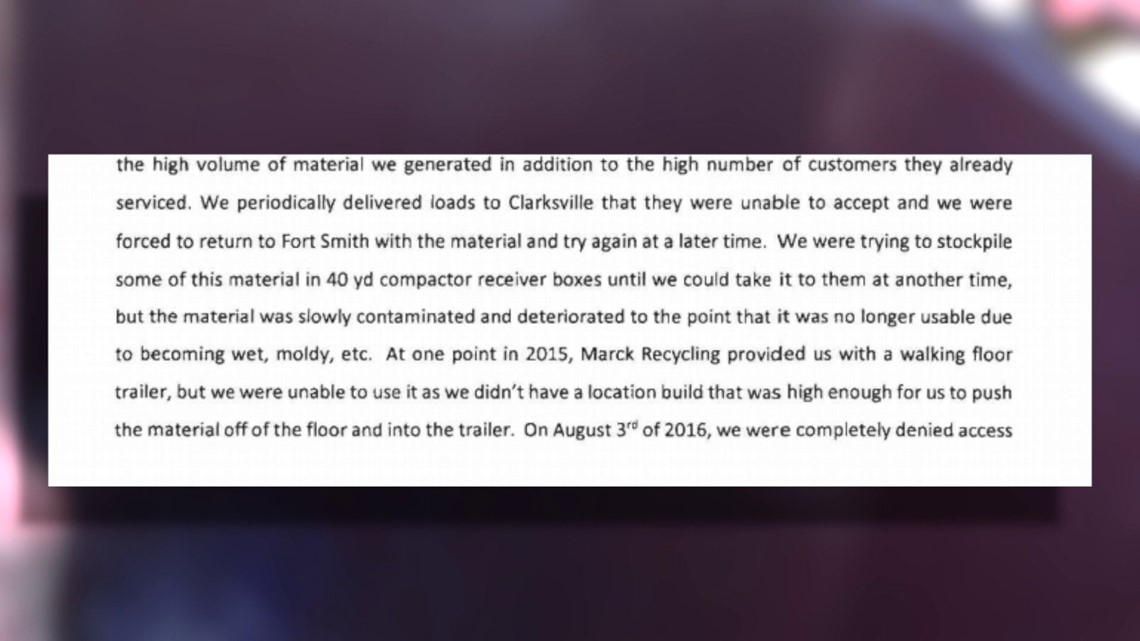 The memorandum includes a portion that states, "We were trying to stockpile some of this material in 40 yard compacter receiver boxes until we could take it to them at another time, but the material was slowly contaminated and deteriorated to the point that it was no longer usable due to becoming wet and moldy."
Last week's meeting discussed the possibility of doing that exact idea until a resolution is found. So McCutchen says since it was already known the idea wouldn't work, last week's meeting was, as he puts it, "all for show."
Tomorrow at the Fort Smith board of directors study session meeting, the recycling issue is expected to be discussed. City leaders are expected to present the board with a solution. 5NEWS will be there and bring you the latest information as it becomes available.