FAYETTEVILLE (KFSM) — State Rep. Greg Leding, who is running for State Senate, has apologized to his Republican opponent for approaching her on stage after a debate Tuesday (Oct. 24) evening at the University of Arkansas.
In the video, Leding points his finger at Dawn Clemence before getting up on the stage to talk to her face-to-face.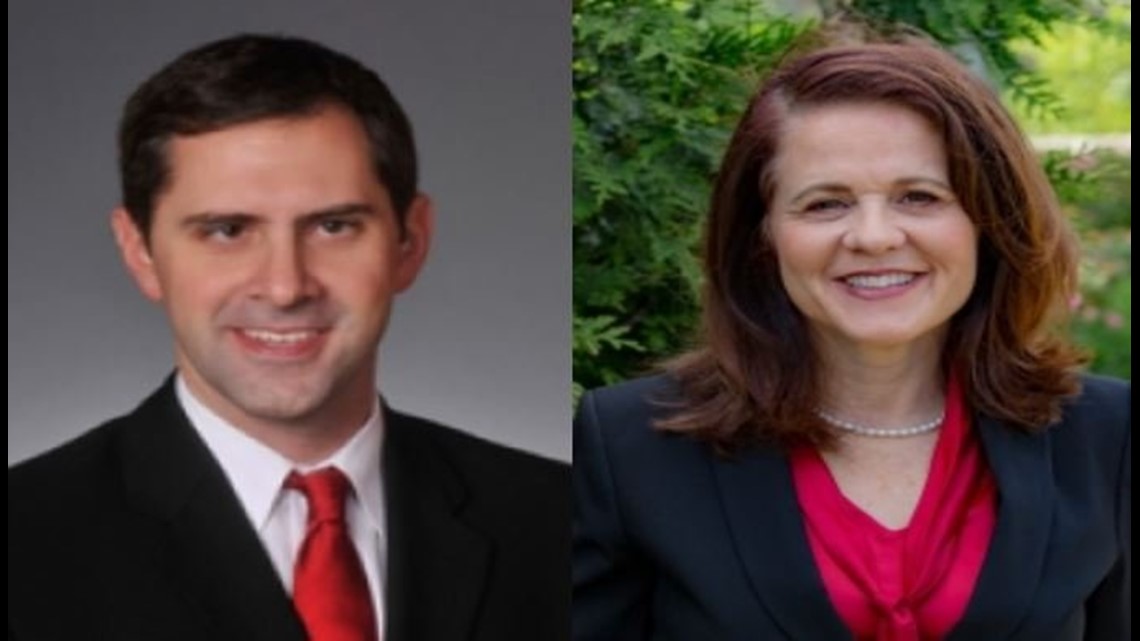 Part of the exchange is obscured by a column near the stage, but Leding puts his hand on Clemence's shoulder before leaving.
Clemence claims Leding used an expletive when talking to her and said he took the "lowly road."
"I will continue to treat my opponent with dignity and respect, because it is our jobs as public servants to set the example," Clemence said in a statement.
"I will treat all of my constituents in a dignified way, as not to desecrate the office to which we seek. A person's political affiliation or way they vote has no bearing on the need for respect."
Leding, 40, a Democrat and Fayetteville native, said his "advocacy for women, teachers, students, firefighters, working families, and more" has been "misrepresented in this campaign."
"I was frustrated. It's not acceptable to act on that," Leding said Wednesday (Oct. 24) in a statement. "I apologize to Mrs. Clemence."
Leding added that he plans to continue holding public events in the campaign's closing weeks.
The state Republican Party condemned Leding's behavior, saying his actions were "abhorrent" and had "no place in Arkansas politics."
"Greg Leding verbally assaulted Dawn Clemence," said Sarah Jo Reynolds, executive director of the Republican Party of Arkansas.
"No one running for office in either party should ever be treated this way."
The incident also drew admonishment on Twitter from other prominent Arkansas conservatives, including U.S. Sen. Tom Cotton, who praised Clemence for standing up to Leding's "sore-loser intimidation tactics."
Leding has served in the Arkansas House of Representatives since 2011. He has promised to focus on affordable housing and pre-kindergarten education initiatives.
Clemence, meanwhile, has a background in manufacturing, management and medical fields.
The 55-year-old said she wants to focus on education reform and higher paying jobs, which could include establishing a skills training center to help fill high-tech jobs in the region.
District 4 covers most of Fayetteville and portions of Farmington and Greenland, as well as parts of Washington County north and east of West Fork.
Early voting is underway and election day is Nov. 6.