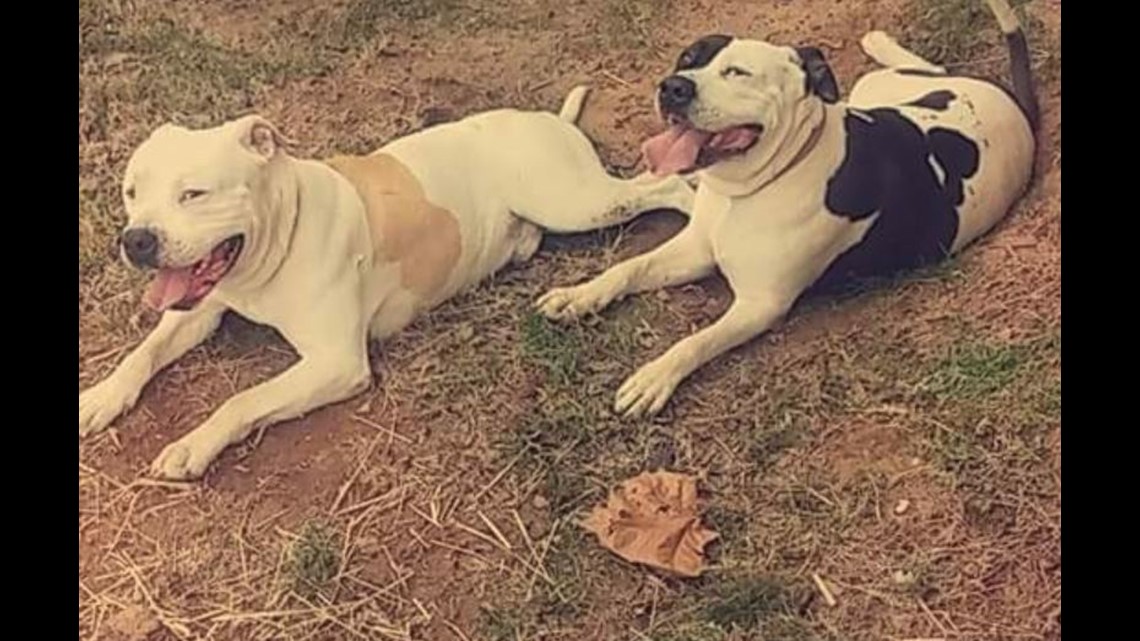 HEAVENER (KFSM) –One pit bull is dead and another is recovering after they were shot by a Heavener officer after the officer witnessed the two dogs showing aggressive tendencies that posed as threats to a residential area with many children, an incident report states.
About 5:30 p.m. Saturday a neighbor reported two pit bulls had killed her cat, were running loose around the area of Blackwell Street, and that she was concerned for the safety of children in the area, the report states.
Animal control officers were not on duty Saturday and police were dispatched to search the vicinity of Blackwell Street, according to the report.
The dogs were located on Fourth Street about a tenth of a mile from Blackwell Street.
An officer stated in an incident report that he witnessed the dogs attack another dog that was chained outside of a residence on Fourth Street, according to the report.
The officer said he shot one of the dogs once because the dogs were displaying "very aggressive behavior" and that he thought they were dangers to those in the neighborhood, the report also states.
After being shot, the dog ran away. It is now in the care of it's owner after being treated at a veterinary clinic, the owner said.
"[The bullet] went across her chest and came out and when she ran, they shot her through the back of the leg and it came out the front," the owner said.
The pit bull that remained at the scene charged toward the officer. The officer said he shot that dog three times. He stated the dog was seemingly suffering so he shot it twice more, according to the report.
The dog continued breathing while the officer looked for the other dog.
"I told the dispatcher, 'you've got to get the cops back out here, this dog's alive.'" Tonya Phillips, eyewitness said. "It took them about 20-30 minutes to decide to shoot the dog three more times."
When the officer returned to the scene, he shot the dog twice more and killed it, the report states.
The dogs owners said Bella and Hank aren't vicious dogs.
"It`s so crazy because this cop says he was being aggressive toward him because that`s just not Hanks nature," Kendra Davis, one of the owners said. "Him or Bella, neither one. They`re sweet dogs, they`re not mean."
Both witnesses and the owners said they want justice.
"Personally, I`d like to see them take his badge from him," Phillips said.
"It`s time to get something done because the longer we sit here and don`t do anything, the more it`s gonna happen," Davis said. I" can`t bring Hank back, none of us can. He was a sweet, sweet dog. He didn`t deserve it at all. I`m going to miss him."
5NEWS asked Heavener police for an additional comment but they declined.