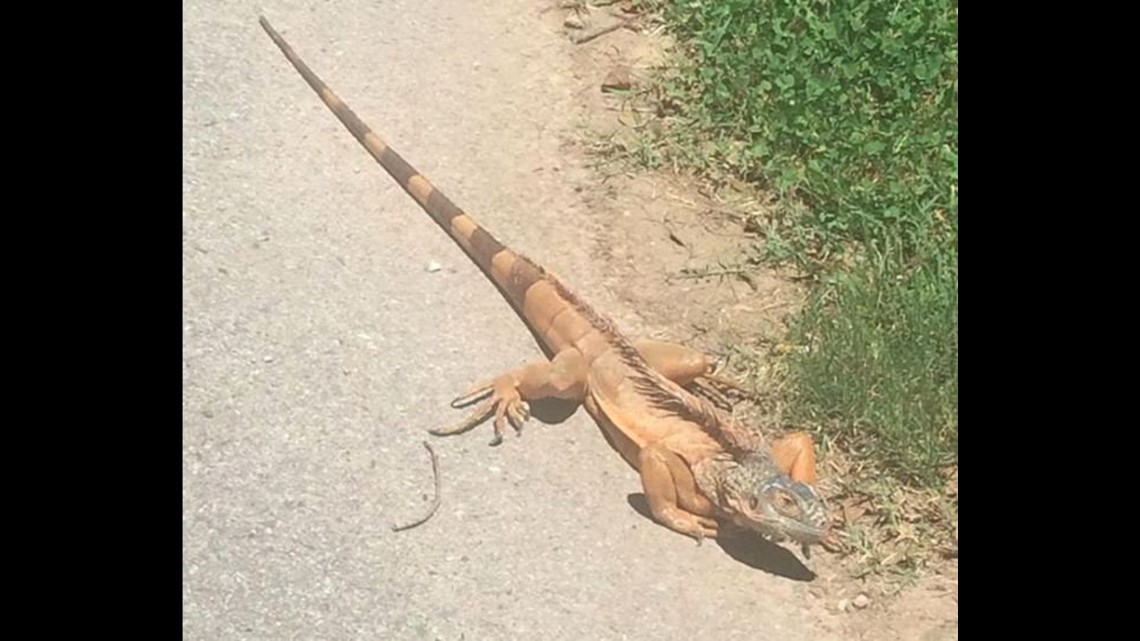 PEA RIDGE (KFSM) — Update!  Iguana still missing, the owner called to say they're still without their lizard.
An officer found an iguana on Davis Street on Wednesday afternoon, according to a Pea Ridge Police Department Facebook post. Pretty soon it was clear the officer needed backup to bring in the large reptile, which was about 3 feet long.
Iguanas can be tough to catch, as they are speedy and have a nasty bite.
Pea Ridge Officer Mike Lira advised anyone who sees the reptile to not go after it.
He said to simply call police and they will safely return it home.
The officers tried a few different ways to catch the scaly creature. They wore protective gloves and tried lassoing the creature and picking it up, but the iguana ran off and disappeared in some  bushes.
The owner of the iguana lives not far from where police found it.
Joshua Mumau said he has owned reptiles all of his life and has had this iguana for about three years.
This is just one of two that he owns.
He said that they both got out a few weeks ago after a bad wind storm.
"I had put them outside in the humidity, I keep them in the garage," Mumau said. "That storm just totally wrecked my cage and therefore I'm on the hunt."
He explains that they are vegetarians and are only aggressive when they feel threatened.
The one thing he is worried about is the health of his runaway reptile.
"I've seen the picture on the posting of how skinny it is," Mumau said. "As I mentioned, they're vegetarians and they're not native to eating leaves so that is an issue for me."
Both of his iguanas keep coming back to one tree in his backyard but Mumau has been unsuccessful in catching them.
He said they keep climbing higher when they feel like they are in danger and he is unable to safely get as high as them.
Mumau said he is sorry about what happened.
He didn't expect the wind storm to hit when he placed his pets outside.
Now he just wants to make sure they make it home safe and sound.