(CNN)- To call the news surrounding vaccinations a "debate" is misleading. The scientific and medical consensus is clear: Vaccinations are safe, and they work.
But there are many who choose — for their own reasons — to disregard the recommendations to vaccinate and exercise their right to not do so.
The controversy, then, comes when the anti-vaccination movement gets large enough to reverse advances in the reduction or elimination of certain diseases.
That's what is happening with the measles. How bad can it be? Here are some guideposts to the issue in context:
What is the current situation?
In simplest terms, as of January 30, there were 102 cases of measles reported across 14 states.
The majority of these cases are related to one outbreak linked to Disneyland in California.
Is a 102 cases a lot?
Last year, there were 644 cases of measles reported.
This year's pace is striking: One month into the new year, the number of measles cases is nearly one-sixth of last year's total.
A closer look makes this year's measles outbreak look even worse. Last year's 644 measles cases is an outlier compared to the previous decade. The number of measles cases in 2014 was the highest since 2000.
Between 2001 and 2011, the median number of measles cases reported per year was 62. (During that period, the highest number of cases in a single year was 220, and the lowest was 37).
Here's the glass-half-empty view: So far this year, there are already more cases of measles than during an entire typical year. Those are the words of Dr. Anne Schuchat, assistant surgeon general and director of the Centers for Disease Control and Prevention's National Center for Immunization and Respiratory Diseases.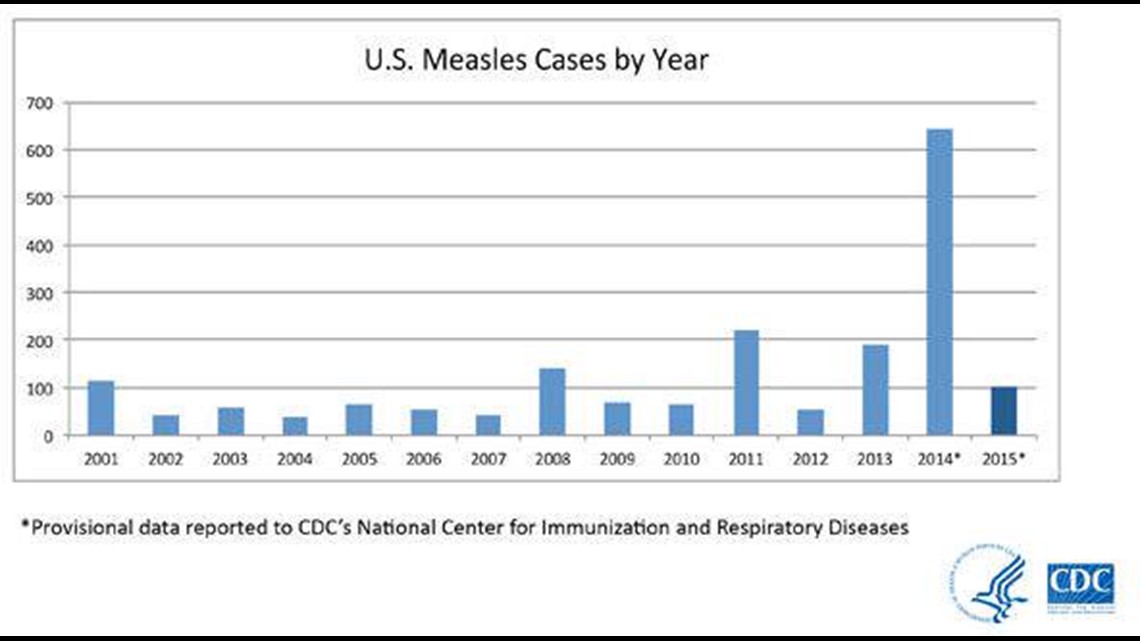 Is this uptick in measles cases unprecedented?
No, this is not the first time the United States has witnessed an uptick in measles cases since the invention of the measles vaccine.
A brief history of measles in the United States, according to the CDC:
Before the introduction of a live measles vaccine in 1963, the average yearly number of measles cases was 549,000. (Nearly 500 deaths per year were attributed to measles).
Once the measles vaccine was introduced (it was a one-dose shot), there was a huge drop in measles cases.
Then, between 1989 and 1991, there was a resurgence in measles cases. There were 55,000 cases and 123 deaths reported during that period.
Those getting sick were mostly unvaccinated children. But there were also people who had the vaccine and were still getting the disease.
In 1989, the medical community's recommendation was updated to recommend a two-dose vaccination regimen.
The use of two doses was effective. In 2000, endemic measles was declared "eliminated" from the United States.
What is at stake here?
It is a pretty big deal that the United States can say it eliminated measles. This doesn't mean that measles doesn't exist here, but that there is not a constant presence of it in an area.
There is the risk that measles could re-establish itself in the United States.
Schuchat, the assistant surgeon general, told reporters the spike in measles cases is troubling.
"This worries me and I want to do everything possible to prevent measles from getting a foothold in the United States and becoming endemic again," she said.
The CDC points out that people who refuse to vaccinate usually live in the same community. When measles finds its way into these communities, outbreaks are more likely to occur, and controlling the disease becomes harder.
Measles is not a virus that Americans typically spend time worrying about because for a long time it has not been prevalent. But it is a serious disease. It is a highly communicable respiratory disease caused by a virus and spread through the air.
Measles starts with a fever, runny nose, cough, red eyes and sore throat.
"This is not a problem with the measles vaccine not working," Schuchat said. "This is a problem of the measles vaccine not being used."
Why do people choose not to vaccinate?
The research on the effectiveness of the measles vaccine is well-documented. But anecdotes have a powerful sway.
One Arizona cardiologist, Dr. Jack Wolfson, has become a face of the anti-vaccination movement, because he is a doctor who refuses to vaccinate his children.
"It's not my responsibility to inject my child with chemicals," Woflson told CNN's Erin Burnett.
The bottom line, of course, is that no matter what the recommendations are, no person or institution can force people to vaccinate their children. Schools and other institutions often have immunization requirements, but there are ways to opt out for religious or personal reasons.
Why do I keep hearing this being called a debate?
Scientifically, there is no debate. The measles vaccine is effective. Most of those who contract measles, unsurprisingly, are those who are unvaccinated.
But a conversation about the current measles outbreak brings up other ideas — on personal and religious freedoms, skepticism of scientific findings, reach of government regulations — that are inherently political. And here is where the arguments arise.
Kentucky Sen. Rand Paul told radio host Laura Ingraham that he is "not anti-vaccine at all," but added "most of them should be voluntary."
New Jersey Gov. Chris Christie said he vaccinates his children to protect "their health and the public health," but that he understands that "parents need to have some measure of choice as well."
The science is clear; which policies to craft with that knowledge is what remains to be discussed.