BENTONVILLE (KFSM) — The American Atheist Inc. is donating posters to Bentonville public schools to be hung up in compliance with a law created by an Arkansas state representative.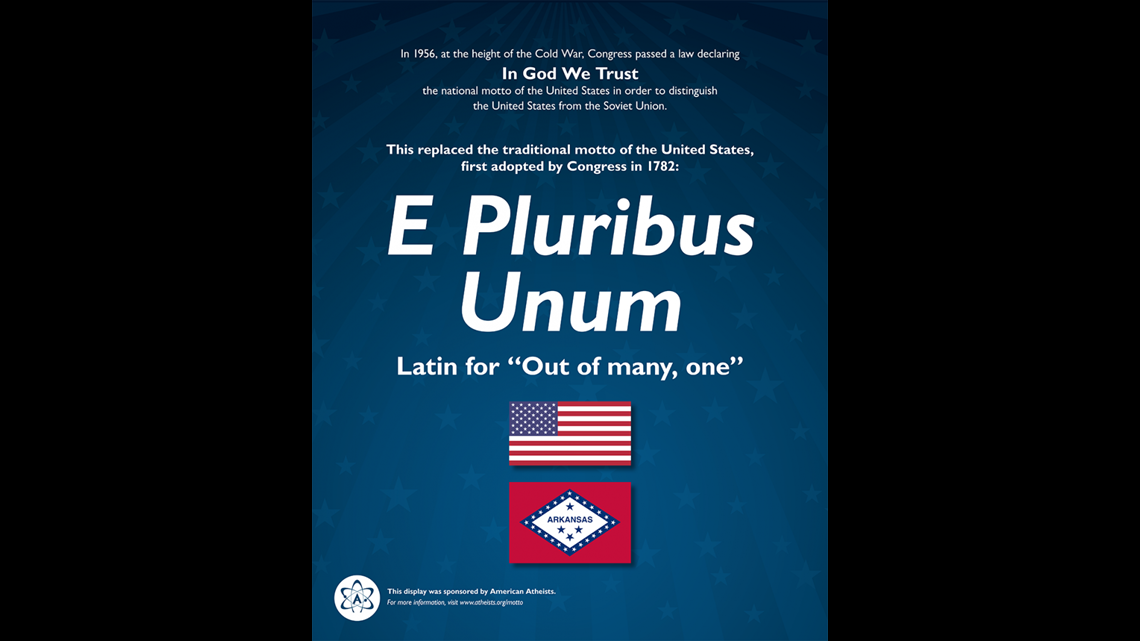 The "In God We Trust" posters can be found at public schools in Bentonville and Pea Ridge.
This all comes after state representative Jim Dotson's Act 911, requiring the display of the motto in any public building maintained with state funds if the posters are donated, became law in April 2017.
"I think for students as well as all American citizens we need to be aware of our American History, our heritage, our culture. Our national motto is something that is posted on many buildings, monuments throughout our country and all of our currency," Dotson told 5NEWS.
The Bentonville Schools Communications Director, Leslee Wright, sent 5NEWS the following statement about the atheist organization's request to hang posters in schools:
"Our schools should not serve as the backdrop for political agendas, regardless of the viewpoint. Our focus is student education, creativity, and growth. Discussions such as this one should be reserved for the appropriate setting."
The National Program Director for the American Atheists organization,  Nick Fish, tells 5NEWS they're troubled by the decision of the district.
"We're deeply troubled that the Bentonville School District is ignoring the plain language of the law and continuing to display posters that are not compliance with Act 911 while rejecting our posters that are. The law is very clear and Representative Dotson himself was clear at the February 19 board meeting when he made the donation of non-compliant posters: When the district receives posters that meet the statutory requirements of Act 911, they are required to display them. It isn't American Atheists who is pushing a political agenda. We're an educational nonprofit that cares about the truth, the facts, and our nation's history. Compare our posters up to the ones currently hanging in Bentonville's schools and it's pretty clear which is focused on student education.
Wright said to 5NEWS that a representative from the American Atheists organization told the school district that they will be shipping the posters.
At this time, the Bentonville School District has yet to receive any posters from the American Atheists organization.