BALTIMORE, Md.  (CNN) — A brutal blast of frigid air sweeping across the United States wreaked havoc on roads in Virginia and Maryland, leaving at least two dead in multi-vehicle wrecks Saturday, authorities said.
A 55-vehicle crash on a icy stretch of I-95 in Baltimore left at least two people dead and motorists stranded for hours about 5 a.m. Saturday (Dec. 17), according to Baltimore Fire Department spokesman Roman Clark.  Fifteen people were taken to hospitals.
A video posted on social media showed a fuel truck flipping over a median on the interstate near the Washington Boulevard exit before erupting in flames, CNN affiliate WBAL reported.
Clark confirmed the video showed the I-95 crash.
Emergency vehicles descended on the scene, stalling traffic for miles and leading authorities to urge stranded motorists on both sides of the interstate to "remain warm and calm and shelter in place" in their cars, Clark said.
The cause of the wreck was under investigation but Clark described road conditions as "very slippery."
In northern Virginia, authorities responded to more than 40 traffic accidents, some involving multiple vehicles, according to the state police.
One person was killed in a multi-vehicle crash at 5:12 a.m. on Interstate 495 in Fairfax County, state police said.
At Dulles Airport, just outside Washington D.C., icy conditions forced the closure of runways for part of the morning. Two runways were reopened about 11 a.m.
Nationally, there were 1,870 flight cancellations, according to FlightAware.
The dangerous conditions arrived as some people started their holiday travel early.
"If you don't have to go out on the roads, we would ask that you just stay in at this time until the temperatures rise," Clark told CNN.
In Indiana, the Wayne Township Fire Department and the Indianapolis police used a ladder to evacuate stranded drivers from I-465.
Police in Marion and Hendricks counties responded to nearly 200 accidents, 36 involving injuries, between 10 p.m. and 4 a.m., according to the Indianapolis police.
In northwest Missouri, I-29 reopened to traffic Saturday after dozens of drivers were trapped in their cars the night before, CNN affiliate KQTV reported.
Major coastal cities in the Northeast will see a changeover from snow to rain by Saturday evening.
A strong storm over the central Rockies will move northeast to New England by Sunday morning.
Potentially life threatening wind chills as low as 50 degrees below zero are expected in North Dakota, South Dakota, Montana, Colorado and Idaho.
Portions of Illinois, Wisconsin and Minnesota could get the coldest air the region has seen in two years.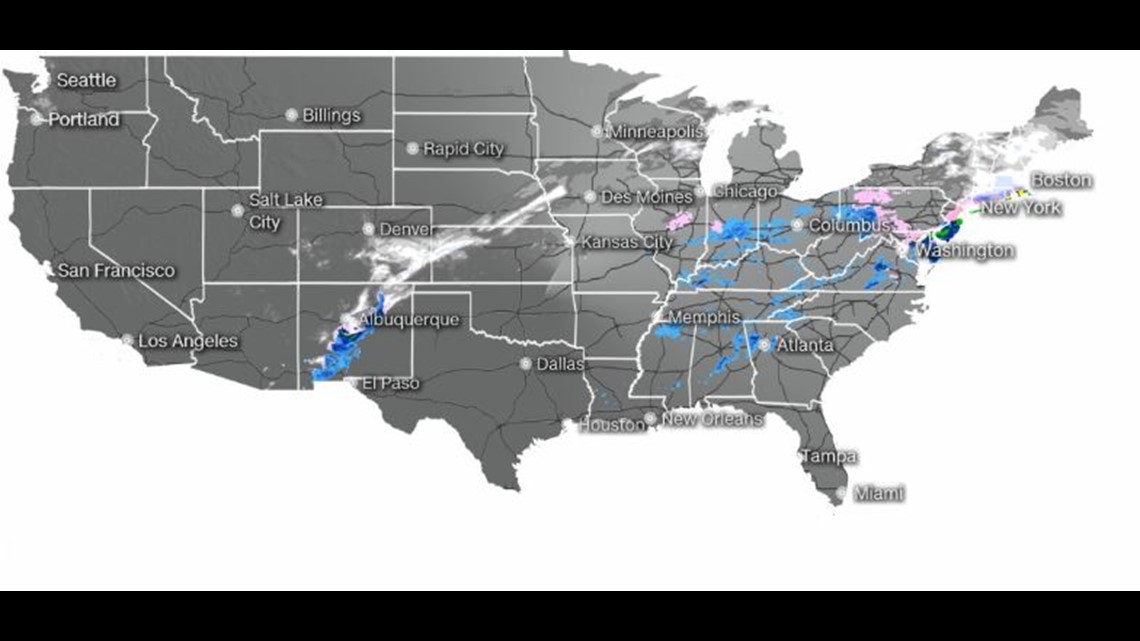 Cold air, then fluctuating temperatures:
A roller coaster ride of temperature swings are in store for the next week.
Warm air is expected to surge into the Southeast, where it could meet with the storm system through much of Saturday as it crosses the Mississippi Valley.
A wintry mix of rain and snow can be expected in parts of some areas that were close to freezing on Thursday evening, and the deep South could see near-record highs ahead of the next push of bitter cold air.
Houston could break a record high temperature on Saturday of 81 degrees.
But the respite may be brief as the next arctic blast is expected to impact areas stretching from the Plains into the western Great Lakes, causing temperatures to plummet below zero Sunday.
Chicago Bears game could break a record.
This weekend's game between the Chicago Bears and the Green Bay Packers could be the coldest since the Bears started tracking kickoff temperatures.
The previous record was set December 22, 2008 — also against the Packers.
The kickoff temperature was 2 degrees, with a frigid 13 below zero wind-chill temperature.
Chicago is poised to break that record Sunday.
The Buffalo Bills on Saturday made an appeal for snow shovelers at New Era Field in Orchard Park, New York.
The pay is $10 an hour, plus lunch and dinner and a complimentary ticket for those working four hours or longer.
The Bills play the Cleveland Browns Sunday afternoon.
As millions of people take to the roads over the holiday weekend, snow and ice will make for dangerous driving conditions on the roadways, the National Weather Service warns.
Drivers in Raleigh, North Carolina have been advised to stay home and avoid travel due to the inclement conditions.
"Freezing rain is causing traffic-related issues throughout Raleigh at this hour," the Raleigh Police Department said in a memo Saturday.
"As is typically the case, bridges and overpasses were the among the first areas to have issues due to icing, but the problems are widespread and not limited to those locations."