FORT SMITH (KFSM) — The Unexpected will return to Fort Smith for its fourth edition on Monday, October 22, 2018, lasting through Sunday the 28th.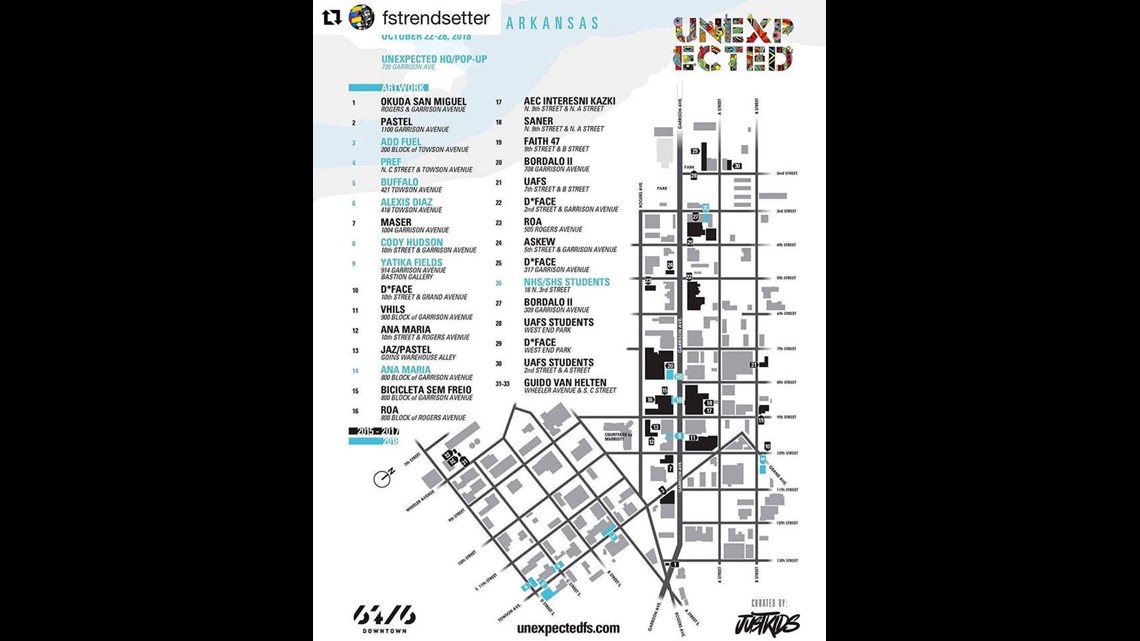 The event will bring urban and contemporary art to the downtown Fort Smith area, in an easy to experience way, including hands-on activities for both children and adults.
Artist and locations for the 2018 event include:
Puerto Rican muralist Alexis Diaz will create a mural on Towson Avenue and D Street.
Fort Smith artist Nate Meyers, known as Buffalo, will work on a piece at the Habitat for Humanity Restore building.
British graffiti artist Pref add his signature art to the Jay's Appliance building.
Portuguese artist and tile pattern painter Add Fuel will add his unique style to the entire 200 block of Townson Avenue.
Puerto Rican artist Ana Maria will add a new mural at the 800 block of Garrison Avenue.
Chicago artist Cody Hudson will add abstract work to the abandoned Tankersley Brothers warehouse.
Public art projects will be on display in the downtown area, and a pop-up gallery space will be created at Bastion Gallery on Garrison Avenue showcasing work by Tulsa native artist Yatika Starr Fields.
Fort Smith high school students will also complete a second collaborative mural at North 3rd and A Street.
The Tow Club building on Garrison Avenue will be home to The Unexpected headquarters shop, and augmented activities will be placed in the area.
To read more about this years artist participating in The Unexpected click here.