GRADY (KFSM) — Arkansas Governor Asa Hutchinson released a statement on Monday night (April 17) voicing his frustration in the delays in the execution of two Arkansas inmates scheduled to be put to death.
He said they are appealing the decision to the U.S. Supreme Court.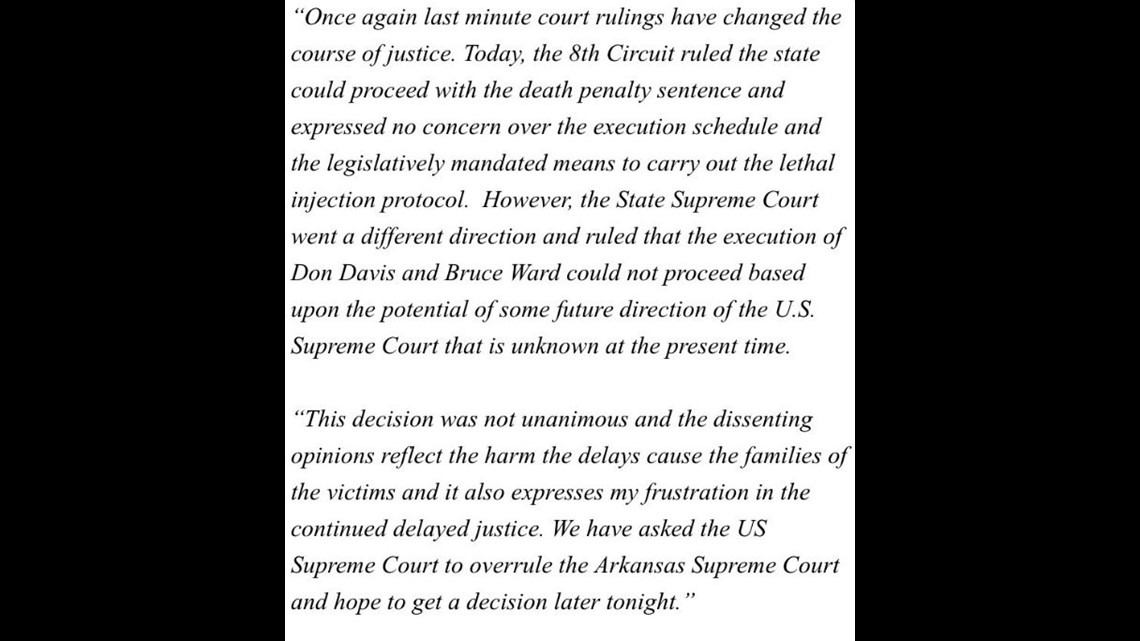 Arkansas attorney general Leslie Rutledge asked the US Supreme Court to overrule the Arkansas Supreme Court's stay of execution for Don Davis and is hoping for an answer on Monday night. However, she did not file an appeal to the U.S. Supreme Court to overturn Bruce Ward's stay of execution, which is the second filed on his behalf by the state supreme court.
Davis has been transported to the Cummins Unit of the Arkansas Department of Corrections for execution, but Ward has not. If he is executed, Davis' last meal will be fried chicken, great northern beans, mashed potatoes, glazed carrots, rolls, fruit punch and strawberry cake.
A temporary restraining order issued by Pulaski County Circuit Judge Wendell Griffen was overturned by the Arkansas Supreme Court on Monday night. Now, the only thing standing between Davis and execution is the state supreme court's stay of execution.