GENTRY (KFSM) - Paul Ernest understands the practical limitations the Gentry Pioneers are working with year in and year out.
"We're realistic about where we're at and who we are and what we're trying to do," explains the coach.
But what he's trying to do goes beyond winning just a couple more games each year.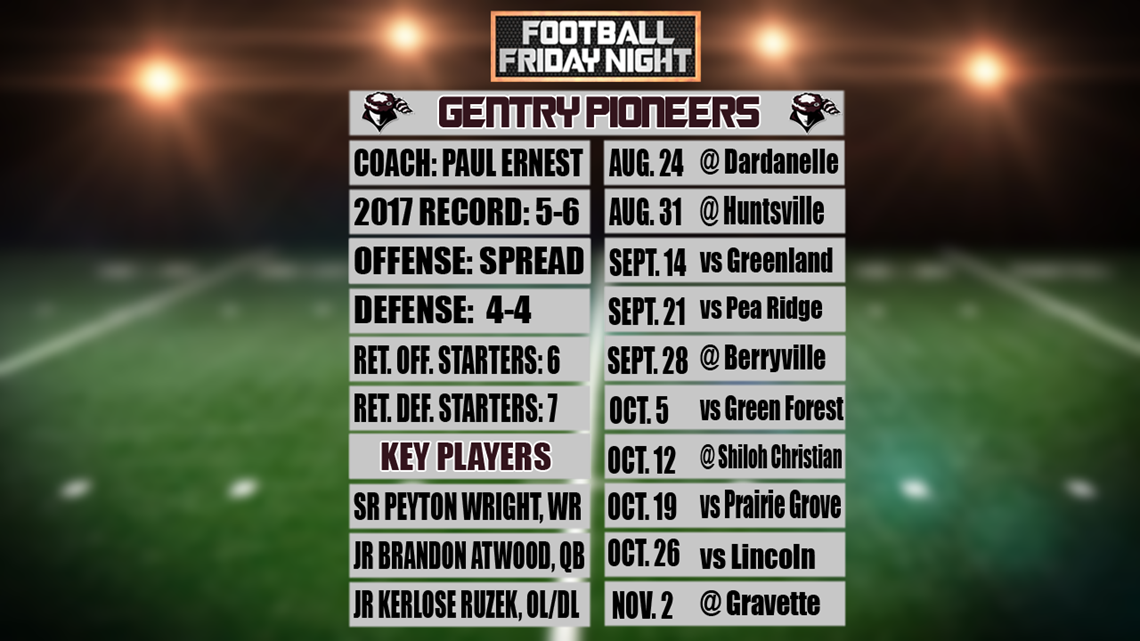 Last year, the team set a goal to make the playoffs. They accomplished this, but losing in the first round just made Peyton Wright and Garrett Hays even hungrier.
"It don't go the way we wanted it to and I want to go farther next year, says Wright."
"Going there and experiencing all that, I mean that's just peak high school football, that's as fun as it gets. This season, our goal is now to win games in the playoffs and go far, make a run at them."
Ernest has an even more specific goal for 2018, connecting the team to the town.
"Our first goal, now that we've been in, is to host. And if we can host, that gives something back to our community a little bit, and of course we want to win, want to see how far we can go."
The Pioneers have one of the smallest rosters in the conference, but they have faith in their guys.
"I mean, Coach Ernest is doing a really good job, just putting us in roles to succeed and just see from there," says junior Kerlose Ruzec.
Ernest acknowledges the low numbers, but focuses on the positive.
"Our summer's been great. Our numbers are low, we have 26 kids out, but we've had 26 kids every day all summer for the most part, our 26 kids are the right 26, we don't have a whole lot of fluff."
Gentry put up at least 50 points in each of their first three games last season. This year they'll start off a little tougher, beginning week zero at Dardanelle.