FED UP: Leaders battling 'alarming rate' of inappropriate teacher-student relationships
<p>KVUE&rsquo;s&nbsp;Christy&nbsp;Millweard&nbsp;is taking a look at the numbers, as well as what people are doing to stop and prevent the increasing cases of inappropriate student teacher relationships.&nbsp;</p>
Everyone, it seems, is fed up.
They're fed up with the increasing number of investigations into teachers accused of an inappropriate relationship with a student. And now, from state leaders to fellow teachers to lawmakers, those people are working to bring the increasing number of cases to an end.
The number of investigations into inappropriate student-teacher relationships is the highest it's ever been. And state officials said they're increasing at an "alarming" rate.
KVUE dug into the data. In the past two and a half years, the Texas Education Agency has investigated 707 cases of inappropriate relationships in the state.
Here is other data from Sept. 1, 2014 to March 31, 2017:
What is an 'Improper Relationship Between Educator and Student'?
Texas Penal Code 21.12 is known as "Improper Relationship Between Educator and Student" (IRBSM), a second-degree felony punishable by two to 20 years in prison. In order for a case to qualify as Texas Penal Code 21.12, it must include the following:
An employee of a public or private school
Sexual contact with a person enrolled at the same district as the employee
The employee is a holder of a certificate or permit issued by SBEC the State Board for Educator Certification (SBEC)
Not all of these cases involve a crime. Those types of cases are pursued by the TEA on behalf of the SBEC.
Here are different examples of that:
The case involves sex between an educator and a student, but the student attends a school district other than the district employing the educator
Sexual contact is suspected but can't be proven
There is no sexual contact alleged, however, the educator has exhibited inappropriate behavior such as solicitation of a romantic relationship
Here is what qualifies as "Solicitation of a Romantic Relationship" according to the Texas Administrative Code 249.3:
Deliberate or repeated acts that can be reasonably interpreted as the solicitation by an educator of a relationship with a student that is romantic in nature
A romantic relationship is often characterized by a strong emotional or sexual attachment and/or by patterns of exclusivity
This does not include appropriate educator-student relationships that arise out of legitimate contexts such as familial connections or longtime acquaintance.
This is not illegal, but an educator can be sanctioned if they violate this code
So what can happen as a result of an educator investigations case?
Case is closed administratively for lack of proof.
Non-inscribed reprimand
Inscribed reprimand
Suspension
Voluntary surrender of their teaching certificate
Revocation of the teaching certificate
The TEA can only regulate teachers who are certified. School districts of innovation and private schools aren't required to hire certified teachers. That means that by law, private schools are not obligated to report any misconduct.
So if your child goes to a private school, you may want to talk to the school about their reporting policies.
"It is important to not paint the entire profession with that one brush"
Fourth grade teacher Stephanie Stoebe works to inspire her students.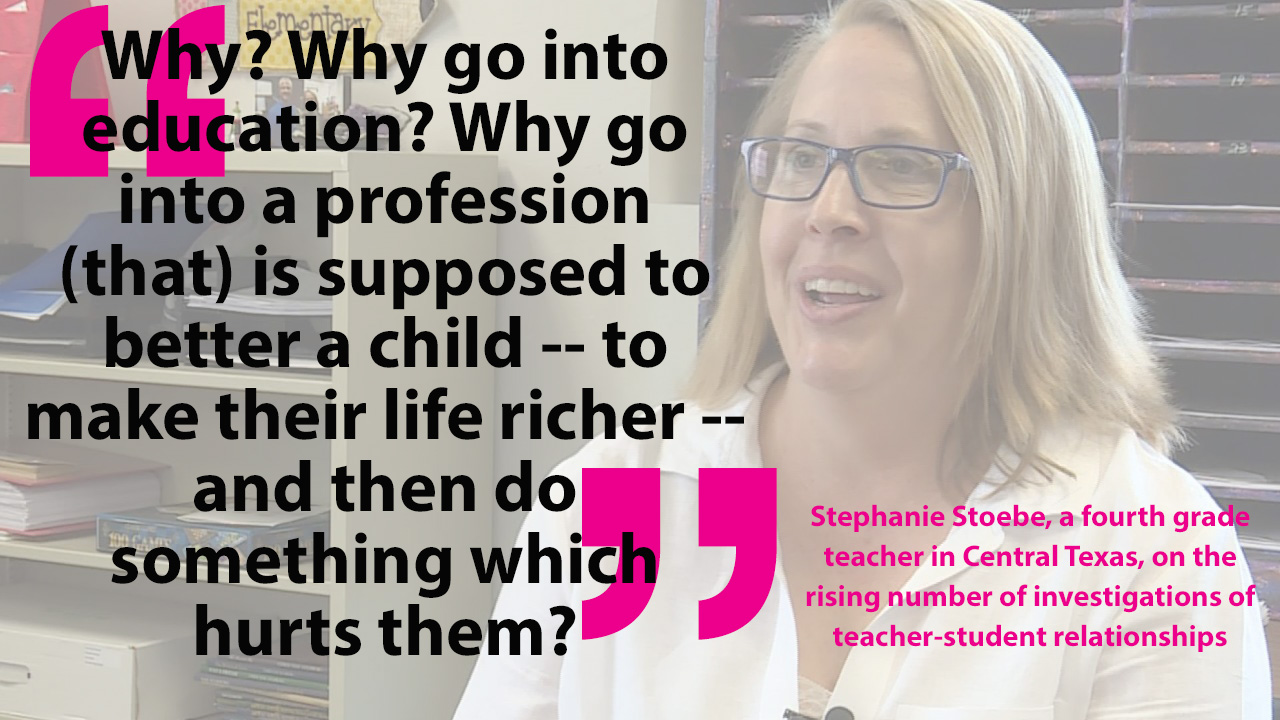 "I love teaching," Stoebe said. "I love to teach."
She has won the Texas "Secondary Teacher of the Year" award, was a finalist for H-E-B teacher of the year and had a 100-percent-pass rate for the STAAR test.
"I work hard, long hours, after school, on weekends," Stoebe said.
This is her 10th year of teaching. Prior to that, she worked for the probation department, in charge of education services for 11 counties.
"That's when I decided I was going to go into education and I was going to help people realize that school was good and fun and where you wanted to be," said Stoebe. "It's absolutely incredible that you have the capacity to help empower children."
When she sees stories about teachers -- particularly in Central Texas -- investigated for inappropriate relationships with students, she gets furious.
"Most of us are like, 'Why? Why go into education? Why go into a profession (that) is supposed to better a child -- to make their life richer -- and then do something which hurts them?'" she said. "Why would someone do something to jeopardize the life of a child, why would you risk your career, something you worked so hard to build."
Like the vast majority of teachers, Stoebe works to make her classroom a safe place for kids -- a feeling that can be tarnished when other teachers make bad decisions.
"It hurts us all," Stoebe said.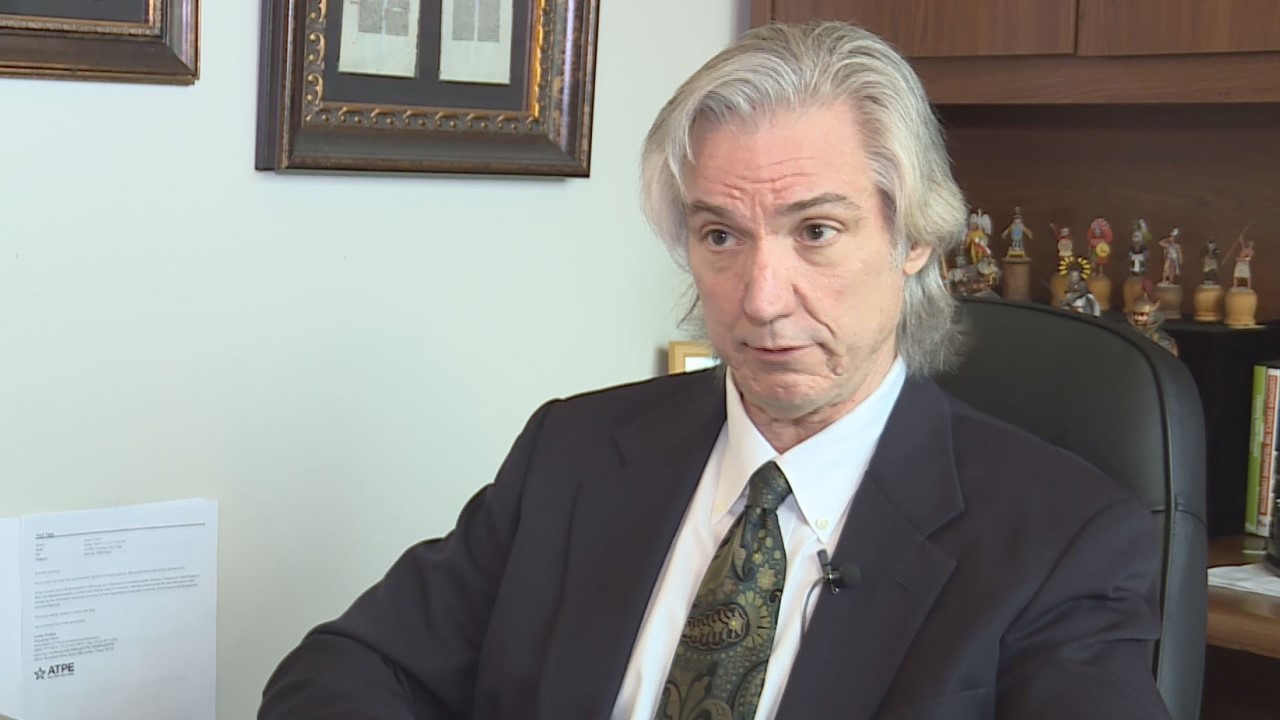 "It is important to not paint the entire profession with that one brush," said Association of Texas Professional Educators (ATPE) Attorney Paul Tapp.
Tapp said of the almost 400,000 teachers in the state, it's a small percentage that cross the line.
But he agrees that number is still too high.
"Certainly one case is one case too many," Tapp said.
They are cases that go to Doug Phillips, the Director of Educator Investigations for the TEA.
"You'll see it across the board from West Texas, to East Texas, large schools and small schools -- some really small schools. Nobody's immune from this," Phillips said.
The education agency reports there are more of these cases each year.
For the 2008 to 2009 school year, TEA investigated 123 cases statewide of inappropriate relationships between educators and students.
It increased every year until the highest number in the 2015 to 2016 school year of 222.
From the beginning of this school year to the current date, they've seen 159 cases.
Here's a breakdown of investigations per school year from 2008 to the current date:
2008-09: 123
2009-10: 141
2010-11: 152
2011-12: 156
2012-13: 163
2013-14: 179
2014-15: 188
2015-16: 222
2016-current date: 159
How the inappropriate relationships start
Phillips said a vast majority of these relationships, as much as 90 percent of them, start through texting or social media.
"My feeling is that over the years, the ability to use electronic and social media has certainly created a situation where it's easier to become involved in these sorts of inappropriate relationships and engage in inappropriate behavior," he said.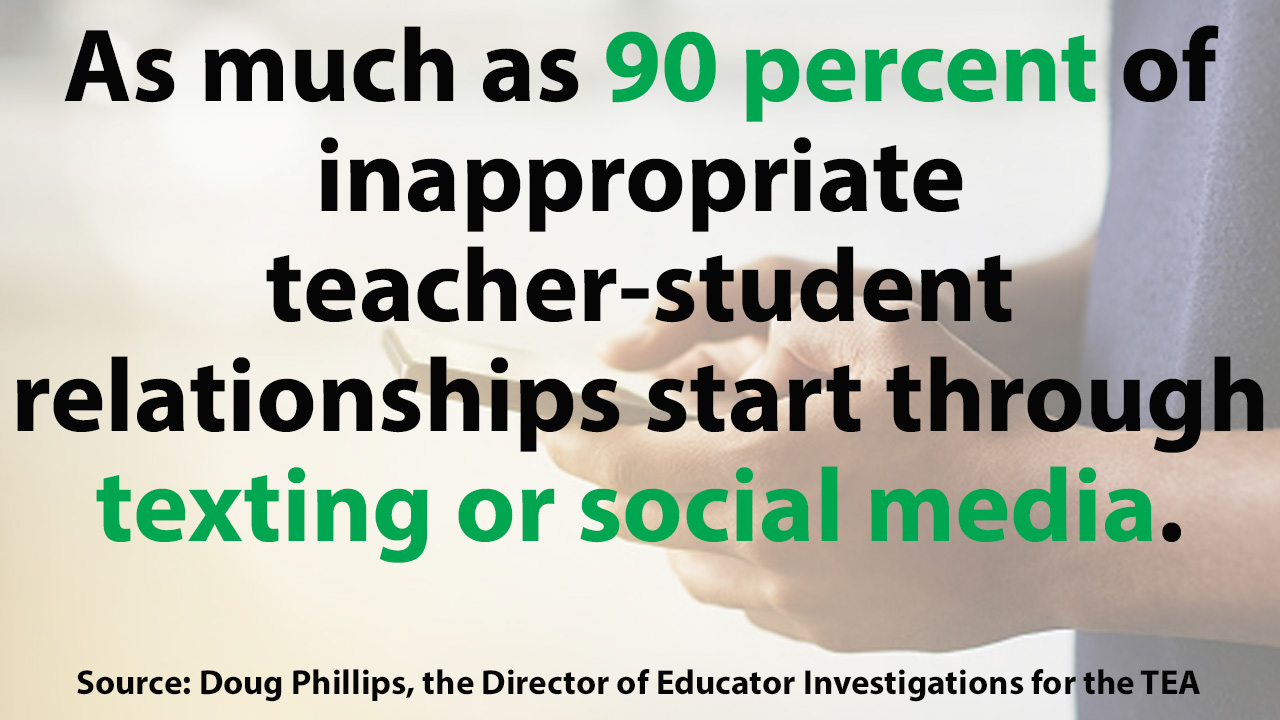 And the TEA doesn't have enough people to investigate all these cases.
As an emergency item, they're asking lawmakers for almost $400,000 to add two more investigators, and a support staff member to help with the increasing case load.
Right now, the agency has 10 investigators under Phillips.
"Our whole goal here is to make sure we keep kids safe," said Phillips.
When the TEA investigates a teacher, their "virtual certificate," or teaching certification, is flagged. At that time, they can still teach until the investigation is complete.
"There's nothing that says they can't continue teaching," said Phillips.
And getting to each case and resolving it is critical to protecting kids. Because unresolved cases sometimes means the accused teacher can stay on the job while waiting for the investigation to finish.
Phillips added that while texting and social media is driving the increase in inappropriate teacher-student relationships, it also helps solve these cases.
"It leaves a trail," Phillips said.
It's a trail he said everyone now seems eager to find -- and stop.
"I think we're seeing a shift here where there's more reporting by districts, which is a very good thing," Phillips said.
He thinks that may be the reason for the increasing case numbers.
"In a way we're victims of our own success, in that our reporting is better than other states, or if our tolerance is lower than other states, some states require a conviction to be reported, who knows each state has their own way of doing things," said Phillips. "We have our tolerance level set at a really, really low level as far as if they cross that, they need to report it, so I think we've done a good job of that."
But, Phillips said they can only keep track of teachers who are certified.
"We lose track of them once they're not certified," said Phillips.
"If you end up with educators in the classroom who are not certified, you are not going to have all these protections," said Tapp.
School districts of innovation and private schools aren't required to hire certified teachers, and private schools are not obligated by law to report misconduct. So parents may want to ask about their reporting policy.
"There has been a very definite push on every level to take this seriously, I think it's something that everyone does take very seriously," said Tapp. "This isn't flying under the radar anymore."
"There was a time since I've been here that it didn't get talked about, it didn't hit the paper, it wasn't on T.V. everyday. But it literally is in the paper or on T.V. every day, we can't argue they don't know about it," said Phillips.
Texas lawmakers agree.
Looking for a solution
Several legislators have proposed bills aimed to prevent these types of inappropriate relationships, including representative Tony Dale's House Bill 218.
"One way or the other we're going to have some legislation that addresses this issue," Dale said.
Another piece of legislation aiming to tackle the growing problem: Senate Bill 7.
The proposed legislation could do a variety of things, like require training for teachers, or force districts to create an electronic communication policy between teachers and students, or even legally require principals to report an inappropriate relationship.
"Tell another teacher, tell their principal, tell their assistant principal, but the superintendent is the one required by statute to report to SBEC," said Phillips.
That reporting responsibility currently only falls on superintendents.
"I think there have been cases in the past where principals have failed to report it up," Phillips said. "Or it just gets lost between the superintendent and the principal, especially in large districts where you have HR and other places where it could get lost between."
Phillips told KVUE the TEA is starting a training program in the Austin-area to teach teachers how to spot and stop these inappropriate interactions before they go too far.
"We're – kind of tired of just sitting back and reacting," Phillips said.
Teacher association ATPE also offers training for future teachers in hopes that it prevents any inappropriate student-teacher relationship.
"Of course one case is too many. Anything -- anything -- that we can do that can stop this from happening is something that we should do," said Tapp. "Just to warn them to make sure that they stay aware of the possibilities that as they're getting to know the students that they don't become too emotionally involved."
Which brings us back to Stephanie Stoebe, a teacher hurt by what is happening to students victimized by inappropriate relationships and fed up with the few teachers causing so much pain.
"I get very frustrated after working so hard when I hear people in the community or people in society paint me as a public educator with the same brush as the less than 1 percent who have perhaps committed a crime," Stoebe said.
Dalton Huey, a KVUE Defender, contributed to this report