FAYETTEVILLE, Ark. — Editor's Note: Video in this article could be disturbing for some viewers.
The names of the officers involved in the Friday (July 23) officer-involved shooting on Joyce Blvd. have been released.
Officer Jon Haydon, a five-year officer of the Fayetteville Police Department, and Officer Chase Harris, a two-and-a-half-year officer of the Fayetteville Police Department, were the officers who responded to the suicide threat call.
As per Fayetteville Police Department policy, both officers have been placed on paid administrative leave. This investigation is ongoing.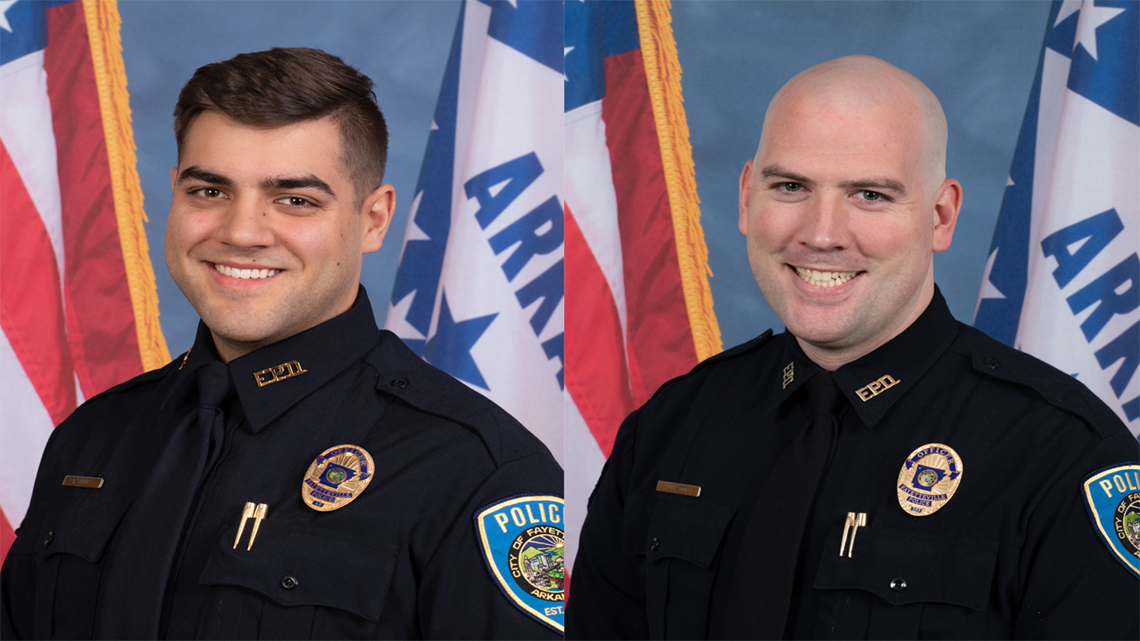 A standoff with a suicidal man at a McDonald's on Joyce Boulevard in Fayetteville Friday night ended with the suspect being shot by police after he ran towards a nearby furniture store with a weapon.
Sgt. Murphy with the Fayetteville Police Department has identified Skylar Houston, 29, of Huntsville, a former Lowell police officer, as the man shot.
According to Sgt. Murphy, the standoff started around 3:30 p.m. when officers attempted to detain Skylar from his car in a McDonald's parking lot after drug task force detectives tried to purchase meth from him in an undercover sting. Joey Young was headed to work as this was happening.
"I saw a row of cop cars ahead, and I thought maybe there's a wreck," said Young. However, it was a standoff.
Skylar has previously been arrested for possessing meth and being involved in a shooting inside Fayetteville city limits. Skylar posted bail after each incident.
After hours of negotiations with Houston not leaving his car, police used tear gas to force him out. Police, SWAT, and fire working to defuse the situation while also blocking traffic.
Blocking traffic because once tear gas was used, Houston was out of the car running from McDonald's to Cleo's Furniture next door with a gun. That's when two officers used deadly force to try and stop him.
"Once he was at Cleo's, we were yelling for him to drop the gun," Sgt. Murphy said. "He still had the gun in his right hand."
Skylar fell to the ground after being shot by the officers. He then got up and ran towards the police without a weapon in his hand, and officers used a taser to get him into custody.
"Knowing that hundreds of citizens were gathered in the area, Houston's training as a former police officer, and fearing that someone was inside the locked business, two Fayetteville police officers discharged their firearms to stop the active threat," a media release about the incident from Sgt. Murphy said.
Central EMS arrived on the scene and transported Skylar to a hospital.
Skylar faces charges related to allegedly stealing a firearm, criminal conspiracy, unlawful use of communication devices, and illegally possessing a handgun. He is currently still in the hospital in stable condition, according to the Fayetteville Police Department.