FAYETTEVILLE, Ark. — Fayetteville City Council members have unanimously passed an ordinance that will require everyone to wear face masks inside public places in the city. This ordinance was presented at the city council meeting Tuesday (June 16) evening.
"I go to the grocery store like everyone else and some days it's 50/50 and some days I may be among a handful of people that are wearing them. I'm very concerned that if we don't get a handle on it, it's going to get worse," Chrissy Anderson said.
Chrissy Anderson is the chef and co-owner of Mockingbird Kitchen. She says the increasing number of cases in Washington and Benton counties is the reason she has chosen to not reopen her dining room and will continue to offer take out. She says if this ordinance passes, she would feel more comfortable opening her dining room.
"I think that gives the businesses a little more of a leg to stand on if you will knowing that the city has our back and if we do run into any issues then we can just tell the customer that we are supported by the state of Arkansas and the City of Fayetteville," she said.
Everyone will be required to wear masks in public areas in Fayetteville except in small groups where social distancing can be followed. The city will be allocating funds to provide masks and to set up a support hotline for businesses.
"This has really become a local problem that is out of scale with the rest of the state and people are concerned that the statewide action isn't really meeting the needs that we have here," Kyle Smith said.
Councilman Kyle Smith serves ward four and says in the last 36 hours he has heard from a lot of residents demanding that the city take local action.
Smith says while some businesses have already put up signs requiring everyone who enters to wear one, he understands why others would be hesitant to.
"That's why it's important as a community to agree that this is appropriate for all businesses to comply with, so that everyone is on a level playing field and you don't have to worry about the particular grocery store you are going to keeping you safe or not," he said.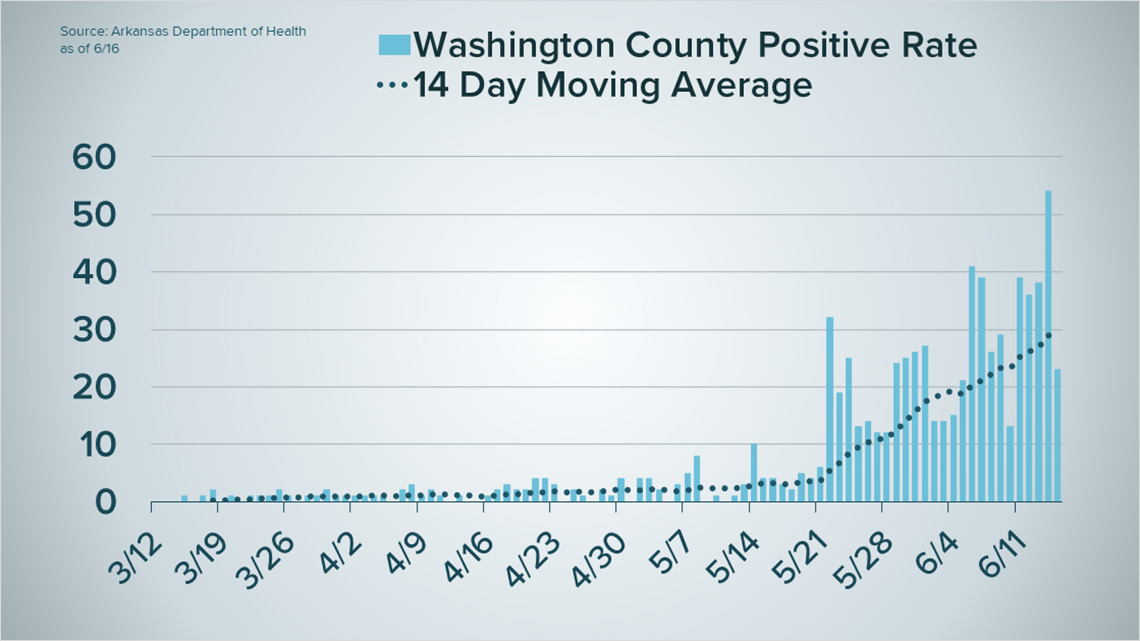 On Friday (June 19) Mayor Jordan issued the following statement about the City's progress on implementing Ordinance 6323:
"My staff and I are working as quickly as possible to identify and put in place everything that must be done so that we can help our area businesses be successful in complying with this ordinance. We don't have all the answers yet, and I appreciate everyone's patience as we work together to keep Fayetteville safe. Please continue checking our website and social media channels for updates as we share more information and resources about this new Ordinance. As always, please do everything you can to stay safe. Practice social distancing, wear a face covering, wash your hands and get tested if you have symptoms or if you believe you have been exposed to the virus."
A copy of the complete ordinance is available at www.fayetteville-ar.gov/maskfayetteville. Guidance regarding key requirements, expectations and related information from Ordinance 6323 for businesses and individuals is provided below:
Ordinance 6323 sets out two key requirements for businesses under Section 3:
Businesses are required to provide disposable face masks to any member of the public seeking to enter your establishment. Masks can be provided for free or at a nominal fee.
Businesses are required to deny entry to any member of the public who refuses to wear a face mask.
See Section 1 of Ordinance 6323 for exceptions to requiring masks and reasonable accommodations for someone who can't wear a mask.
The City is working to deliver an initial supply of masks to help businesses comply with the requirement to provide masks to members of the public. The City will continue to provide masks until the approved budget adjustment is exhausted. Under the new ordinance, businesses are expected to acquire additional masks on their own.
Under Section 7 of Ordinance 6323, if a business fails to enforce the provisions of the ordinance due to willful neglect, that failure constitutes a violation that makes the business subject to the penalties allowed in §10.99 General Penalty of the Fayetteville Code.
Guidance for Members of the Public
Under Section 6 of Ordinance 6323, individual members of the public who refuse to wear a mask when required will be denied entry to places of accommodation. The denial of entry will be enforced by the business. If an individual refuses to wear a mask and does not comply with the denial of entry, businesses may call the business support hotline for assistance, or they may call 911 if the situation is an emergency.
Action Items Underway by the City of Fayetteville
Under Section 4 of Ordinance 6323, a $100,000 budget adjustment was approved by City Council for a public safety campaign to raise community rates of mask-wearing. Through this campaign, the City of Fayetteville is charged with three action items to support business compliance with the new ordinance.
Below is an update on progress the City has made toward those three action items:
Action Item 1: Distribute free masks for Fayetteville businesses
An initial $20,000 purchase of approximately 37,000 disposable masks was received by the City on June 18.
Mask distribution will begin with high-traffic retail locations and businesses who have contacted the City to request masks.
Beginning Monday, June 22, businesses can pick up free masks at Fayetteville Fire Station #1 at 303 W. Center St. This service is available Monday through Friday from 8 a.m. to 5 p.m. while mask supplies last. Please ring the doorbell as the station is closed to the public because of COVID-19.
The City is making arrangements to acquire additional mask supplies as needed.
Action Item 2: Operate a Business Support Hotline for businesses to request technical and/or field support
Businesses may call 479-575-0258 to request technical and/or field support.
This is the non-emergency police dispatch phone line, and it is monitored 24 hours a day, seven days a week.
Depending on the type of question asked, business callers may be referred to other City divisions for additional support and answers.
Action Item 3: Execute an outreach strategy focused on high-interaction sites
The Fayetteville Police Department's Community Policing Division and the Fayetteville Fire Department are working to distribute masks and conduct awareness events at high-traffic retail and other public accommodation locations.
Mayor Jordan and City staff are reaching out to business owners and store managers to discuss mask enforcement concerns, answer questions and learn how to continue helping businesses with compliance.
While this ordinance became effective the evening of June 16, the City of Fayetteville recognizes that businesses need time to take all steps necessary to become fully compliant. As implementation work continues, businesses are asked to make a good faith effort to become compliant with the ordinance as quickly as possible. Outreach and education will be the primary methods of enforcement, though penalties are possible for businesses who willfully neglect to enforce the requirements set forth in Ordinance 6323.
Information about Ordinance 6323 and progress updates on its implementation are available at www.fayetteville-ar.gov/maskfayetteville. Mask requirement signs in English and Spanish, along with a copy of the full ordinance, are also available on that page.

Signs in Marshallese are underway and will be added as soon as possible. Please check the City's www.fayetteville-ar.gov/covid19 web page and sub-pages to keep up to date on announcements and information for Fayetteville residents and businesses during the pandemic.