FAYETTEVILLE, Ark. — With springtime arriving in Arkansas, the return of warmer temperatures and blooming flowers ushers in the return of farmer's markets.
The Fayetteville Farmer's Market hosted a spring fling on March 18 to preview their full market. With cold temperatures sticking around, farmers shared their concern for overnight freezes on their crops. Teresa Maurer is the Fayetteville market manager who will be retiring soon.
"We've got some new farmers coming in, which is good because some of our farmers have been here a long time, and they can't do it forever," Maurer said.
The Fayetteville market manager explained that many have joined the market during the pandemic. She explained that as some picked up hobbies during quarantine, some made it a source of income.
"It's a livelihood. But you know, looking at farms across the nation, there's very few that can make a full livelihood from the farm," Maurer said.
Janet Bachmann of Riverbend Gardens lives about 8 miles from the Fayetteville square and has been participating in the market for about 29 years. She was selling daffodils at the market as they could survive the cold spells of the lingering winter season.
"I don't have anything growing that I think will be damaged. But it certainly is making it miserable to be here. Outside," Bachmann said.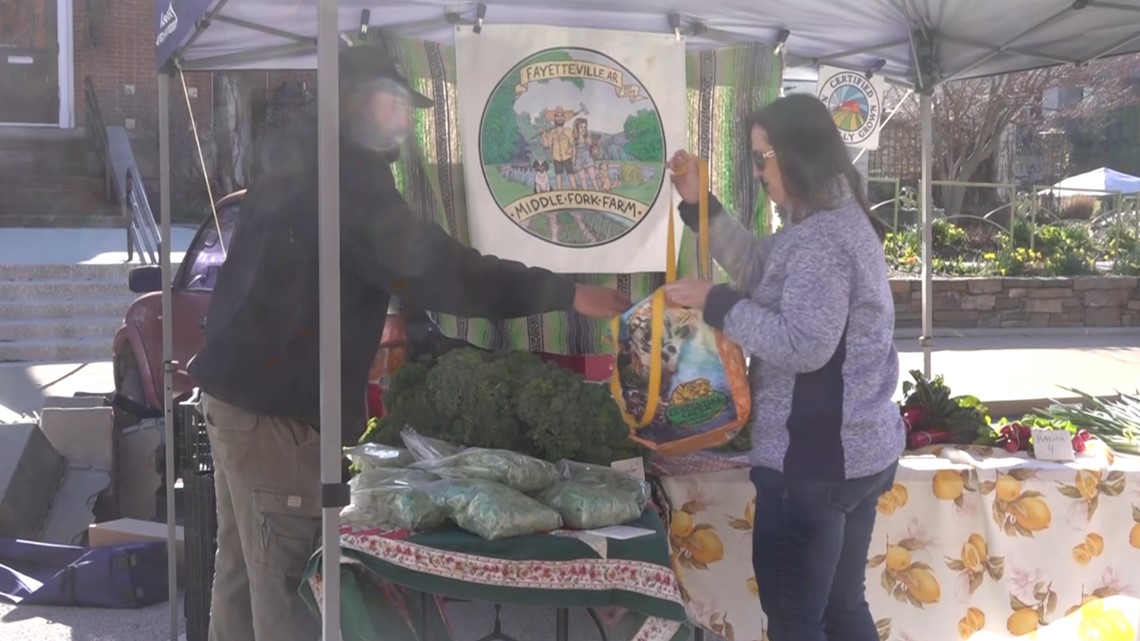 "When it's not gorgeous outside, it's a little bit wintry, but still gives us a place to come and get our products in front of people," said Kip Smith of Bon Appetit Bake Shoppe Emporium.
"People don't think about having lettuce in the wintertime. And so to actually be able to come out here and market ourselves and show people that we have fresh lettuce. It's amazing because people just come in buy more, and they buy more, and we get repeat customers every week," said David Welch of Shimizu Farms.
While the markets rejuvenate downtown by bringing hundreds, and sometimes thousands, to their events, they're serving as a space for hobbyists and business owners alike. They're reminding Northwest Arkansans to shop local.
"It's definitely like a platform for small business owners. There's a lot of our vendors, our parents, they have small children. And so this is like a really good way for them to earn extra income, get out of the house, and interact with people," said Ashley Worthey, Bentonville market manager.
"It's really about the community, the community helps us do what we love to do. And that makes all the difference in the world," said Smith.
Both full markets are set to open in April. The one in Fayetteville starts on April 1, while the Bentonville market will open on April 8. It'll be Fayetteville's 50th market season, which Maurer says will bring a big celebration on opening day. You can follow their events on their website. You can also shop at the markets year-round by visiting the Fayetteville online market and Bentonville online market.
Download the 5NEWS app on your smartphone: