CALABASAS, Calif. (KFSM)  -- According to CNN, Legendary NBA player Kobe Bryant, 41, and his daughter Gianna Maria Onore Bryant died in a helicopter crash in Calabasas, California Sunday (Jan. 26).
According to CNN, the Los Angeles County Sheriff's Department received reports of the downed aircraft just after 1 p.m.
Seven other people along with Bryant and his daughter were killed in the crash around 10 a.m. this morning.
The Federal Aviation Administration and NTSB will be investigating the crash.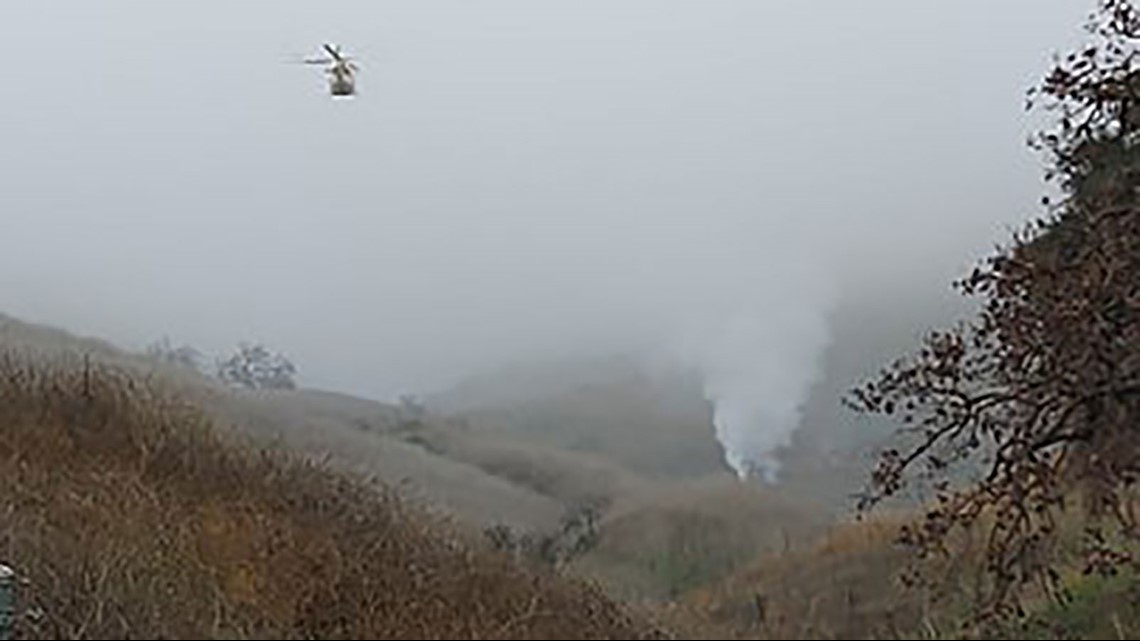 Bryant was an 18-time NBA All-Star who won five championships and became one of the greatest basketball players of his generation during a 20-year career with the Los Angeles Lakers.
Bryant retired in 2016 as the third-leading scorer in NBA history and held that spot until LeBron James overtook him Saturday night.
Mourning Kobe
Everyone from current and former NBA players to former President Barack Obama mourned Bryant's death.
NBA clippers coach Doc Rivers, who has known Bryant for many years, was emotional when discussing his death. "He means a lot to me, obviously. He was such a great opponent. ... It's what you want in sports," Rivers said.
Rivers said Bryant "had that DNA that very few athletes can ever have. The Tiger Woods and Michael Jordans."
Former Los Angeles Laker great Kareem Abdul-Jabbar, who has known Bryant since he was a boy, said Bryant was an athlete and leader who inspired generations of young athletes.
"He was one of the first ones to leave high school and come to the NBA and do so well, dominating the game and becoming one of the best scorers that the Los Angeles Lakers has ever seen," Abdul-Jabbar said in a video posted online.
"Rest in peace, young man, Abdul-Jabbar said. "This loss, it's just hard to comprehend."
On the court Sunday, the Atlanta Hawks held a moment of silence as a tribute to Bryant before their game against the Washington Wizards. Following the moment of silence, Hawks guard Trae Young started the game wearing a No. 8 jersey to honor Bryant, then switched back to his No. 11.
On the opening possession, the Hawks took an 8-second backcourt violation and the Wizards followed by taking a 24-second shot clock violation.
Bryant wore both No. 8 and No. 24 in his NBA career.
When he learned of Bryant's death, retired NBA player Dwyane Wade tweeted: "Nooooooooooo God please No!"
Former NBA player Scottie Pippen tweeted: "I'm stunned. Words can't even come close to describing it. Just an incredibly sad and tragic day."
NBA icon Shaquille O'Neal tweeted: "There's no words to express the pain Im going through with this tragedy of loosing my neice Gigi & my brother..."
"Kobe was a legend on the court and just getting started in what would have been just as meaningful a second act. To lose Gianna is even more heartbreaking to us as parents," Obama tweeted.
Los Angeles Mayor Eric Garcetti called Bryant a "giant who inspired, amazed, and thrilled people everywhere with his incomparable skill on the court -- and awed us with his intellect and humility as a father, husband, creative genius, and ambassador for the game he loved.
"He will live forever in the heart of Los Angeles, and will be remembered through the ages as one of our greatest heroes."
President Donald Trump tweeted about Bryant's death, saying, "He loved his family so much, and had such strong passion for the future. The loss of his beautiful daughter, Gianna, makes this moment even more devastating...."