DEKALB COUNTY, Ga. — Funeral directors across Georgia are preparing for a surge of their own - a possible, sudden death-spike later this month, in addition to the deaths that families across the state have already suffered from COVID-19.
And in just the past month, everyone has witnessed how the pandemic has uprooted the rituals that we need and cherish when we lose loved ones.
We are social creatures not made for social distancing, especially not when we mourn our loved ones. Our broken hearts seek solace from each other.
"It's very challenging," said Gregory Levett, Jr., of Gregory Levett and Sons Funeral Homes in metro Atlanta. "To see them not be able to celebrate their family's lives the way that they want to during this pandemic is very difficult to see."
Gregory Levett, Jr. and his brother and partner, Lanier Levett, said they must now conduct funerals only outside, at graveside, while streaming the services, online.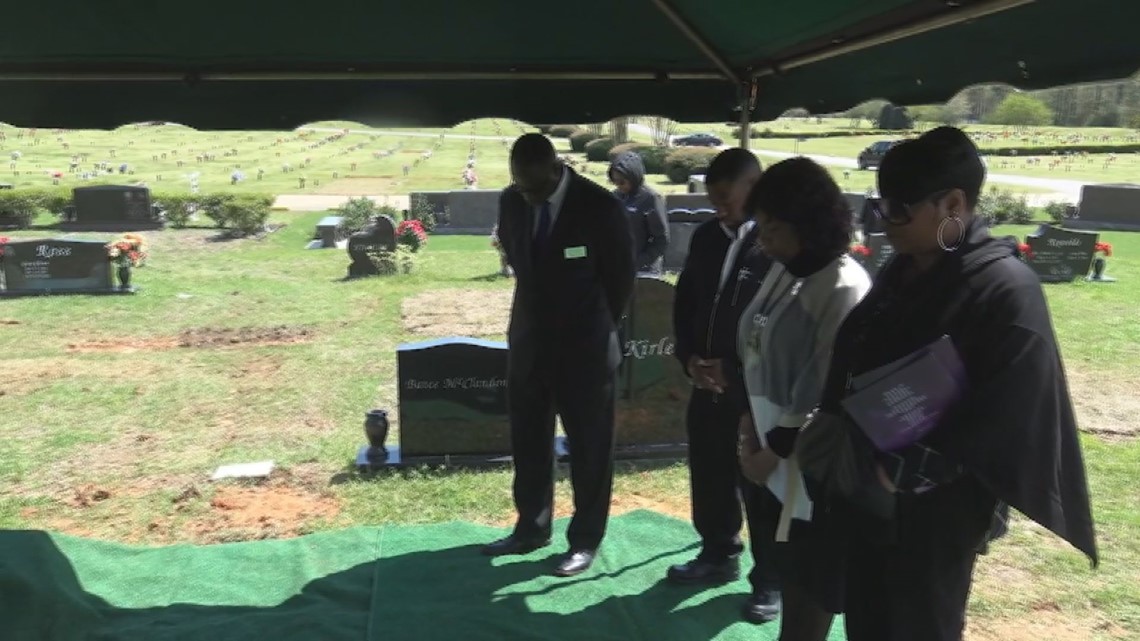 No more than ten people can be present at a cemetery service, as a way of limiting the spread of the virus.
"And I think what bothers me the most," Lanier Levett said, "are so many people that may have loved that individual cannot come and touch and love on that family. The emotional support that so many families rely on, they aren't able to get that, now."
Health officials say a crowded funeral in Albany, Georgia, on February 29, attended by at least one infected person, was a source of what would soon become the devastating COVID-19 outbreak in southwest Georgia, one of the worst coronavirus outbreaks, per capita, in the nation.
Now, funeral homes across Georgia are preparing for a possible, increasing onslaught of COVID-19 deaths in their own communities, just like they're seeing nationwide and around the world.
"We don't have enough stretchers," said Pat Marmo of International Funeral Service in New York City, in an interview with the Associated Press.
In NYC, so many coronavirus patients have been dying so rapidly, bodies are filling hospital hallways—there is no room in the morgues and funeral homes anywhere in the region.
"This virus took religion out of the equation," Marmo told the AP. "My poor families-- the Christian families can't go to church, the Muslim families can't go to mosque, the Jewish families can't go to the temple. They can't have people gather, no matter what funeral home you go to."

In Ecuador, a woman, whose husband died from COVID-19, posted on social media, "I'm begging" for help, "please have compassion...." She said she'd been forced to keep his body at home for days because morgues were full.
A young man in tears posted that he had to move his brother's body to the street, because he was told it would be days before anyone would have a place for it.
"We are making preparations" for increased deaths, Gregory Levett said. The Levetts say they don't want what's happening in other surge cities--nowhere to put the bodies--to happen here. They are racing to expand capacity at their facilities, such as adding the extra refrigeration units that they worry they may need, for more bodies than have ever been in their care at once - just in case.
As it is, so far, "We've actually served three or four families, for a family member that has passed away from COVID-19," Lanier Levett said.
The association hosted a webinar last week with an Emory physician and with the DeKalb Medical Examiner's office, providing answers for funeral directors who are worried about capacity, and worried about keeping everyone safe from the virus.
"And it's quite frightening because, again, we don't have all the answers to all the questions that are being asked about COVID-19," Lanier Levett said.
He and his brother said families have been understanding, and have been grateful for the precautions, hoping they can hold memorial services later, once people can gather again.
CORONAVIRUS LINKS: