LITTLE ROCK, Ark. — Governor Asa Hutchinson has issued a statewide face coverings mandate to slow the spread of COVID-19 in Arkansas.
The mandate goes into effect on Monday (July 20) and applies to indoor and outdoor areas where social distancing can not be achieved.
The public health directive will require every person in Arkansas to wear a face-covering over the mouth and nose in all indoor and outdoor spaces where they are exposed to non-household members and social distancing of at least six feet cannot be achieved.
A violation of the order will be considered a misdemeanor offense, punishable by a fine of $100-$500, the governor said.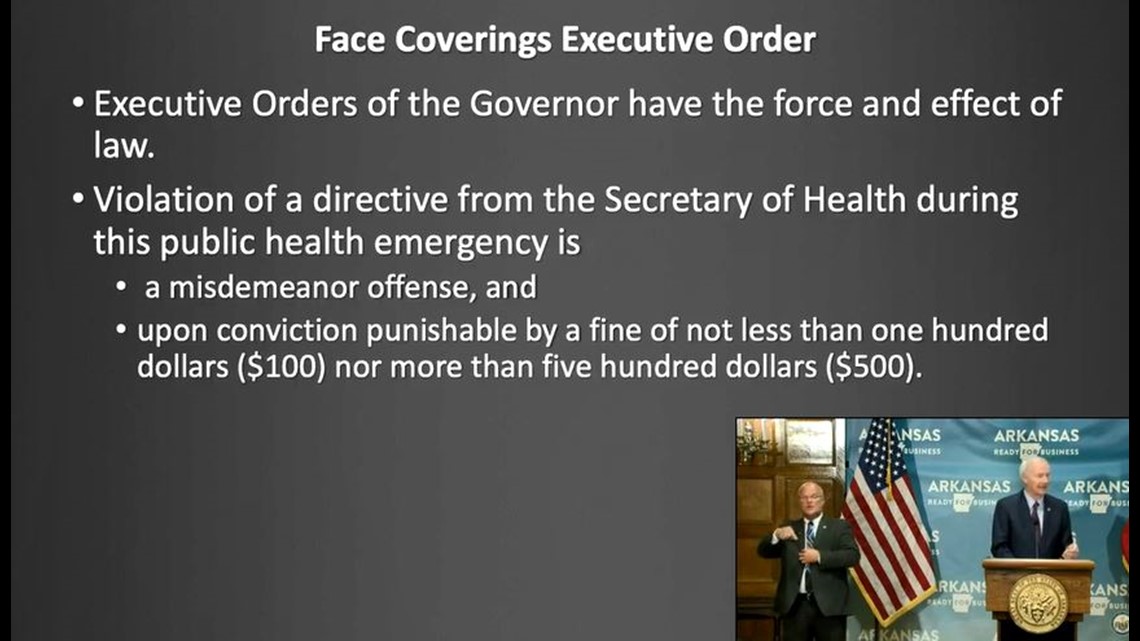 Local law enforcement will now be responsible for making sure people are complying with the new statewide mandate.
Sgt. Tony Murphy with the Fayetteville Police Department says they want to work with people to avoid fines.
"We don't want to fine people," he said. "Fayetteville police officers aren't going to be out there looking to write tickets, we just hope that this helps get people into compliance."
Under the executive order, first-time offenders will receive a verbal warning. People under the age of 18 will not get fined and no law enforcement officer is allowed to arrest or detain anyone who violates the order.
"You know we're not looking to put anyone in jail, we just want people to wear masks," Murphy said.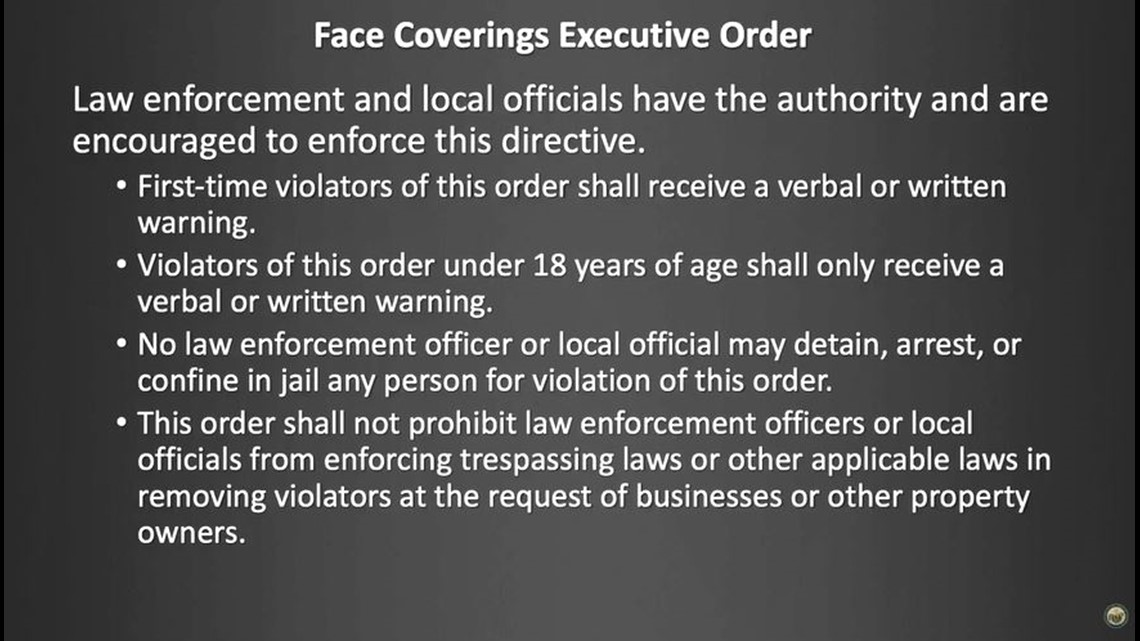 Exemptions to the executive order include:
Children younger than 10 years old
Those with medical conditions or disabilities that prevent them from wearing a face-covering
When eating or drinking
Driving alone or with passengers from the same household
While voting
Engaged in worship or religious activities, however, it is strongly encouraged
In counties where the Department of Health has certified the risk of community transmission is low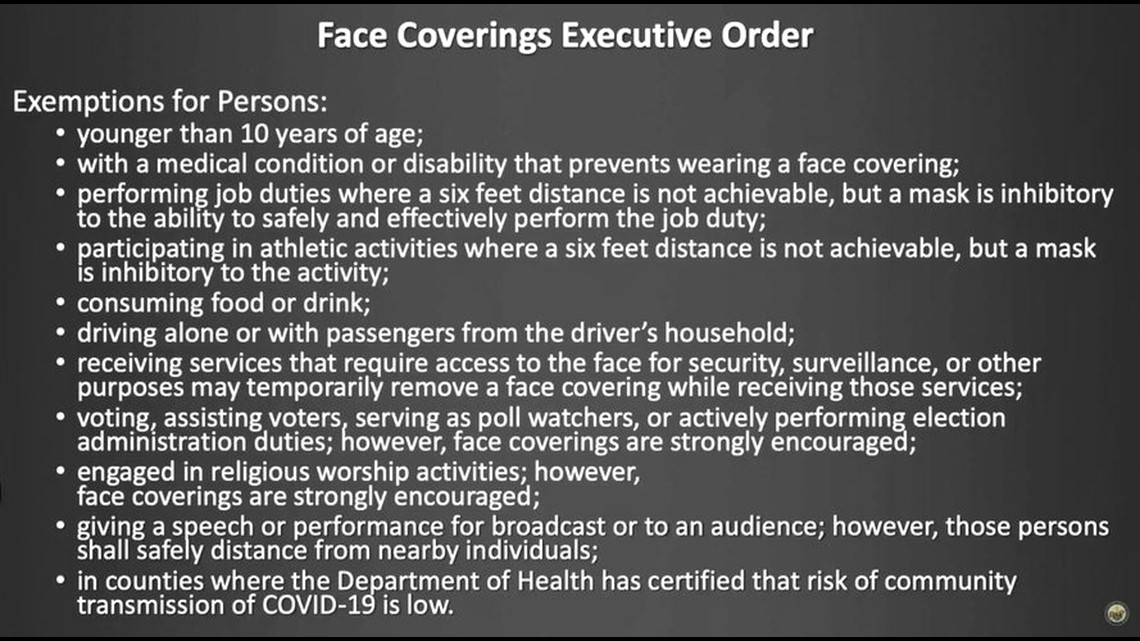 Gabby Thornhill lives in Rogers and says she does not support the mask order, but she doesn't want to break the law.
"Now that he says we can get a whole misdemeanor for it it's kind of like okay, it's kind of out-of-control," she said.
Thornhill says she has supported Gov. Hutchinson not making a statewide mask order throughout the coronavirus pandemic.
"Honestly did lose a little bit of respect for him for not standing up to what he said he was going to do," she said.
The governor said that due to the increasing number of hospitalizations and deaths, it was time for him to step in.
"I caution that this is just one tool among many that we have to look at and it's an overall strategy that we have to implement," Gov. Hutchinson said.
Arkansas Attorney General Leslie Rutledge issued a statement following Gov. Hutchinson's Executive Order on the statewide mask mandate.
"I have long encouraged Arkansans to take personal responsibility of preventing the spread of COVID19 by wearing masks when not able to socially distance," said Attorney General Rutledge. "It is imperative that we all take the exponential spread of this deadly disease seriously not only for the safety of family, friends and neighbors, but we must also reopen our schools and get our economy back to its full strength moving our country away from this virus and back to exercising our God given freedoms."
As of July 16, there are 817 new COVID-19 cases, totaling 31,114. There are 12 new hospitalizations, totaling 470 in the state and six new deaths, totaling 341.
There are 6,578 active cases in Arkansas and 24,195 total recoveries.
The top counties with new cases:
Pulaski: 114
Washington: 68
Benton: 48
Sebastian: 43
Pope: 40