The Arkansas Department of Health (ADH) says that the state's case count grew by 1,309, active cases rose by 670, and an additional seven people died due to the illness.
The ADH also reported that COVID-19 hospitalizations rose by 41 in the last 24 hours. The rise in hospital cases has area medical centers concerned about another surge in patients at facilities as the Delta variant of the virus spreads. Since April, COVID-19 hospitalizations have risen by nearly 500.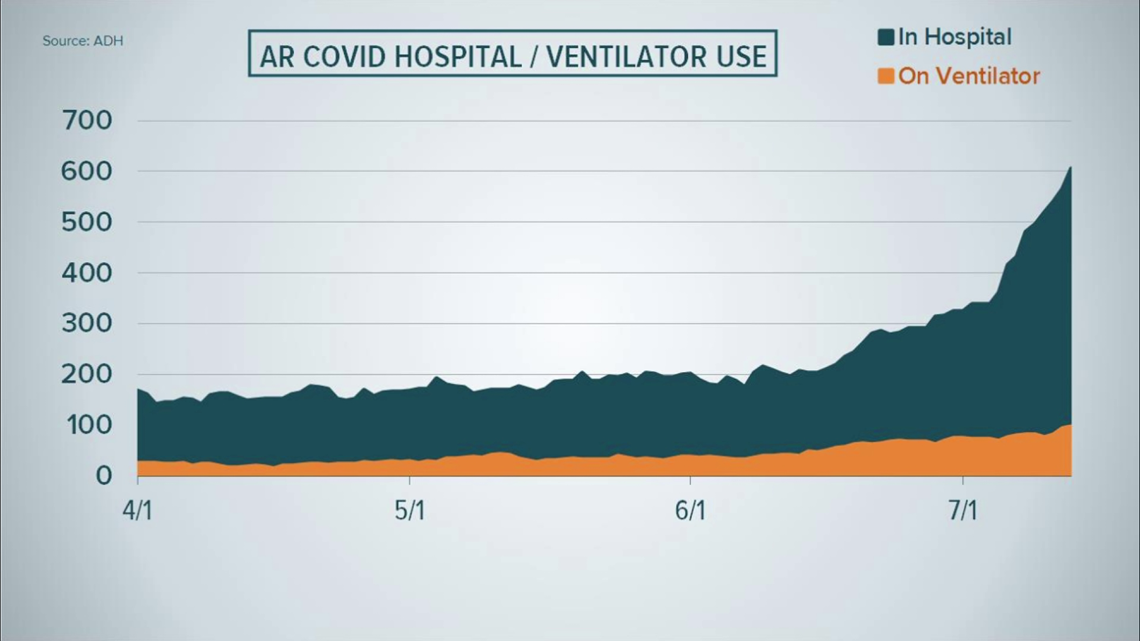 July 14, 2021, COVID-19 Case Report (all data confirmed through ADH):
Total Cases: 360,258 (+1,309)
Total Active Cases: 8,804 (+670)
Total Deaths: 5,977 (+7)
Hospitalized: 647 (+41) 103 on ventilators (+5)
Eligible Arkansans Fully Vaccinated: 1,019,387 (+ 2,207)
Arkansas Governor Asa Hutchinson took to social media to point out the continual trend of hospitalizations in the state.
"We have seen an increase in hospitalizations for the 15th day in a row, and active cases are up by 70% compared to last week. Our vaccinations have improved since last Wednesday, but it's critical that number continues to climb to protect our state," Gov. Hutchinson said on Twitter Wednesday.
Arkansas remains one of the only states in the U.S. with only 30% of its population vaccinated. Health officials say the Delta variant is hitting unvaccinated communities the hardest.