A jeep with what appears to be a gun mounted on the top of it drove up to Butterfield Trail Elementary School causing some alarm for staff and parents.
"We were really concerned about the safety of our children. And we were really concerned that this person was able to gain entry into the school as well," said Liz Krauft.
The school district says the jeep was driven by a parent. Alan Wilbourn with the district says that Fayetteville Police inspected the apparent gun and say it was actually a fiberglass prop. Police told the district that it's not against the law to have that type of decoration on a vehicle.
"The police officers met with the driver and expressed to him how this might be upsetting to some particularly in light of the school shootings in Nashville earlier this week, after consulting with the driver or the police officer, he was informed that he cannot drive that vehicle to school again," said Wilbourn.
Parent, Liz Krauft says the whole situation was very scary to her.
"Gun violence is a big problem in this nation, our neighbor had their windows shot out twice this past weekend, and recently there's been yet another school shooting in the nation. So, you know, I'm feeling very sensitized to gun violence right now. So being confronted with a potentially real and very large weapon right outside of my child's school was extremely disturbing," she said.
Wilbourn says they do have a visitor policy that prohibits any type of disruption. He says the safety of students and staff is their top priority.
"We're constantly reviewing those safety protocols to ensure that school remains a safe environment. While this particular situation ended without incident, we're continuing our review of the situation to make sure we have all the facts and that all the safety protocols were followed. And that review will continue into next week," he said.
An email was sent to Butterfield Elementary parents Thursday afternoon by Superintendent, Dr. John L Colbert explaining what occurred at the school earlier in the day. Again, the district will continue to review the incident next week.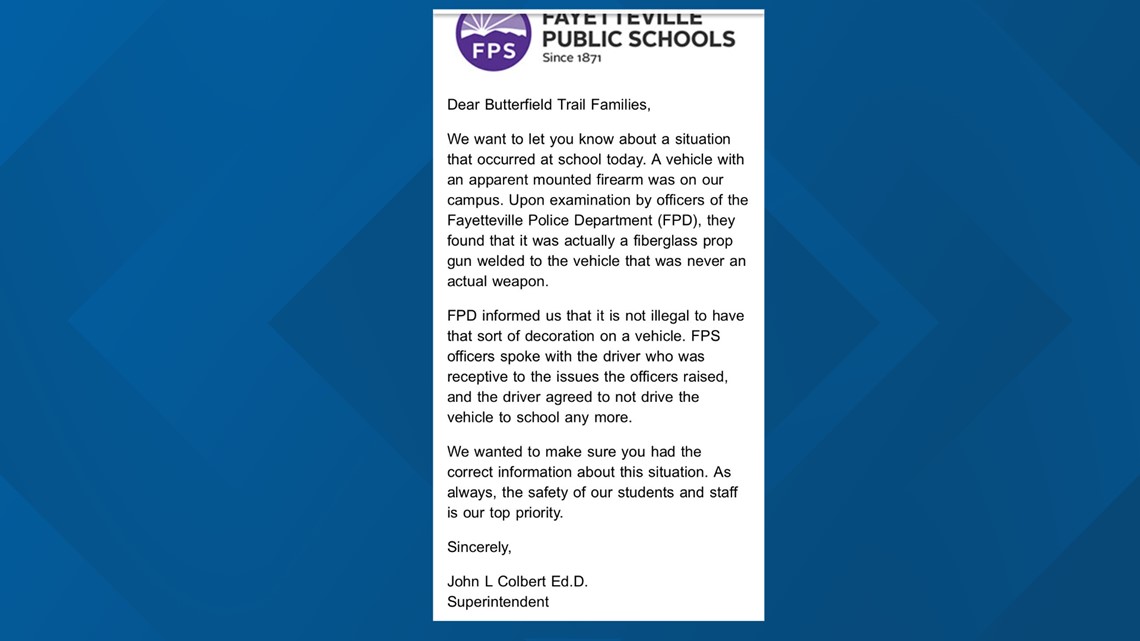 Download the 5NEWS app on your smartphone: