BENTONVILLE, Ark. — A fire at an industrial plant in Bentonville sent thick clouds of smoke through Benton County.
The fire broke out at United Industries, a plant full of laminated plastic materials, On E Central Ave. Wednesday (Dec. 4) afternoon.
Thick black smoke could be seen billowing through the air as crews battled the flames.
According to Beth Wright from Northwest Medical Center, one person was injured at the scene and has already been released from the hospital. All other employees were accounted for, and no emergency crew members were harmed.
Kevin Boydston, Deputy Chief for the Bentonville Fire Department, said the situation is under control, and Melody Daniel with the Arkansas Department of Emgergency Management says the fire is completly put out.
Boydston said in a press conference, crews initially responded to an external fire at the plant.
He said a lot of United Industries' bulk storage, pallets and products, were stored in the back of the plant along with vertical tanks that contained polystyrene.
A concern for crews at the scene was a tank containing 35,000 gallons of highly flammable difluoroethane.
Boydston said they were able to protect the difluoroethane tank and the building.
"It could have been a lot worse. If crews had not been able to protect those highly flammable tanks and barrels and keep it out of the building, it would have been much worse than it was," Boydston said.
Rogers Fire Chief Thomas Jenkins issued a warning for residents in Rogers due to the smoke.
There is one vertical tank left standing at the plant, three others collapsed during the fire. The containers that burned contained polystyrene beads. When burnt, polystyrene can release carbon monoxide and styrene monomer.
A light wind blowing from the west blew the smoke to the south and east.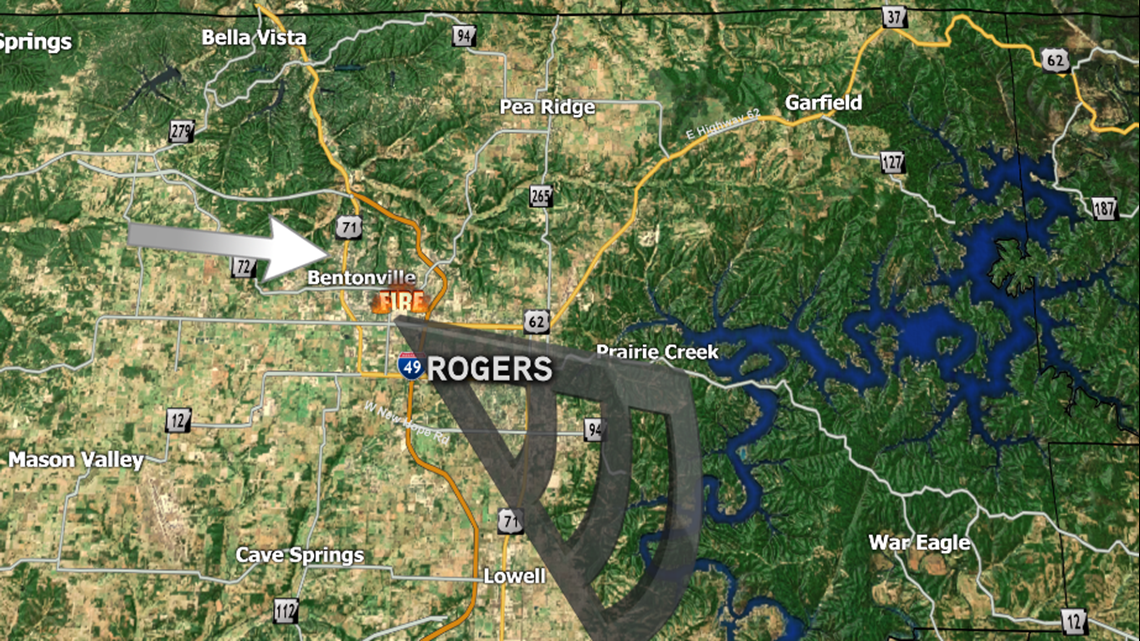 Boydston says, for the most part, the United Industries plant is still intact, and that most the damage is to the interior.
Rogers and Bella Vista firefighters helped Bentonville crews battle the flames.
Arkansas Department of Environmental Quality officials will investigate the fire to check for dangers to the environment.
Four schools in Bentonville lost power during the fire due to a large electrical transformer station being impacted near the plant, but classes continued as usual.
Rogers schools held students indoors during the fire due to the Shelter-In-Place Warning.
Boydston says there was no danger for students.
A Walmart building in the path of the smoke was evacuated.
The investigation into what caused the fire will start on Thursday (Dec. 5).