ARKANSAS, USA — Arkansans are paying the second-lowest gas price average in the country, according to AAA Gas Prices. Even with gas prices in Arkansas being around 83 cents higher per gallon now compared to this time last year, experts believe prices at the pump will continue to go up.
On average, drivers in Arkansas are paying $2.93 for a gallon of regular unleaded fuel. Drivers in Texarkana are spending the most on average at $3.05, while drivers in Little Rock, North Little Rock, Fayetteville, Springdale and Rogers are paying the least at $2.89 per gallon.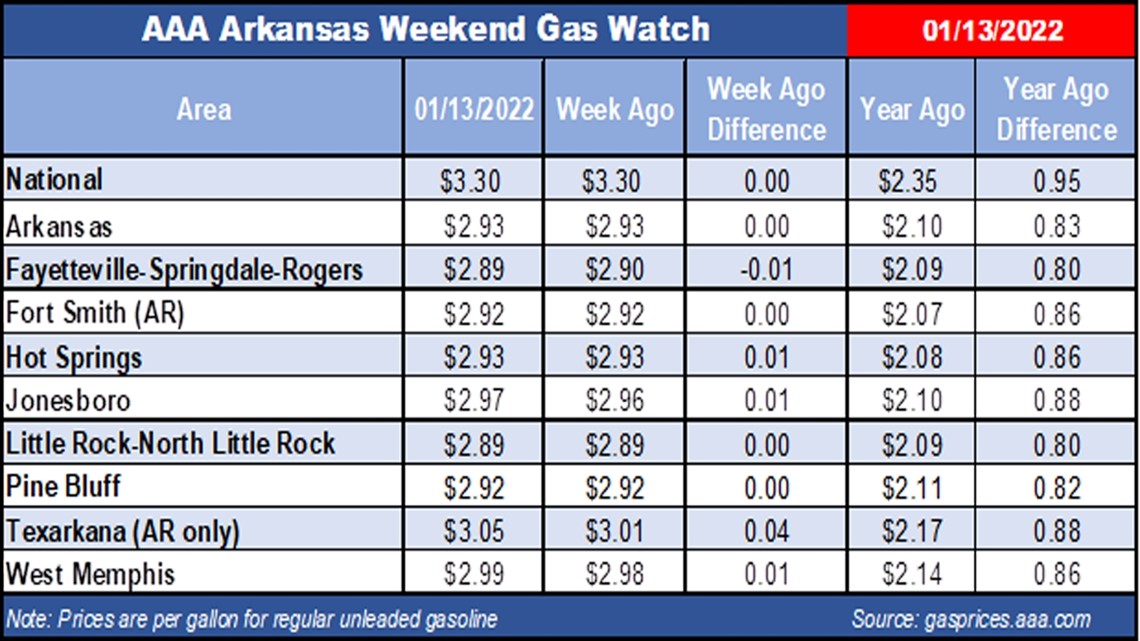 Texas currently has the cheapest gas prices on average at $2.92, with Arkansas and Oklahoma ranking second and third with prices at $2.93 and $2.94.
The national average for a gallon of gas rose two cents to $3.30. States on the west coast are experiencing the highest gas prices, with the average gallon costing drivers in California $4.65.
The crude oil market is optimistic that gasoline and fuel demands will stay strong moving into the first part of 2022. AAA reports that the demand for gas is down following the holiday travel period, and supply is up. The positive outlook has led to higher crude oil prices, which experts say will likely result in higher prices at the pump down the road.
Visit AAA's website for the latest news on average gas prices where you live.