SPRINGDALE, Ark. — The 479 Swap Meet hosted sneaker and vintage streetwear enthusiasts at the Northwest Arkansas Convention Center on Sunday, Aug 7.
The event ran from noon to 5 p.m. with 56 vendors attending. Organizers say entrepreneurs from across Arkansas, Kansas, Missouri, Oklahoma, and Tennessee attended the event to sell, trade, and network with enthusiasts.
Juan Hernandez, Mabarin Pacheco, and Esteban Escobar put together Sunday's event, saying it wasn't about a return for the organizers, but for the community.
"Especially in a very diverse city like Springdale, where you have a lot of different ethnicities and a lot of different cultures that come together to see that kind of community in here, and everybody bonds over one thing, whether that be sneakers or vintage, something like that. And just being able to give back to people that are less fortunate, you know, helping somebody out those school supplies, you don't know maybe somebody's struggling to get their kid's school supplies," said Hernandez. "So the fact that we're able to provide that and give them family whether it's a $40 relief, that the dollar relief, or maybe two three kids, you know, that they don't have to stress over that having to get your kid school supplies, that makes us feel good."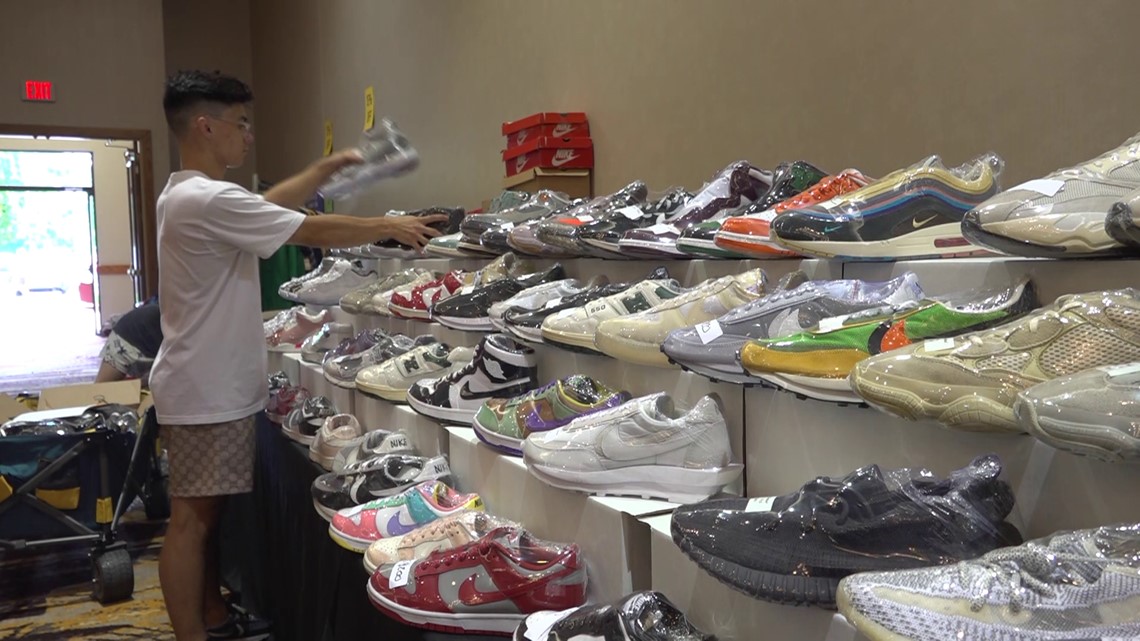 Lucian Hyatt attended the swap meet from Remix Shoe Store in Little Rock. He said he's impressed with the event, and that some of the young entrepreneurs make more than some adults. Hyatt explained that the event helps skip verification processes that online retailers require. Organizers still carry a strict no fakes rule at the event that could result in removal and refusal of refund.
"This is probably one of the biggest ones I've been to in Arkansas," said Hyatt. "It's great for people that don't want to order off stock X or go don't know their sizes and stuff like that. It's great for them to be able to come and see them in person."
Tanner Vestring was one of the vendors at the meet, traveling from Wichita, Kansas as 316 Sneaks. He said it was his third time at the event which focuses on high-end shoes.
"Every time they host a show, it's a banger show," said Vestring.
The price to enter the Swap meet is $3 online with pre-sale tickets and $5 at the door in cash. Organizer Pacheco says it's what helps them stand apart from other meets like them. He explained that their goal was to keep entry cheap to allow for more buyers to attend, helping their vendors in the process. The organizers said their vendors are a top priority, helping young entrepreneurs with a platform.
"They like to start their own business. They hold on to ideas, and there's not really a platform for them to showcase," said Escobar. "That's kind of what we created."
Angel Marin also attended the event as a vendor. He explained that with 3 years in the streetwear industry, he's experienced issues with manufacturers.
"When you see some like 20-year-old kid go okay, you're not really going to take him seriously," said Marin. "I'm basically trying to be the voice you want to do it like you know, I can make it happen."
The 479 Swap Meet organizers say they try to hold the event 4 times a year, or every 3 months. They plan on holding another meeting on December 4th. You can follow their Instagram for future events.
Download the 5NEWS app on your smartphone: