CHARLOTTE, N.C. — The moment the Calteaux family has been waiting for since April finally arrived Tuesday, and it came in the most unexpected way.
Dana, Glenn and one of their sons huddled around a computer screen with a video chat pulled up, prepared to reiterate their plea to the public to keep their lost dog Lucy in mind.
"We just need her back," Dana Calteaux said. "She needs us, and we need her."
The family, who lives in the Buffalo area of New York, was camping at Carowinds Camp Wilderness four months ago when the park's fireworks show began, scaring Lucy and causing her to break her leash and run.
The family spent as much time in Charlotte as they could to search for her, but eventually, they had to return to New York without their furry family member. That's when the Charlotte community picked up the reins.
Since Lucy's disappearance, neighbors and volunteers rallied together to help the out-of-towners look for Lucy, with people walking the woods around the campsite, posting flyers and even marching in holiday parades in eye-catching dog costumes to draw attention to Lucy's story and keep it alive.
A bicycle, fashioned with a poster showing Lucy's face, was ridden around area greenways to also spread the word.
A Facebook group, dedicated to sharing possible Lucy sightings, was more than 2,000 people strong and active with posts of stray golden retrievers across the nation.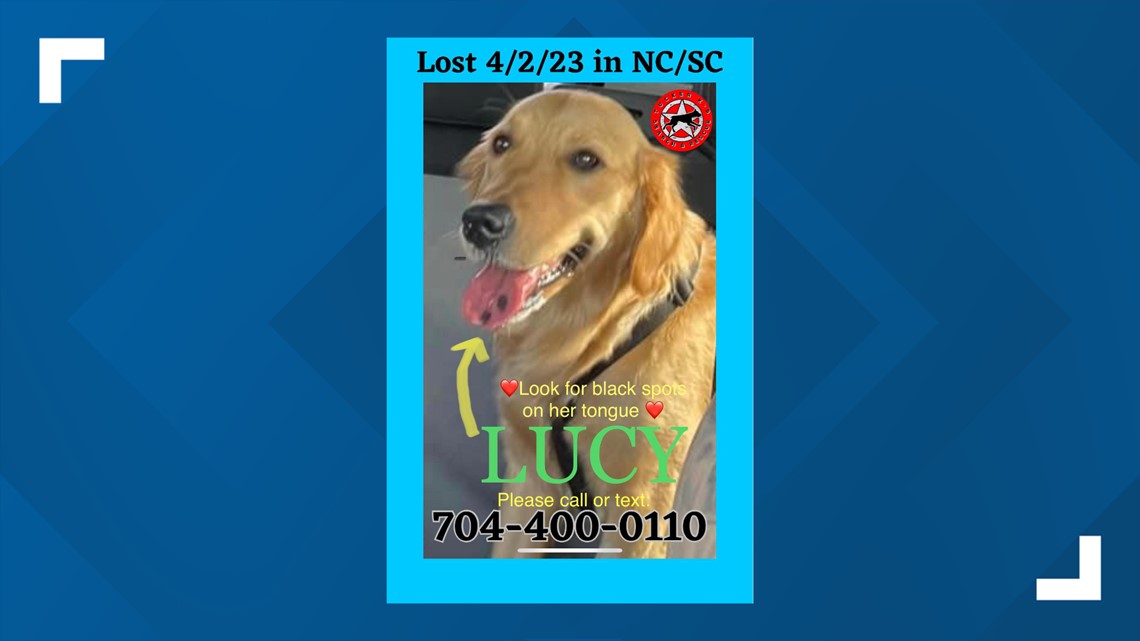 "Because we're not getting sightings," Tucker said, at the time, "whoever may possibly have her is not in our area."
Tucker said, based on the customer profile of the campgrounds, it was possible someone could have picked her up and continued on their travels with her in tow.
"That dog is literally my best friend -- it was a mistake that we paid greatly for, and we just need her back," Dana Calteaux said in Tuesday's video chat with WCNC Charlotte anchor Vanessa Ruffes, under the impression she was there to do an updated plea to look for her family's lost pet.
The Calteauxs were unaware though, the WCNC Charlotte team and Tucker K-9 Search & Rescue had an incredible development to share in the Lucy case.
"When I first reached out to you today, I told you that I had a reporter friend who was very familiar with these stories and had gotten a lot of success in finding missing dogs through her reporting," Vanessa Ruffes said. "I'm sorry to say that was not totally truthful, but I think that the special guest that I have to bring instead will probably make up for that."
Tucker and Chapman entered the frame with a skinny, but safe, Lucy. The family immediately broke into tears and called multiple family members to share the good news.
The trackers said Lucy had clearly lost weight and was also covered in ticks, but is generally healthy. Tucker K-9 Search & Rescue said they believe someone had possession of Lucy for a period of the time she was missing, and that Lucy may have gotten out during Monday's severe storms -- leading her to be found in the Ballantyne area Tuesday morning.
They said a person who recognized Lucy's face from her posters and publicity saw the pup near her home and called the sighting in.
Chatman and Tucker said the community support in searching for Lucy was priceless.
"Lucy's story really pulled at a lot of heartstrings," Chatman said.
Chatman said the story does not only have a happy ending for Lucy and her family, thanks to other tips that news articles and flyers prompted about different stray dogs who looked like her.
"Your story brought multiple animals home," Chatman said. "I can't even count how many were brought home over the past four months."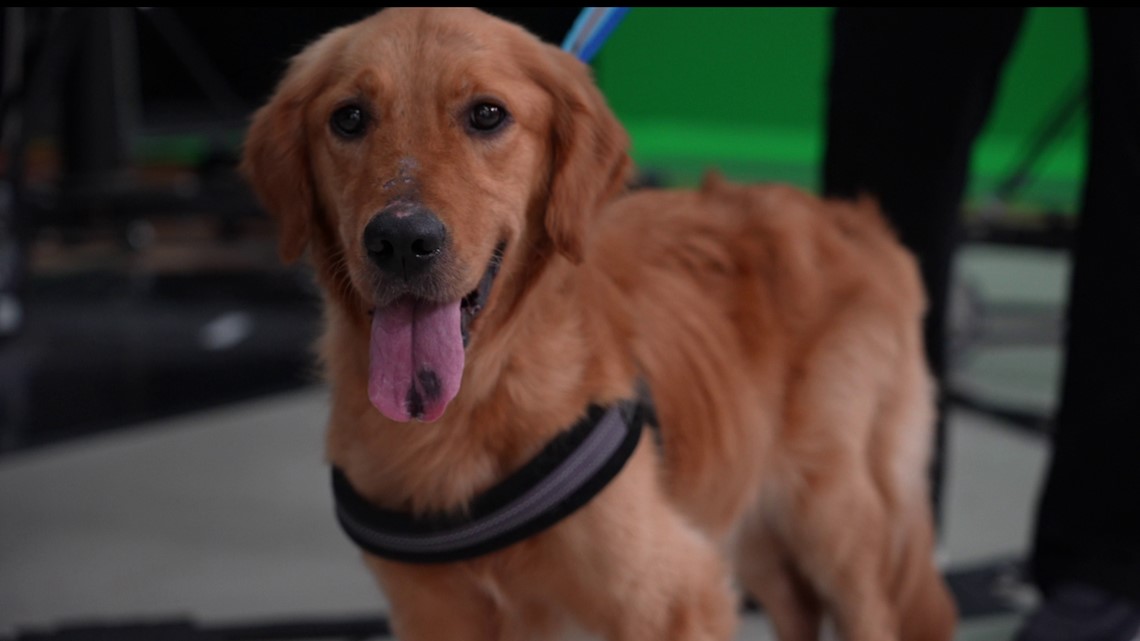 Dana Calteaux said it is hard to capture in words what Lucy means to her and the family.
"We got her during COVID, and I lost my dad to COVID, and I stopped talking to everybody, and I only had that dog," Calteaux said.
The Calteauxs immediately hit the road to Charlotte to bring Lucy home, and said they are grateful for everyone who helped in her search over the last four months.
"We'll see you in about 12 hours, buddy!" Dana Calteaux said. "Oh, sweetie, you're going to get microchip, GPS. You don't even know what's gonna happen."
They were reunited with Lucy Wednesday morning. Needless to say, the tears of gratitude were flowing.