BELLA VISTA (KFSM) -- Mountain bike trails continue to expand into all the corners of northwest Arkansas and the newest addition is a system called the Back 40 in Bella Vista.
The city recently opened 15 miles of the highly anticipated trails to mountain bikers, like Steve Schultz, who lives in Bella Vista.
He said getting to some grade-A trails is easier now than ever before.
"I moved here about 11 years ago, and there were no trails," Schultz said. "Before I lived in western North Carolina and trails were everywhere. So it's great that all these trails are going in and I don't have to take my car, I can ride right from my house and hit 40 miles."
Bella Vista's new trails coordinator Kay Curry said the trails showcase the natural gems nestled in the city.
"Things like bluffs, ravines, rock out croppings, caves, waterfalls and of course the native vegetation will be the highlighted features that you'll see," she said.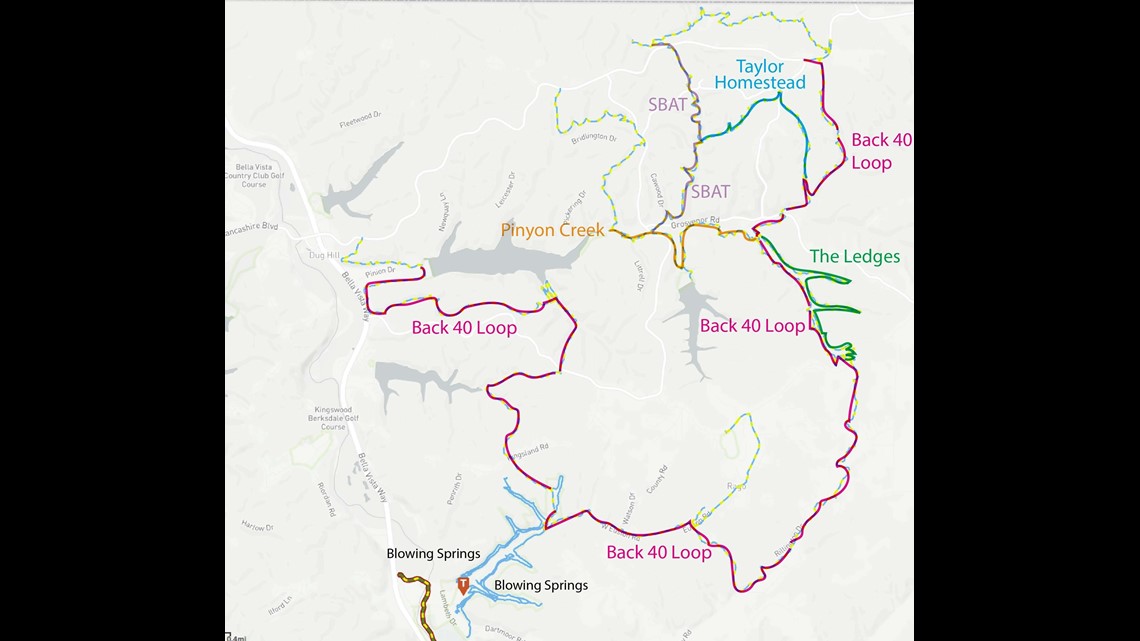 In the coming years, Curry said the system will have a total of 150 miles. To see the master plan, click here.
Schultz said he's looking forward to more trails in his backyard.
"It'll connect the east and west side of Bella Vista with singletrack trails," he said. "These are really great trails. You get a little bit of everything; smooth singletrack to those who like full-mountain. I personally don't like my wheels leaving the ground."
Schultz also said the exercise is great, but that's not the only benefit of getting outside.
"You get lost in your own city and it really helps you clear your mind as you focus on the trail," he said. "You can't think about it and it removes the stress of the day."
For this Adventure Arkansas we took Pinyon Creek Trail east to the Back 40 Loop, then we went south to where the Back 40 Loop connects with the Ledges Trail, then north up the Ledges and back west down Pinyon Creek for a nine mile loop that serves up a lot of what the trail system has to offer.
The first phase of the Back 40 will open later this fall, ahead of the International Mountain Biking Association's World Summit in Bentonville this November.
For a map of the Back 40 and all the other bike trails in Northwest Arkansas, click here.